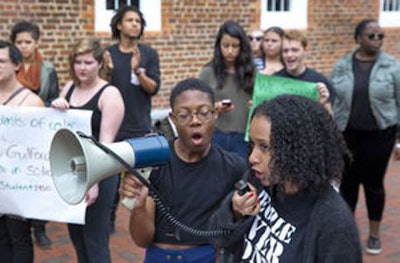 U.S. colleges and universities are experiencing increased student activism as young people protest escalating college costs and hostile racial climates on their campuses. And, findings from a new report suggest that participation in demonstrations may intensify in the coming months.
Titled The American Freshman: National Norms, Fall 2015, the report indicates that 16 percent of Black freshmen anticipate participating in student protests while in college, making them the most likely of all racial groups to do so. Blacks also saw the biggest jump over the previous year with a 5.5 percentage point jump. About 10 percent of Latinos, meanwhile, reported a "very good chance" of participating in student protests, an increase of 3.2 percentage points over 2014.
In fall 2014, 5.6 percent of freshmen indicated a "very good chance" they would participate in student protests while in college, but that figure rose to 8.5 percent by last fall.
"Student activism seems to be experiencing a revival," says Dr. Kevin Eagan, a University of California, Los Angeles, assistant professor in residence and director of its Cooperative Institutional Research Program (CIRP). "Last fall's freshman class appears more likely than any before it to take advantage of opportunities to participate in this part of the political process."
The growing interest in activism coincides with high-profile protests that have resulted in changes sought by student participants. For instance, after months of protesting a lack of responsiveness by university administrators to racial bias and discrimination, University of Missouri students forced the resignation of the system's president last November.
The research findings are part of UCLA's annual CIRP Freshman Survey, which was released Thursday.
Conducted last fall, the survey of incoming undergraduates at four-year colleges and universities nationally is part of the CIRP and is administered by the Higher Education Research Institute (HERI) at UCLA's Graduate School of Education and Information Studies. The survey results are based on responses from more than 141,000 first-time, full-time freshmen who enrolled at 199 four-year institutions of different types and academic selectivity.
According to the UCLA report, freshmen across all racial groups not only indicated stronger interest in activism but they also reported stronger commitments to engaging with their communities. Nearly three-quarters of freshmen in 2015 considered helping others in difficulty to be "very important" or "essential."
"Recent developments may have signaled to students that a collective sense of belonging and working together to raise important issues on campus and in their communities can lead to change," the report states. "College administrators around the country are paying attention to a revitalized student activism and have started to consider and act upon the demands of student protesters. We expect new forms of student activism to take place throughout 2016 given the presidential election and the myriad national issues that matter," such as gun violence, racism and discrimination, immigration and college accessibility and affordability.
The report adds, "At the very least, it seems clear that the entering college class of 2015 expects to be more involved with and committed to these issues than those who came before them."
UCLA's Eagan goes further. "If this broader commitment to community and political engagement manifests into action, particularly over the next year, college students have the potential to play a critical role in upcoming elections."
In the 2015 survey, 60 percent of incoming freshmen said there's a "very good chance" they will vote in a local, state or federal election during college, up from 50.3 percent of freshmen in 2014.
Diversity and inclusion, along with outreach to disadvantaged populations, appears to be a priority among survey respondents.
For example, they seem committed to improving their understanding of foreign countries and cultures. More than 59 percent rated this goal as "very important" or "essential," jumping 8.4 percentage points from 2014. Also, more than 41 percent of students in 2015 wanted to help promote racial understanding, rating it as "very important" or "essential."
And, 52.3 percent of freshmen last fall agreed that students from disadvantaged social backgrounds should be granted preferential treatment in college admission, up 3.4 percentage points over 2014 and 10.4 percentage points above the level reported in 2012—before the Supreme Court weighed in on the first iteration of the Fisher v. University of Texas case.
Survey questions differ year to year. The most recent survey offered a glimpse into the financial worries of Pell grant recipients versus those of non-recipients. Not surprisingly, the grants fall quite short of what's needed to afford the first year of college.
Among the survey findings:
* 54.7 percent of Pell grant recipients took out loans, compared with just 39.1 percent of non-Pell students.
* 72.7 percent of non-Pell students relied on family resources to pay for first-year expenses, compared with only 32 percent of Pell recipients.
* 84.1 percent of Pell students expressed concerns about their ability to pay for college compared with just 56.7 percent of non-recipients.
The UCLA report shows that women have significantly greater concerns than men about their ability to pay for college, but the concern is particularly acute among women attending historically Black colleges and universities, where nearly 80 percent expressed either "some" or "major" concerns.
"These findings make clear the higher education community needs to do more to help low-income students pay for college," said Dr. Cecilia Rios-Aguilar, director of HERI. "Students from low-income backgrounds have the greatest risk of dropping out of college."
Survey findings show that women (28.8 percent) are more likely than men (24 percent) to have a Pell grant. Blacks and Latinos (54.1 and 55.7 percent, respectively) are more than three times as likely to have a Pell grant as their White counterparts (17.1 percent). One-fourth of Asian American/Pacific Islander freshmen, 29.4 percent of multiracial freshmen and more than 48 percent of Native American freshmen reported having a Pell grant this school year.