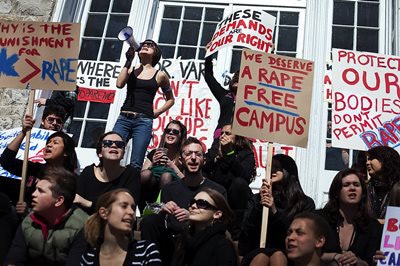 In order to combat sexual violence on campus, university leaders must broaden the conversation and take a more active role in shaping the policies that are being implemented to deal with the problem.
"This issue cannot be seen as a women's issue," Felicia McGinty, vice chancellor for student affairs at Rutgers University, said during a recent panel discussion on campus sexual violence.
"This has to be a campus issue, a societal issue that needs to be addressed," McGinty said.
McGinty made her remarks Friday at an event titled "Legislative Developments on Campus Sexual Violence: The Architecture and Momentum of State Action."
The talk—hosted by the NASPA — Student Affairs Administrators in Higher Education—comes at a time when institutions of higher education are under increased scrutiny over how they handle cases of sexual assault on campus.
At the heart of the debate is whether and when to involve law enforcement or to let institutions of higher learning handle the cases internally—something critics say they are ill equipped and often cannot be trusted to do. However, mandatory reporting requirements could have a "chilling effect" on student reporting of sexual assault to a campus official, particularly if the students do not want to get the police involved, a NASPA official says.
"In some states, proposed legislation would require colleges and universities to refer all reports of sexual assault the institution receives from victims to local law enforcement, essentially turning all reports of sexual assault to the university into a report to law enforcement," Andrew Morse, director for policy research and advocacy at NASPA, explained in an open letter to state lawmakers.
"If enacted, state lawmakers would place campuses in conflict with certain provisions of federal laws, including Title IX, the Clery Act, and the Violence Against Women Act."
Some panelists lamented the lack of research and evidence on the best ways to deal with sexual assault on campus.
"Right now there's a paucity of evidence of what really works on a really complex issue," said Kevin Kruger, president of NASPA.
"It's challenging from a state policy perspective to wait for there to be evidence because in the absence of evidence should we do nothing?" asked Wil Del Pilar, Acting Deputy Secretary for the Office of Postsecondary and Higher Education at the Pennsylvania Department of Education.
McGinty, of Rutgers, countered: "The challenge is when people are creating laws and don't understand the problem holistically, your laws are not necessarily as good as they could be."
"There's a real lack of understanding about the lived experiences on campus day to day," McGinty said. For instance, she said, requiring victims to make a police report—while well-meaning—is "harmful" and "not helpful to victims."
"It makes it difficult for the universities, and eventually people don't come forward and report," McGinty said.
McGinty said the issue of campus sexual violence goes beyond sexual assault and includes relationship violence and dating violence.
"This is a very real issue that can potentially be life-threatening," McGinty said.
In order to get a better grasp on the nature of sexual violence on a given campus, McGinty said higher education leaders should conduct climate surveys, such as the one that Rutgers' School of Social Work did as a pilot in conjunction with the White House and the U.S. Department of Justice's Office on Violence Against Women, which developed the survey.
Such surveys can be helpful as long as universities can modify them—as Rutgers did in the OVW survey—or choose from different modules, McGinty said.
"I'm not a fan of something that is a cookie cutter, one-size-fits-all," McGinty said. "It would be very important for campuses to have some leeway to modify any instrument to make it work for them. You have to ask the right questions that are right for your community."
McGinty said Rutgers also used focus groups made up of different segments of the student population—student-athletes, students of color, members of fraternities and sororities, for example—to better understand the experiences of different groups on campus.
"If you just do a survey, then you have data, but what matters and what will change your campus climate is how you use that to inform your work," McGinty said.
She cautioned against requiring colleges to administer climate surveys every year because it could create "survey fatigue" among students and tax the time and resources of universities.
"We need time to act on the data," McGinty said.
McGinty also suggested that universities focus more of their efforts toward men on campus—something she said Rutgers plans to do in the future. A federal study found that 21 percent of female students experienced sexual assault and that—for the vast majority of incidents of rape, 94 percent—the female reported that the offender was male.
McGinty said universities must look beyond issues of whether there is enough support for survivors of sexual assault or whether their disciplinary procedures are fair.
"We also need to look at what's happening on our campus and how can we prevent it," McGinty said.