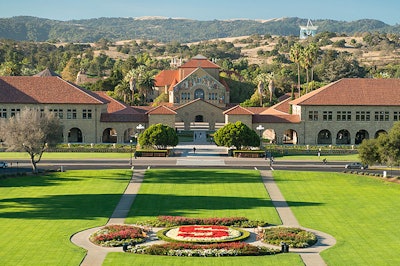 Stanford University announced Tuesday the Knight-Hennessy Scholars Program, a graduate-level scholarship to prepare a new generation of global leaders with the skills to address the increasingly complex challenges facing the world.
The program is named for alumnus Philip H. Knight, MBA '62, philanthropist, American businessman and co-founder of Nike Inc., who is contributing $400 million, and Stanford's outgoing 10th President John L. Hennessy. The program builds on Stanford's preeminent position in higher education, with seven globally ranked multidisciplinary graduate schools that foster service, collaboration, innovation and entrepreneurship.
Ambitious in scope and scale, Knight-Hennessy Scholars will annually admit 100 high-achieving students with demonstrated leadership and civic commitment, who are nominated by their undergraduate universities. The goal is to select students from a wide range of backgrounds and nationalities. Upon admittance to Stanford's graduate programs, scholars will receive funding for three years to pursue master's or doctorate level degrees, or professional programs along with education in leadership, innovation and other curricula designed to develop scholars' capacity to lead ambitious change in a complex world.
Read the full story via Stanford University: New Program to Fund Graduate Education for 100 International Students Each Year