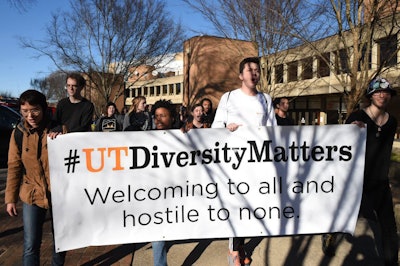 A panel of state lawmakers voted Wednesday to strip state funding from the University of Tennessee-Knoxville's diversity office following months of outrage from Republican lawmakers over two controversial posts on the office's website.
The Senate Education Committee was reviewing the University of Tennessee system budget proposed by Gov. Bill Haslam when Sen. Delores Gresham, the committee chairwoman, proposed an amendment that would remove all state funding for the Knoxville campus' Office for Diversity and Inclusion.
"Only federal funds shall be expended to support the Office for Diversity and Inclusion at the University of Tennessee at Knoxville," the amendment reads.
The amendment passed unanimously.
Read the full story via The Tennessean: Senate Panel Moves to Strip UT Diversity Funding