Delaware State University, the sole historically Black public college in Delaware, is "deactivating" 23 degree granting programs it identified as low enrollment, the university confirmed Monday.
The decision to eliminate 12 undergraduate and 11 master's degree programs, programs, equal to roughly 25 percent of the total degree programs now offered, stems for a nearly three year evaluation of the institution's portfolio by a university task force. Consistently low enrollment in the programs being "deactivated" was cited as a top reason for cutting them.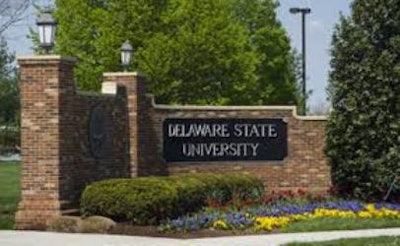 "It's not something done under duress and we weren't forced to do it," said Delaware State spokesman Carlos Holmes. He said the decision, disclosed this week by university officials, is based on the work of the institution's Program Priority Initiative (PPI). The PPI study began more than two years ago. Its recommendations, presented by the university provost, were voted on earlier this year by the university's board of trustees, he said.
The decision is expected to save the university nearly $900,000 a year by 2020, Holmes said and is not expected to result in any cut in faculty or staff, Holmes said.
Certain degree programs in Spanish, French and English are among those being cut, according to the university. Holmes said a number of courses in those areas of study, like many others affected by the "deactivation" decision, will still be offered as part of other degree programs.
University official are expected to have more specific details in the days to come.
Holmes stressed the university was specifically "deactivating" the designated programs not eliminating them from the university's portfolio. That gives it flexibility, particularly in the accreditation area, in the event a decision is made in the future to reactivate a degree program.
Delaware State's move follows a growing number of its peer institutions that, in the past decade, have opted to pare the list of degree programs offered, starting with programs that may have been in demand in past decades of the last century but have been less popular in recent years. Among that peer group whose actions
drew attention are Florida A&M University and North Carolina Central University.
The institutions have taken on harsh criticism on some occasions for the downsizing actions, with a chief criticism being slashing programs lessens the appeal of the school to potentially future students. At the same time, many of the institutions, particularly public ones like Delaware State, have been commended for taking bold steps that may in the long run help them hold the line on operating costs at a time when state support is steadily declining and expenses are steadily rising.
Delaware State, which reported an enrollment last fall of approximately 4,500 students, has seen its enrollment level plunge from a 2014 high of some 5,600 students. Its records show that about 90 percent of the students rely on some sort of financial aid.
The university operates on a budget of approximately $140 million a year.