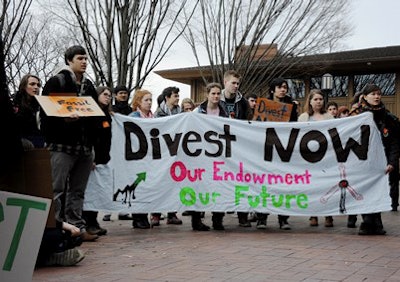 National Harbor, Maryland — Higher education leaders should take heed to the concerns of student protesters and use them as a springboard for a conversation about how to create a better campus environment, a group of panelists said Tuesday at a convening of the Association of Governing Boards.
"It's important not to reject demands out of hand, no matter how ridiculous they may seem," said Michael A. Middleton, interim president of the University of Missouri System.
"Talk to them with an attitude of, 'I would really love to achieve what you are seeking, but there are tradeoffs here,'" Middleton said. "Have them come into your office and go through what you go through with your staff on a variety of issues to achieve a balance."
Middleton, who assumed his interim post after Black UM students prompted both System President Tim Wolfe and Chancellor R. Bowen Loftin to step down last fall, said he doesn't consider such an approach to be a matter of "giving in" to protesters.
"I don't call it 'giving in,'" Middleton said. "I call it responding to the needs of students.'"
Middleton made his remarks Tuesday at a national conference of Association of Governing Boards, or AGB, during a panel on how to make a more inclusive campus community.
His advice comes at a time when many college campuses—including and beyond Missouri—have found themselves engulfed in student protests and confronted with simmering concerns about how students from diverse groups are treated on campus and how welcome or unwelcome they are in the world of academe.
Janet B. Reid, a board trustee at The Ohio State University, which has been the site of student protests over a range of issues—including how the university invests its money—said that, when protesters show up at board meetings, their presence can actually be beneficial and insightful.
"The real deal is, if there are protesters, many people get afraid," Reid said. "In our case, it's a gift, because sometimes the protesters warn that something is going on or tell you about something that you wouldn't have known of or implore you to do something that you would not have otherwise done. So protesters are not all bad."
Nelson A. Carbonell, board chair at George Washington University, said that, when it comes to diversity, institutions of higher education must focus on more than just the diversity of the classes they admit.
"Celebrating the inbound data is not particularly satisfying," Carbonell said. "We asked, 'Who gets out? What's their experience when they're here?
"Every institution needs to look at their challenges. We looked at ourselves in the mirror and said: 'We're not doing what we need to do.'"
Carbonell recounted an incident in which a professor gave out supplemental materials in a class and charged the students $40. When one student indicated not having the $40, the professor responded, "You're not going to do very well."
"That's not a good plan," Carbonell said. "When you look out into a room full of people, you may be able to see some difference. But you can't see it all."
John Silvanus Wilson Jr., president at the all-male Morehouse College, said it's important for higher education leaders not to think of diversity strictly in the quantitative sense, but rather the qualitative.
"You have to move from diversity to pluralism," Silvanus said. "Pluralism goes to the quality of relations, not just quantities of different groups of people."
Catherine E. Lhamon, assistant secretary for civil rights at the U.S. Department of Education, said the number of complaints her office has received as of late have increased dramatically and range from things that include low expectations for students of color to failures to redress student issues on campus.
"Our goal is to be immediately responsive to every complaint that comes into us, which is an enormous goal," Lhamon said.
Though withholding financial aid from colleges that violate students' civil rights is an option, Lhamon said it's a "posture of last resort."
"Typically we can work with our institutions to identify concerns and take proactive steps going forward," Lhamon said.
Middleton, the MU system president, lamented how instructors "dish out" jokes that students of color do not find humorous and said the system is working on finding "tools to help our faculty understand the effect of their behavior."
He said it's important for higher education leaders to listen to students with grievances before it's too late.
"Once the explosion occurs, listening may not be enough," Middleton said.
Jamaal Abdul-Alim can be reached at dcwriter360@yahoo.com or follow him on Twitter @dcwriter360.