Sera Kwon is a rising senior at Dartmouth College who has already been recognized nationally for her talent as a future scholar. She was named one of 20 Beinecke Scholars this past April. To further the "graduate education of young men and women of exceptional promise," Beinecke Scholars receive a $4,000 stipend in undergrad and $30,000 more for graduate studies.
With an academic interest in social movements, Kwon also is an activist at Dartmouth. She is a member of the Asian/American Students for Action, a small student organization on campus that is calling for the strengthening of existing racial and ethnic studies programs at Dartmouth, and the establishment of a formal Asian American studies program.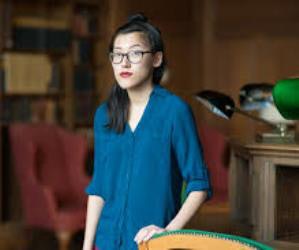 Kwon and other supporters of an Asian American studies department were disappointed when the college denied tenure to Dr. Aimee Bahng, then one of Dartmouth's leading faculty members in Asian American studies. Bahng's tenure denial was regarded by some as an inconsistent action from the university, due to a stated commitment from the college that it would prioritize bringing in more faculty in Asian American areas in future hiring cycles.
For Kwon, Bahng's situation raises larger questions about the viability of a career in academe, particularly in ethnic studies.
"It's pretty disheartening to me," Kwon said. "She's a woman of color professor and she's so brilliant. So seeing what happened to her, it raises the question, 'Is this a glimpse into the future for students like me?'"
The push to develop an Asian American studies program at Dartmouth is not a new one, and is one that is echoed at multiple Ivy League institutions. Alumni and students at a number of Ivy League institutions are calling on their alma maters to put the resources behind developing Asian American studies programs.
In past years, Dartmouth's administration has toyed with the idea of institutionalizing Asian American studies. "It's a checkered history," said Dr. Richard Wright, professor of geography at Dartmouth. "There have been some false starts."
Wright chaired an ad hoc committee tasked with forming an Asian American studies program in 2005.
Despite preliminary hires of faculty with an academic background in Asian American studies, the initiative did not survive its first few years. "It kind of sputtered," Wright said. For various reasons, faculty left the college and are now working at other institutions.
Dr. Jeffrey Santa Ana, currently is an associate professor in the English department at Stony Brook University, was on the faculty at Dartmouth between 2005 and 2008. He joined the faculty as part of the effort to establish an Asian American studies program at Dartmouth, but said that he took his current job at Stony Brook, in part due to a lack of formal institutional status for the field at Dartmouth.
At the time, the conversation about a prospective Asian American studies program at Dartmouth was centered on what the college's Ivy League peers were doing in that space, Santa Ana said.
"I remember having these conversations often, [about whether] we should we be looking at ourselves in comparison to Cornell, which had a fairly strong Asian American studies program, or should we be looking at UCLA, or UC Berkeley, where a lot of us who were hired came from," he said.
Comparatively, University of California system's Asian American studies programs are much more robust. At UCLA, there are nearly 15 core faculty in the Department of Asian American Studies. By point of comparison, at Yale University, Dr. Mary Lui is the only full-time professor in the field.
"In California, you actually have a [group] of donors committing money to endowed chairs and such, particularly at UCLA, and efforts like that," said Dr. Jiannbin Lee Shiao, an associate professor in the Department of Sociology at the University of Oregon, who taught at Dartmouth from 2008 to 2009. "But the institutional effort for it is much less outside of California."
Among Ivy League institutions, Cornell University has the longest-running Asian American studies program. The program, which was founded in 1987, offers a minor in Asian American studies. On average, Cornell awards an Asian American studies minor to seven or eight students each year, said program co-director Dr. Derek Chang.
The University of Pennsylvania, which offers a minor in Asian American studies, and Brown University also have relatively robust programs. Other institutions do not have dedicated Asian American studies departments, despite calls from students and alumni to develop such programs, as is the case at Princeton University.
At Harvard University, the Committee on Ethnicity, Migration, Rights established an Asian American studies working group in October 2015, which is the first such organization at the college dedicated to the field. According to the Harvard Crimson, approximately 100 students attended the first lecture of English 181A, "Asian American Literature," in January, reflecting a growing interest in Asian American studies.
Student interest in Asian American studies programs is key for the development, but in the end, the administration has to take a guiding role, Chang said.
"I'm of the opinion that if you create a program, and support it well, students will take the courses. Often I hear, 'Well, there's not a constituency for it,' or 'we established a course and only three students, or only 10 students, or only 20 students took the course, and that's a lot of resources for just a small handful of students.' I would say that often these things take time to develop and grow, so the growth of these things require a kind of careful, self-sustained support from the top down," he concluded.
Staff writer Catherine Morris can be reached at cmorris@diverseeducation.com.