With a longstanding commitment to serving traditionally underserved populations, The Evergreen State College in Washington continues to explore innovative approaches to higher education.
Founded in 1967 with the mandate from then-Gov. Daniel J. Evans to "unshackle our educational thinking from traditional patterns," The Evergreen State College in Olympia seeks to redefine liberal arts education and engage students in the learning process.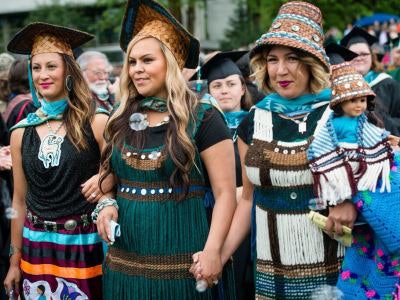 Without grades — instead using narrative evaluations — or traditional majors, students have access to a wide range of learning opportunities. Evergreen offers courses in more than 60 subjects — some traditional like economics, American history and physics, and some contemporary, such as community studies and consciousness studies.
­There are no explicit prerequisites to complete a bachelor's degree. Instead, advisers and faculty work with the students to meet their academic and professional goals.
Creating access
The student body in Olympia is approximately 4,000. With 28 percent students of color and approximately 23 percent faculty and staff of color, Evergreen is more diverse than the community in which it is based (approximately 83 percent White).
"When we define diversity broadly, beyond ethnicity, we found that more than 90 percent of Evergreen's 2016 graduates belonged to at least one traditionally underrepresented group. In addition, nearly 30 percent of our students report being LGBTQ or questioning," says Dr. George Bridges, now in his second year as president.
"Evergreen is, to its core, nontraditional, and students that come here feel a connection to the college either because they themselves feel a bit 'non-traditional' or they are drawn to our unique offering of collaborative learning, narrative evaluations [instead of letter grades], and comprehensive, team-taught programs [instead of classes]," he adds.
Evergreen offers a one-week, pre-orientation Multicultural Scholars Program, which works to strengthen students' preparation prior to the start of school. Previously open only to students of color, it now includes any interested incoming students.
Faculty members teach a class that helps prep students for the interdisciplinary style of Evergreen. There are also peer tours and field trips.
"When the majority of students arrive on campus, we start with a diversity session at orientation," says Rashida Love, director of First Peoples Multicultural Advising. "We use a lot of interaction in these orientation sessions, posing questions and asking people to turn to the person next to them and talk about the core value of a particular statement."
Evergreen serves 180 students in its TRIO program, about 53 percent of whom are students of color. TRIO programs are federal outreach and student services programs designed to identify and provide services for individuals from disadvantaged backgrounds. In the past five years, Evergreen's TRIO participants have demonstrated some of the highest retention rates at the college.
Innovative approaches
There is a Unity Lounge on campus, a space where students of color can get together for everything from coffee and conversation to prayer and meditation. There are also events and workshops. A weekly newsletter from First Peoples Multicultural Advising keeps students informed about events, jobs and internships.
Many faculty participate in a workshop on learning across significant differences so they can be proactive on addressing issues in the classroom. Faculty are also welcome to consult First Peoples Multicultural Advising as needed.
"Students of color need to feel welcomed, safe and supported on campus," says Felix Braffith, director of TRIO Student Success and College Access programs.
"Building learning communities is a big part of our success, particularly for first-generation, Black, Native American and Latino students," says Braffith. "We offer two-credit courses in financial literacy, career development and leadership, and exploring graduate school through a first-generation or underrepresented lens and — if I'm teaching — through the lens of a person of color.
"The courses also help students navigate their full-time, 16-credit interdisciplinary Evergreen programs," he continues. "We focus a lot on writing."
At Evergreen, classes are called programs and typically cover more than one subject. Full-time programs merge subjects taught by several faculty from different areas. Students create an academic statement that evolves as they progress. Learning communities are also a big part of Evergreen life.
Evergreen-Tacoma
When Dr. Maxine Mimms, now faculty emerita, became a faculty member at Evergreen in 1972, she noticed that urban students from surrounding areas did not have local access to the vibrant learning environment in Olympia. To make sure that people of color and nontraditional students were being served, she launched the Evergreen-Tacoma campus, which was formally established in 1982.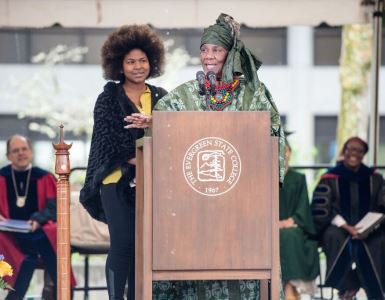 Evergreen-Tacoma has the motto "Enter to Learn. Depart to Serve," which was adopted from Bethune-Cookman University, an HBCU institution. Today, there are approximately 200 students at the Tacoma campus, two-thirds of whom are students of color. The average age of students is 38, and schedules reflect the needs of working students with day and evening classes.
"In Western civilization, you can have the invitation, but you don't necessarily have the hospitality," says Mimms. "That's why you have so many problems with predominantly White campuses trying to deal with diversity. You do the recruitment, that's the invitation, and sometimes it's just plain raw recruitment, and when the person gets there there's no hospitality.
"At Tacoma, the invitation is extended and once the invitation is accepted, the hospitality is overwhelmingly tremendous," she adds.
Dr. Tyrus Smith, campus director of Evergreen-Tacoma, says students are seen as whole people, which means personal and professional dynamics are considered in all interactions.
Their first quarter on the Tacoma campus, students write a personal memoir, in which they share their life experiences and how they want to move forward. The next quarter focus shifts to a "we" emphasis on society and community. In the spring, the focus is "us," emphasizing the importance of engaging and collaborating.
"We build our curriculum to reflect the demographics of our student body — who are they, where do they live, what's important to them in their lives and communities. We build that into our teaching so they can see themselves in the curriculum and it helps them put theory into practice," Smith says.
Evergreen-Tacoma recently purchased the building it had been renting. This newly acquired sense of permanence as well as space will allow for expansion, says Smith.
Ongoing impact
This past school year, Evergreen presented the six-part Coming Together speaker series, which provided a platform for the campus to engage in productive discourse around race and difference.
"One really positive development at Evergreen this year is that faculty are asking for additional training in cultural competence and they passed a faculty resolution with requirements for faculty to demonstrate their learning of racial literacy in their annual evaluation," says Braffith.
Bridges asked stakeholders across the college how existing structures related to race and equity could be changed to be more effective and began to implement many of the suggestions.
"We hope to have an established, strong senior leadership of all aspects of diversity, equity and inclusion," Bridges says. "We seek an increasingly diverse faculty, staff and student body and vibrant multicultural student groups. Finally, we seek a much stronger financial foundation for the college enabling us to recruit and retain first-generation and low-income students at a much higher rate."