Alabama State University student Jamie Coleman gained important assurance and confidence from a weekend seminar at LinkedIn, which she is now putting into practice at a Google internship.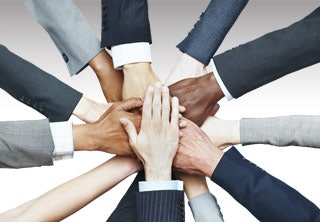 Coleman works in Google's sales division, helping small- and medium-size businesses get the most from their advertising accounts by optimizing content on their websites. What she learns and how well she performs this summer will influence whether Coleman applies for a full-time job there or elsewhere in the tech industry.
What she knew at the beginning of her three-month internship, however, is that, despite lacking skills in coding, she still has a bona fide shot at a career in technology—something that was impressed upon her during the LinkedIn seminar.
"I was nervous about how well my skills would translate," says Coleman, who this fall will be a senior majoring in marketing. "You never know. But it turns out technology is so much more than just coding and computer systems. Marketing is needed, so people like me are needed."
Her phrase "like me" encompasses more than simply interest and experience in marketing.
African-Americans such as Coleman make up an embarrassingly low proportion of the workforce at U.S. tech corporations. In 2014, for instance, Blacks made up only 2 percent and Latinos 3 percent of technology employees at Google and six other Silicon Valley heavyweights.
This is one of the reasons why the nonprofit Management Leadership for Tomorrow organization (MLT) has tech companies among its many partners. It is also why Coleman and 299 of her peers who are MLT Career Prep Fellows attended the college intern seminar at LinkedIn prior to the end of the spring semester—even though many of them were poised to begin summer internships outside the industry.
The Washington, D.C.-based MLT provides African-American, Latino and Native American students with one-on-one leadership coaching, role-playing exercises and networking opportunities to groom them for management positions in the corporate and social-service sectors as well as to expand this country's pool of diverse candidates for management jobs.
About 30 percent of the entire U.S. workforce is Black, Latino or Native American, yet these ethnicities total only 3 percent of its senior leadership, according to MLT officials.
"America has a long way to go," notes Coleman, who is interning at a Google office in the Midwest.
Since 2002, about 20 percent of MLT's 5,000-plus alumni have joined the technology and telecommunications industries, officials say.
Coleman, meanwhile, makes a point of sharing with as many Google co-workers and supervisors as possible the fact that she attends a historically Black university—which surprises many of them.
"I'm trying to erase the ignorance about HBCUs," she says. "I'm proving to them that I have a bright future. Too many people in society believe we cannot do well. Some of them don't even know what an HBCU is."
As countless tech companies in recent years have each taken turns trudging down a proverbial walk of shame when revealing workforce statistics that lack racial diversity, a common, valid criticism that has emerged is that there has been far too little recruiting at Minority Serving Institutions.
However, at least some of the technology corporations are taking baby steps toward doing better.
Spelman College student Ashley Reid heard about Facebook internships when representatives of the social media giant visited the campus to recruit. This summer, Reid is among four Spelman undergraduates who are Facebook interns.
Based in the company's New York City office, Reid works with client solutions managers in Facebook's marketing accounts in the travel industry. To that end, she and her Facebook supervisors assist hotels, airlines and on-demand services like Uber with incorporating Instagram and other Facebook-owned platforms into their marketing strategies.
Although Reid lacks a business background—she is a senior studying politics, philosophy and economics who plans to graduate next spring—she is enjoying the sales and marketing experience.
"It's a supportive environment where I can ask questions anytime," she says of Facebook.
Founded in 1994, MLT began as a mentoring program providing minority business students with guidance and advice.
By 2002, MLT officials expanded their scope with new programs to address transition points in the business world, regardless of student academic majors: college-to-workforce, early-career jobs, admission to graduate business schools, and business schools-to-workforce. MLT partners with numerous Fortune 500 companies and top business schools so that students can make important connections.
MLT's Career Prep Fellows program, for instance, offers undergraduates like Reid and Coleman in-person, skills-building workshops and, if participants need them, connections to summer internships. About 40 percent of the Fellows are first-generation college students.
The weekend seminar at LinkedIn's main office in northern California was one in a series of skills-building workshops. About 17 percent of participants—including Coleman and Reid—already had internships at tech or telecommunications companies lined up.
Reid was particularly impressed that weekend with a presentation by a minority, female speaker who worked at cloud computing giant Salesforce.
"She had never coded before working at Salesforce," Reid recalls. "She had the ability to learn on-the-job and fill a variety of roles."
The 300 undergraduates at the LinkedIn seminar represented 97 universities, 13 of them HBCUs.
During the seminar, Career Prep Fellows worked in small teams on real-life business problems and took turns presenting solutions to the rest of the group. They also gained tips in effective business communication and presentation skills.
Generally, about 98 percent of Career Prep Fellows land job offers prior to graduation.
Reid and Coleman hope that, even if tech companies don't bring them aboard full time right away, they at least hire some of their MLT peers.
Coleman points out that, at Google, she has met managers who are former kindergarten teachers and customer service professionals who attended medical school before changing career paths.
"If they want you here," she says, "they will make sure you get the training you need."