The massive floods and forest fires that have disrupted thousands of households in the South and Southern California have spurred colleges in the areas of the disasters into emergency actions to help institution employees, neighbors and students weather the troubles, officials at the institutions say.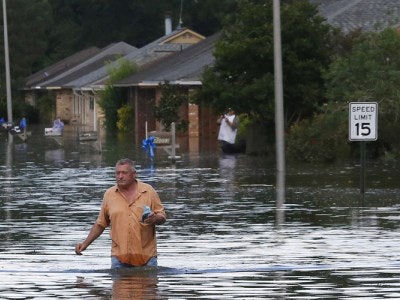 In Louisiana, more than a dozen people have lost their lives to floods since Friday of last week; 40,000 homes have been damaged by the weather; some 30,000 people have been rescued by emergency relief workers and some 8,000 people have been housed in emergency shelters, according to the Office of the Governor. President Obama declared a state of emergency for the state several days ago, an action that provides federal help for people and communities impacted by the flooding.
The Baton Rouge-based Southern University System (SUS), located in the heart of the state's flood region, has extended registration that was to begin this week and said it is making special arrangements for students whose lives at home have been disrupted by the floods. Working through a special Flood Relief Fund run by the SUS Foundation, Southern is offering food, clothing, personal effects and helping with housing to students and employees.
"We are deeply concerned about SU employees and students who may have been impacted by the widespread flooding in south Louisiana," says Dr. Ray L. Belton, president-chancellor of Southern. "The university is still assessing the situation and is making every effort to reach all of our faculty, staff, and students to determine the full extent of the hardship. A System-wide Emergency Response Team has been activated to provide assistance and to direct employees and students to services."
Across the city, Louisiana State University (LSU) has only empirical information, as does Southern, on the impact of its employees and students. Still, it's widespread, a spokesman says. Among the many actions taken by the university community has been the activation of its LSU food pantry.
A statement from LSU President F. King Alexander gave strength to that assessment:
"Our students and staff are of the utmost importance to us and we want them to know that we will be with them every step of the way on the road to recovery and restoration," Alexander says in a statement.
LSU has set up a flood assistance resource page on its university website and set up a fund for donations to students affected by what Alexander characterized as "this historic disaster."
Far from the depth of the flood damage other Louisiana institutions are feeling potential fallout.
At Grambling State University, which draws many of its students from the Baton Rouge area and other parishes impacted by the floods, the institution has sent a clear signal of its intent to help.
"We want our new students and returning students to make safety a priority," says attorney Rick Gallot, Grambling's new president. "Any student affected can simply contact us and we will hold their registration and housing until they get here."
Gallot, a former state lawmaker for more than a decade, represented some of the communities impacted by the flood.
"My heart goes out to them," says Gallot. He said the university has decided to extend this week's registration into next week and advised students and parents of whom to contact for assistance.
Meanwhile, as Louisiana hopes the rainfalls are subsiding, people in stretches of Southern California are being routed by the thousands from their homes and communities by wildfires.
At California State University, San Bernardino (CSUSB), which does not open until next month, university officials and volunteers are working to gather clothing, food and toiletries for area residents who have fled for their lives, says one school official.
While the major fire in the area of the institution was burning about 10 miles away and winds are indicating it will continue moving away from the university, a fire swept through the university about a decade ago demolishing two campus buildings, says Joe Gutierrez, CSUSB spokesman.
"We're monitoring the fire, just in case it shifts," said Gutierrez. "We've been affected by fires in the past," he said, adding that even in years where there is no direct fire danger to the institution, sometimes it is closed due to the strong Santa Ana winds associated with the fires.