Back-to-school now includes guns, thanks to the new campus carry law that took effect in the state of Texas.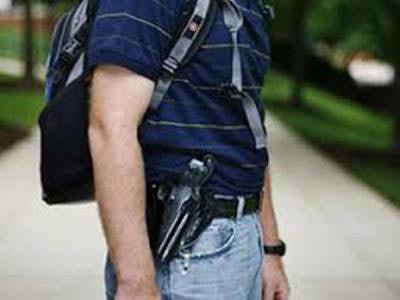 Most private colleges in Texas (like Rice and Southern Methodist) have the right to opt out of the law. Public schools, however, are subject to the law and that means iconic schools like The University of Texas at Austin, Texas A&M, and revered HBCUs like Prairie View A&M and Texas Southern.
Better hold your breath. No one really knows how any of this will work out.
A last-minute injunction failed to interest a judge who could have blocked the law from going into effect last week. And now the attorneys for the University of Texas professors who have challenged the law are preparing for trial.
At issue isn't so much whether we will see some horrific violence of the likes of a Virginia Tech. Or if carry laws would prevent such an event and elevate a band of pistol-packing campus heroes to a new level of "academic militia men." More likely, we'll see an increase of armed persons on campus simply having a "bad day."
Gun supporters insist carry laws will act as a deterrent to crime.
But what was wrong with simply beefing up existing security?
Now that everyone can be armed, campuses are more dangerous than ever. It's legal. Bring your weapons. Your books you can carry digitally in a Kindle.
But that's like having "Call of Duty" on your computer.
This is college. It ain't no video game. You can bring your weapons to class, dude.
This makes a lot of sense to some extreme Second Amendment supporters out there.
But to the First Amendment supporters this is a real threat to freedom of speech.
If you're a teacher, or if you're a student, and if you held unpopular views of whatever political stripe, thank goodness for the protection of the First Amendment. You have that freedom to express yourself.
Now will you do that in a classroom where everyone is potentially packing?
Suddenly, it's the domestic Cold War, Second Amendment style. When China and Russia and the United States all have missiles pointing at each other, it's the only way to assure peace.
But the chill of global diplomacy is not the point in a college classroom, where a civil but passionate exchange of ideas is valued.
Instead, this new law in Texas actually encourages teachers to take the foot off the gas, not challenge students and be predictably bland. Students with great ideas but fearful of those who are packing are encouraged to stifle opinions and simply shut up.
In a classroom, who wants to be the first to test the censure of a bullet?
Not for five units in a gen ed class.
And that's the new name of academic freedom in Texas.
Teachers want to impart knowledge. But students can carry guns.
Go ahead, make my day?
And we haven't even gotten into a discussion of grades yet.
Kudos to Dr. Jennifer Lynn Glass, Dr. Lisa Moore and Dr. Mia Carter for standing up and challenging the new law.
U.S. District Judge Lee Yeakel concluded that "neither the Texas Legislature nor the Board of Regents has overstepped its legitimate power to determine where a licensed individual may carry a concealed handgun in an academic setting.
But the First Amendment claim is a strong one.
Yeakel wrote in his opinion:
"Plaintiffs assert that the classroom discussion will be 'circumscribed by the near-certain presence of loaded guns,' and that their ability to 'make (their classrooms) truly a marketplace for the robust exchange of ideas will be impaired.' They argue that they are now 'incentivized to err on the side of 'trimming their sails,' academically speaking, when they push for classroom debate. Perhaps they are correct."
It was the judge's weak-kneed admission to the best argument for an injunction. But the judge still didn't feel he could block the law simply because the law doesn't prohibit the speech of the professors specifically.
In other words, since the professors can still speak "freely," the First Amendment has been honored.
But the Second Amendment, never under threat, has been honored more.
And so, it's on to trial, while we all hope something horrific doesn't happen in the meantime.
The Texas lawmakers did at least have the good sense to allow for distinctions on where guns should and shouldn't be on campus.
It allowed guns in classrooms and dormitories, though some schools like UT Austin and the HBCUs ban them from dorms.
Oddly, the lawmakers knew they better not put guns in stadiums, where the debate is usually over football. So no guns are allowed in the sacred shrine of football, the college stadium.
Maybe that's the answer. If classrooms were more like stadiums, the professors would have had a fighting chance to have guns banned from there too.
Journalist and commentator Emil Guillermo writes on race, society and politics at https://www.aaldef.org/blog/.