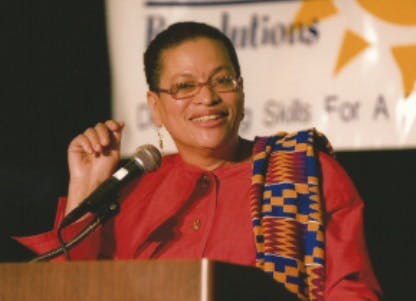 Dr. Julianne Malveaux is passionate about advancing African-Americans. As president of Bennett College, she spent five years progressing America's oldest historically Black college for women. As a labor economist, speaker, columnist and entrepreneur, Malveaux has created a legacy of sounding off about injustices against Blacks from the higher education realm to the political arena.
While she graduated from two predominantly White institutions, Malveaux believes in the value of the Black community supporting its own people, especially through higher education. "At [predominantly White institutions], Black people are ignorant until they prove that they're smart," she says. "At an HBCU, Black people are smart until they prove that they're ignorant."
During her undergraduate years, Malveaux relentlessly advocated for herself and her peers. "Everything that I got at Boston College I fought for," she says, recalling an era when Black studies departments were in their infancy and women were just being admitted into business schools.
At Boston, Malveaux also spent time connecting the dots between African-Americans and money. In her first economics class, she was introduced to the process of distribution in America. "The question I always wanted to ask was, 'How come Black people always get less?'" she says. Although she entered college with the idea of studying law, she soon found herself enthralled with labor economy.
In 1974, Malveaux received a bachelor's in economics from Boston College, and she obtained a master's in economics from the university the following year.
Growing up in a family where education was "hardwired" into her psyche, Malveaux continued to further her education.
In 1980, she received a doctorate in economics from the Massachusetts Institute of Technology.
In her first years after receiving a doctorate, Malveaux worked as an educator at the New School for Social Research; San Francisco State University; the University of California, Davis; and the College of Notre Dame, among other institutions.
But with a love for writing and media, she also spent time contributing to periodicals such as Black Issues In Higher Education (the predecessor to Diverse), Essence as well as writing academic articles for a number of publications. Malveaux has also lent her voice to radio and television programs and panels across the country.
Whether in front of a classroom or a TV camera, Malveaux's mission is the same, she says. "You have to meet people where they live, talk to them about what they're interested in, move them to what you care about, and transform them."
After decades of teaching, the opportunity arose for Malveaux to take the lead at Bennett in 2007. At the time, she'd never applied for a college presidency, and she wouldn't take just any offer. "I was interested in serving Black people and, more importantly, serving Black women," she says.
Working at Bennett "was probably one of the high points of my life," she says. Among her accomplishments at the university, she ushered in new infrastructure, increased enrollment and enhanced curriculum.
But after some time, her "extraordinarily intense" work ethic became a challenge. "I didn't know how to rest; I didn't know how to chill. I didn't know how to take vacations and I burnt myself out." In 2012, Malveaux resigned as president, but "I miss it to this day," she says.
But Malveaux continues to be captivated by the work of youth, for instance, those involved in the Black Lives Matter movement.
"I am totally in love with those young people," she says. And as the presidential election looms, Malveaux encourages college freshmen, and all Americans, to head to the polls because it's "the least you can do," she says.
Students must also be critical of what happens after votes are cast, which is what she does in her latest book, Are We Better Off? Obama, Race, and Public Policy.
In it, Malveaux pulls from years of published articles, opinions and research dissecting the terms of America's first Black president, with which she finds two challenges.
"One is that the president was not inclined to go out of his way for African-American people in the same way that he did for the GLBT community or Latino people," she says.
In return, African-American leaders did not push the president hard enough. "You're not going to get fed in your mama's house if you don't bring your plate to the table," Malveaux says.
In terms of her own legacy, Malveaux hopes that she "not only talks the talk, but walks the walk," adding that she wants "there [to be] folks walking with me in this really arduous talk of bringing social economic justice into our country."