Florida A&M University (FAMU), once the largest and among the most respected of the nation's historically Black colleges, Thursday announced the departure of Dr. Elmira Mangum, its embattled president of two years, and the immediate appointment of scientist Larry Robinson as interim president.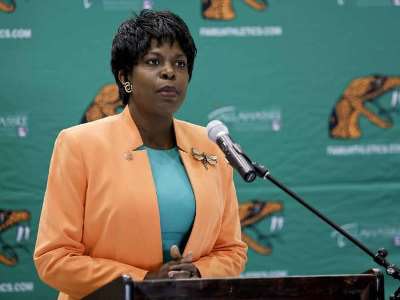 This marks the third time, Robinson, a well-liked teacher and professional colleague of the FAMU community, will serve as chief executive of the 9,600-student institution, located a few blocks from the state capital in Tallahassee.
Most previously, Robinson, who opts not to use Dr. in his name, was selected in July 2012 to lead the university, after the tragic death by hazing of a FAMU drum major following a November 2011 football classic in Orlando.
In early 2014, as the university began aggressively looking for a permanent leader, it did not offer Robinson the job, having stipulated when the search began that he could not apply nor would he be officially considered for the post.
In Thursday's announcement of Mangum's departure, the university made it clear Robinson would not be prohibited from applying for the job while serving as interim president.
The departure of Mangum, recruited by FAMU from Cornell University where she was vice president of budget and planning and responsible for managing the institution's $2 billion operating and capital budget, came at the end of a rift-riddled relationship between Mangum and the university's trustees.
By early last spring, it had become clear the relationship was continuing to deteriorate, as the university board refused to extend her contract. Last month, she and the institution's lawyers began negotiating an exit.
The institution's trustees nor Mangum made public statements Thursday about the abrupt departure, although broad details of the negotiated exit were made public under state laws regarding business done by entities owned and funded by the public.
Under Mangum's agreement, she was to surrender her official responsibilities immediately, would be paid her annual salary of $425,000 through the end of March 2017, then be eligible for a one-year paid sabbatical. After, she would return to the institution as a tenured professor. Magnum also would be given less than $10,000 to be out of the university president's residence in 30 days and less than $10,000 to pay for her lawyer's services.
Mangum's tenure had been one of constant tension between her and the university's trustees, despite high marks she received for fundraising and working with the legislature on appropriations, according to people familiar with the trustees' assessments of her tenure and assorted public records accounting for trustee meetings and correspondence.
She was criticized over her hiring practices, travel expenses, spending on fixing up the university president's residence, the timing of her firing of high-profile department heads and expenses some criticized as unauthorized. In general, she and various board leaders had a contentious relationship that showed itself through actions by her that were considered petty.
The abrupt loss of a FAMU president for reasons other than health during an era of heavy turnover of presidents of historically Black colleges is damaging to all of its peer institutions, regardless of reasons why, said observers, as news of Mangum's exit began to spread late yesterday.
"It reinforces a negative narrative that our schools suffer from an unusually high turnover," said Johnny Taylor Jr., chief executive of the Thurgood Marshall College Fund, the Washington, D.C.-based organization that raises funds for minorities to attend HBCUs.
"When our president leaves, that does not bode well for the sector," Taylor said of the seemingly high level of abrupt departures of HBCU presidents. The president of Chicago State University recently left, he said, after only a few months on the job. Similar sudden moves have occurred in recent times at South Carolina State University, Bennett College and several other institutions, he said.
Robinson, who had developed a reputation of access to the public, could not be reached yesterday for comment. It was known, however, that he already had begun meeting with staffers and students in hopes of smoothing the impact of the leadership change.