Even though young Latino voters have much at stake in the 2016 presidential election—from immigration reform to free college—it remains unclear as to whether they will turn out to the polls in large enough numbers this November to make a difference.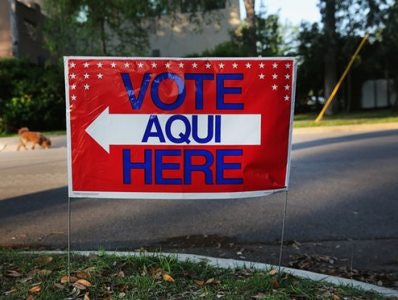 That is the assessment of Dr. Rodolfo O. de la Garza, the Eaton Professor of Administrative Law and Municipal Science and a professor of international public affairs at Columbia University.
"The Latino youth have reasons to engage in the election. It's going to take a concerted effort to do that. It should be easier than it's ever been to do so," de la Garza says.
"They have particular reasons for getting involved," de la Garza says of young Latino voters, whose numbers are steadily growing. "If they get involved, they're going to be overwhelmingly partisan vis-a-vis the Democratic Party."
Indeed, according to Presidential Poll 2016—a survey conducted by the Hispanic Heritage Foundation and myCollege Options, a free online college planning service—60 percent of high school students who will be of voting age in time for the November election identified with the Democratic Party, compared to just 26 percent who identified as Republican.
Meanwhile, the number of Hispanic eligible voters—one of the fastest-growing groups in the United States—is projected to reach 27.3 million eligible voters in 2016, up from 19.5 million in 2008, according to the Pew Research Center.
"Most of this growth has come from U.S.-citizen Hispanics entering adulthood," states a Pew article titled "Looking Forward to 2016: The Changing Latino Electorate," noting that about 803,000 young U.S.-citizen Hispanics enter adulthood each year and are eligible to vote.
"Between 2008 and 2016, a projected 6 million U.S.-citizen Hispanics will have turned 18, becoming eligible voters," the article states.
Despite the growth in numbers, de la Garza says, the problem is that "young people don't vote very much."
"The question is, will Latinos be different than the general group of young Americans?" de la Garza says. "There's a couple of reasons to suggest they might."
College affordability
Those reasons include a series of issues that will be affected by the results of the election that concern Latino students.
"One of [the reasons are] funds available to go to college," de la Garza says in reference to Democratic nominee and former U.S. Secretary of State Hillary Clinton.
Her college affordability plan calls for allowing students from families who earn less than $85,000 a year to attend an in-state college or university without paying tuition. By 2021, the plan is designed to encompass families who earn less than $125,000.
The plan also calls for free tuition at all community colleges and debt relief for student loan borrowers.
"That's a major concern for this group because it's largely low income, and they stand to benefit greatly from a new policy regarding loans and payment and access to less expensive, state-level education," de la Garza says.
While Latinos are already mostly pro-Clinton, her college affordability plan will likely make Latinos even more inclined to vote for her, de la Garza says.
"She wants to make state university free for people below [a] certain income. That will cover almost all Latino students, so it's in their interest to show how strongly they are for Clinton," de la Garza says.
De la Garza adds, however, that he is concerned about the potential drawbacks to aspects of the Clinton college affordability plan that may induce students to attend community colleges.
"One fear I hope the mobilizers reconsider is to make sure it doesn't lead them to be encouraged to go to junior colleges," de la Garza says. "We don't have a very good junior college system in this country. There's nothing wrong with these [schools], but you can become overly reliant on them and then never get a college degree, which has limits on your mobility, ultimately."
The schools have been criticized for lackluster completion rates, although community college officials have countered that they serve a unique set of students, not all of whom are even seeking degrees.
The immigration issue
Another top issue is immigration—and, more specifically, what de la Garza refers to as the "anti-immigration rhetoric" coming out of the campaign of Republican nominee and billionaire businessman Donald Trump.
While Trump continues to flip-flop on whether he would build a wall along the U.S.-Mexican border to keep illegal immigrants out or deport illegal immigrants and their children, immigration reform has been a mainstay since the start of his campaign last year. It was then he infamously suggested Mexican officials are "sending people that have lots of problems" and that Mexican immigrants are "rapists" and bringing drugs and crime to the United States.
Dr. Domingo Morel, an assistant professor of political science at Rutgers University–Newark, says there is "evidence to suggest that Latinos, particularly young Latinos, are energized to participate in this election as a result of Donald Trump's candidacy."
Morel cited various polls showing Latinos supporting Clinton by large margins over Trump to bolster his argument.
A Pew poll, for instance, found that 71 percent of Hispanic voters age 18 to 35—who make up 44 percent of all eligible Hispanic voters—would vote for Clinton. This is compared to 19 percent for Trump—a larger margin than among Hispanic voters generally, who support Clinton over Trump, 66 to 24 percent.
"His popularity has been built on his inflammatory positions against Latinos and immigrants, among others, and I find it difficult to see a scenario where he is able to gain support from a community that he has repeatedly ridiculed," Morel says.
"At the same time, Latinos have also expressed frustration with the Democratic officials, including President Obama, for their inability to pass comprehensive immigration reform and for certain deportation policies," Morel says, citing an article in which members of the Congressional Hispanic Caucus expressed concern over the Obama administration's raids and roundups of illegal immigrants.
"Latino young people, by and large, interact with, share their lives, their networks, all dimensions of their social lives with immigrants and [immigration] status isn't an issue," de la Garza says. "So that would be a reason for them to vote. It's not an easy fact to use to mobilize them but it could be used. That would be very important."
Asked why immigration reform is not an easy imperative for Latinos to vote, de la Garza says Latinos—nearly two-thirds of whom are Mexican Americans—are "very supportive of immigrants, but they want legal immigrants."
"They want those undocumented to legalize and come legally," de la Garza says. "Will they mobilize on behalf of legalizing access for undocumented? They might well do that. But the primary motivations are going to be economic issues and their own access to education."
Indeed, according to the Hispanic Heritage Foundation/myCollege Options presidential poll, education and the economy were the top two issues, with both being ranked most important among high school students who will be of voting age in November.  Immigration came in third.
The poll—first released this past April—is set to be conducted again this fall closer to the election.
Jamaal Abdul-Alim can be reached at jabdul-alim@diverseeducation.com