As a first-generation Hispanic college student on an athletic scholarship, Dr. Ricardo Romo had more than enough people doubting whether he would complete college and graduate, never mind make something memorable of himself.
Romo did both and more.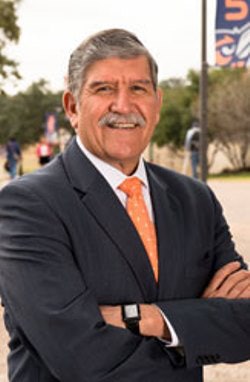 By the time he graduated from The University of Texas at Austin, Romo had set a UT athletic record — running a mile in less than four minutes — that stood for more than 40 years.
Today, Romo is still setting records in higher education as the veteran president since May 1999 of the University of Texas at San Antonio (UTSA) and architect of its ambitious goal to become a leading Texas institution and national Tier I institution of research. Earlier this month, he announced his retirement from the institution.
"We continue to make great progress," says Romo, noting UTSA today boasts more than 28,500 students, based on published enrollment numbers. "You've got to be at the top of your game," he says.
Rising above the ranks
Under Romo's leadership, UTSA has surged in the ranks among its peers, emerging as one of the fastest-growing higher education institutions in Texas while tightening its admissions standards from a one-time open admissions institution.
The relatively young institution completed its first major capital campaign last fall, with $202 million in gifts and pledges, far exceeding all projections of what it could raise in its five-year drive.
"It was our first campaign and we were determined," says Romo, as he detailed a list of highs and lows of fundraising drives.
The campaign started in 2008 as the nation's economy suddenly dived, he noted, costing the institution its initial five donors who had said they would help launch the campaign with $5 million each. With the shaky launch, some advisers suggested the campaign might be ill-timed, he recalled in a recent telephone interview.
Some 33,000 donors and 73,000 gifts later, the $100 million university consultants said was the best the school could expect was racing past the $175 million level. State-matching aid helped to reach the $200 million mark.
This could be called quite an achievement for the predominantly Hispanic student-serving institution. At UTSA, financial needs are still quite high for students pursuing graduate degrees and where more than 50 percent of its undergrad students qualify for low-income federal Pell Grants.
The gifts have come from large San Antonio-based companies, such as Valero Energy, to a local school teacher who bequeathed $22 million in her estate.
With a teaching staff of more than 1,400, UTSA says it now has 74 endowed teaching positions. Some 22 of those posts are committed to $1 million or more, according to the university.
As for commitments to cutting-edge opportunities, UTSA focuses on health, security, energy, sustainability, and human and social development. Examples include being ranked No. 1 in the nation in cybersecurity education and leading-edge work in cloud and big data, biomedicine, neurosciences, vaccine development, stem cell research and more.
While it counts 94 nations represented among its more than 1,200 international students, UTSA is working hard to strengthen its student and faculty exchange ties with higher education institutions in nearby Mexico.
Earlier this year, for example, it announced the creation of eight new "faculty-led study abroad programs" studying a wide range of topics from politics to cultural medicine. The new work in Mexico refl ects an "expansion" of its "partnerships" between UTSA and 26 Mexican institutions, centers and government agencies, the university stated.
"We have particular spots of conflict and spots of opportunity," Romo says of the institution's relationships with higher education programs in neighboring Mexico.
Successful team-building
"Dr. Romo is smart about leveraging every advantage UTSA has," says Dr. Maggie Rivas-Rodriguez, a professor at The University of Texas at Austin. "He has forged partnerships."
"UTSA is well on its way to becoming one of the premier leaders in higher education," says Dr. Louis Olivas, president of the American Association of Hispanics in Higher Education, Inc. (AAHE), the Arizona-based higher education organization.
"Dr. Romo is a leading example of what it takes to be a leader," says Olivas, who retired from Arizona State University in 2009 after 30 years as a professor. "He's inclusive of all students, has been aggressive in recruitment of faculty and he knows how to collect a team."
In a recent interview discussing UTSA's rise in the ranks, Romo cited his strong belief in team-building as a key to being a successful president.
"I ran relays," says Romo, referring to his position in college track. "I wanted to pass the baton to someone who had practiced," he says in offering advice to new and aspiring presidents.
"Every president has to have really good, honest people who know their field well," Romo says as he ticked off  a list of people who have helped him achieve his larger goals for the university to raise more money, have quality programs, and increase student recruitment that helps identify college-bound students who are likely to graduate and devise programs to help them succeed.
Having a solid team could not be more important today, given the demands on the higher education landscape, says Romo.
Presidents need to "get engaged with budgets and revenues," he says, asserting gone are the days when such work could be leto budget chiefs. Presidents "need to know everything about it," he says. "Get some training, teaching and mentoring in budgets early on."
That knowledge can come in handy, Romo says, offering as an example a $20 million cut in state aid for the coming school year. In searching for money in his budget to deal with the aid cut, his detailed knowledge of his budget helped him decide, among other things, to "build less sidewalks and put [available funds] in scholarships."
End of open enrollment
UTSA's rise in the ranks has come at a cost, Romo acknowledges — the loss of some potential students. ‑  e full story reflects his feeling that some of those students should not have gone directly to college from high school, he says.
The university's decision under his leadership to tighten its admissions requirements stemmed in part from a realization the institution had "many individuals" for whom a four-year college program "was not the right move for them."
A hard study of its open-enrollment practice may have meant open opportunities for all high school graduates. It also meant some of the students "did not meet the college readiness tests," says Romo. "We were spending money in remedial work. If you can't write, aren't ready to learn and be a critical thinker, what the heck are you doing here?" Romo asked, in explaining why UTSA ended open enrollment.
The university still makes a strong effort to enroll first-generation high school graduates from low-income backgrounds. ‑The institution is attempting to approach them earlier in life now.
"In the 10th grade, we tell them to work hard," says Romo. "'You can't be a C or D student and get into UTSA,'" is what he and his recruiting team tell elementary and secondary school students on school visits.
That's not to mean the underperformers are not potential college material, Romo adds.
Some may need to attend a community college then move to a four-year institution.
Others, he says, join the military before going to college. Others go to work. ‑They all are college prospects and many complete college, Romo says.
The federal government formula for counting students shows UTSA had only a 15 percent four-year graduation rate for its 2011 cohort and 31 percent for its six-year 2009 cohort, the university reports.
"When I sit at graduation and see those kids cross the stage, 7 of 10 are not counted," in official federal headcounts, says Romo, seeking to put the federal count of graduation in context.
The government may not count them, says Romo, but he does, noting their achievements at UTSA and beyond.