The Education Trust on Thursday amplified the longstanding calls among some in higher education for a greater emphasis on federal-state partnerships that focus on lowering college costs and boosting completion rates for low-income students.
The latest call — which comes as some in Congress already have put forth proposals for a more meaningful federal role in fostering better completion rates — comes by way of a new Education Trust report titled "FIXING AMERICA'S COLLEGE ATTAINMENT PROBLEMS: IT'S ABOUT MORE THAN AFFORDABILITY: Critical Considerations for Any New Federal-State Partnership."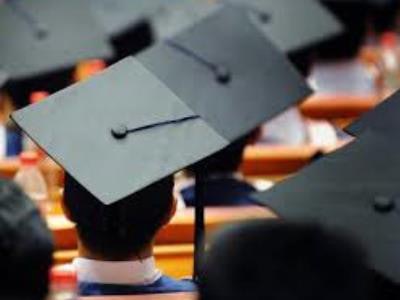 Among other things, the report notes that the cost of tuition and fees have risen by 699 percent since 1982, which it says is more than three times the rate of increase in median household income.
The costs have led to gaps in attainment rates between rich and poor, with students from high-income families being about three times as likely as students from low-income families to obtain a bachelor's degree by age 24, the report states.
José Luis Santos, a co-author of the report and vice president of higher education policy and practice at the Education Trust, says the report is meant as a framework for policymakers and advocates as America continues to falter globally in its college degree attainment rates.
"America's college attainment problem has many roots," Santos said.
"Yes, new resources are key to fixing it. But resources alone aren't enough," he continued. "We have to change incentives up and down the line — from students and schools to colleges and states."
With that in mind, the new Education Trust report urges a more thoughtful approach to federal-state partnerships and outlines some key considerations for any such partnerships that Congress and states may pursue.
For instance, the report calls for a careful examination of performance requirements for states and asks what kind of actions these requirements may incentivize.
"While some states are already beginning to ask more of their public postsecondary institutions (for example, improving graduation rates and closing long-standing gaps), in other states, institutional leaders still get away with blaming poor performance on their students — ignoring the evidence that, at every level of selectivity, there are other institutions serving the same kinds of students but getting much better results," the report states.
Andy Carlson , principal policy analyst at State Higher Education Executive Officers, or SHEEO, noted that a number of federal-state partnerships have been proposed over the last three years, including one in a report that SHEEO released two years ago that focuses on reducing the net price for students in the bottom two income quintiles.
Carlson expressed general support for some of the points the Ed Trust report raises on the need to address the "growing challenge of college affordability, and poor completion results," particularly as it relates to underserved students. However, he added that SHEEO had not yet read the entire Ed Trust report and thus could not weigh in on its details.
The Ed Trust report also seeks to make sure that new proposals incentivize high schools to make improvements in the preparation of future students.
"When more than 70 percent of recent high school graduates are going on to some form of postsecondary education, but fewer than half meet basic readiness standards, that is a big problem," the report states. "And years of experience make it very clear that preventing problems on the front end is both more effective and less costly than fixing them later on."
Indeed, in a separate report this week, the Center for American Progress, a nonprofit, Democratic leaning think tank, provides a state-by-state analysis of the cost of remedial education, which it lambasts as costly and inefficient.
"These remedial courses cost students and their families serious money—about $1.3 billion across the 50 states and the District of Columbia every year," states the report, titled "Remedial Education: The Cost of Catching Up."
"What is more, students who take these classes are less likely to graduate," the CAP report states. "Simply put, remedial education — or developmental education as it is also known — is a systemic black hole from which students are unlikely to emerge."
In other news Wednesday, the U.S. Department of Education released data that shows the three-year federal student loan cohort default rate dropped from 11.8 percent to 11.3 percent for students who entered repayment between fiscal years 2012 and 2013.
"The trend has moved downward since FY 2010, when the cohort default rate stood at 14.7 percent," the department said in a statement. "It's the third straight year that the overall rate has fallen."
"It's great that recent borrowers are entering default at a slower rate," said Lauren Asher, president of The Institute for College Access & Success, or TICA.
"Yet  the escalating number of people in default demonstrates that more must be done to help students avoid and get out of default," Asher said in a statement that notes that while the default rate among borrowers has decreased, the total number of borrowers in default has continued to grow and is now at a record 8.1 million.
TICAS also noted that a disproportionate portion of the defaults involved students who attended for-profit colleges.
"Of the 593,000 borrowers who entered repayment in 2013 and defaulted by 2015, 209,000 (35 percent) attended for-profit colleges, which enrolled only 10 percent of all students," the TICAS statement noted, pointing out that nine out of ten schools facing potential sanctions for their default rates are for-profit colleges, although most are barber or cosmetology schools.
TICAS also noted many of the 8.1 million borrowers in default include students at schools that have since closed.
"Many of the schools that closed recently, such as Corinthian-owned Everest, Wyotech, and Heald College campuses and Marinello Schools of Beauty, are known to have committed widespread fraud, putting their former students at greater risk of default," the TICAS statement said.
"It is unconscionable to subject students to the consequences of default when the law entitles them to have their student loans discharged," said Pauline Abernathy, executive vice president of TICAS.
Among other things, defaulters can have their wages garnished.
"We call on the Department to stop requiring individual discharge applications from borrowers the Department knows were defrauded and automatically cancel their loans instead," Abernathy said.
Officials at the Department of Education could not be reached for comment.
Jamaal Abdul-Alim can be reached at dcwriter360@yahoo.com or follow him on Twitter @dcwriter360.