Several dozen Lincoln University students staged a sit-in this week to protest deteriorating conditions at the historically Black institution located about 45 miles outside of Philadelphia.
For years, students have expressed a litany of concerns about everything from academic advising, the decline of academic programs, and the quality of food at the dining hall.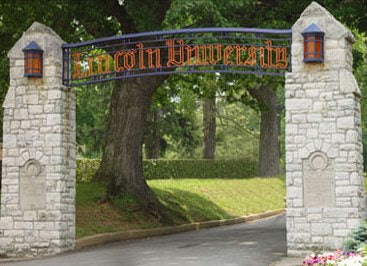 Some students have skipped classes and took their concerns directly to the university's administration, which has been without a permanent president since Dr. Robert R. Jennings resigned in 2012 after making controversial statements that went viral. Dr. Richard Green has since been serving as the school's interim president and it's unclear when his term is set to expire.
Among the grievances expressed by the students is the lack of ongoing communication between administrators and students, many of whom are first-generation college students who hail from urban cities like Philadelphia, Baltimore and Washington, D.C.
Charles Bennett, a fifth-year engineering student from Washington, D.C., says that he's been forced to stay at Lincoln for an extra year as a result of poor advising. In addition, he says that he was encouraged to take remedial courses that he didn't need in the first place.
"A lot of people are coming in and being thrown to random advisors who don't know what they're doing," says Bennett. "As a result, you have students who are a year and half behind because they are poorly being advised."
Bennett was among the students who participated in the sit-in on Wednesday and says that while the overall campus is "aesthetically pleasing," the campus dormitories are "ridiculous" and in some cases should be deemed uninhabitable.
He says that pleas to Green and other administrators have fallen on deaf ears.
"If they are being responsive, you don't see it in a timely manner," says Bennett. "I know things will not change overnight, but give students something to look forward to. Lincoln's actions do not make sense. We just need consistency."
In recent months, a group of students have joined with the president of the school's parents association and the head of the alumni chapter in calling for the immediate ouster of Kimberly A. Lloyd, the chair of the board of trustees. They charge that Lloyd has been an ineffective leader.
"I am so proud that the students have finally stood up and are taking a stand," said Carmina Taylor, head of Lincoln's parents association, who publicly has questioned the school's direction. "We are behind the students 100 percent."
In a statement issued to the media, Green downplayed the sit-in.
"While Lincoln University welcomes thoughtful and well-meaning dissent, and support students right to full and free expression, [the] student gathering was conducted by less than 50 students whose concerns must be heard, that number represents only a small fraction of the total 2,100-member student body."
Jamal Eric Watson can be reached at jwatson1@diverseeducation. You can follow him on Twitter @jamalericwatson