Back in 2008, DeVry University launched a brand marketing campaign — it was called "We Major in Careers" — in an attempt to sell students on the idea that nine out of 10 of the school's graduates went on to get jobs related to their degrees.
Leaders of the for-profit college went all out and repeated the claim for anyone who would listen.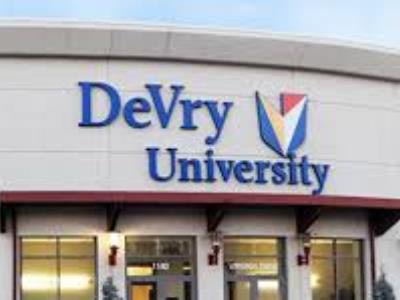 For instance, in an article titled "What DeVry Does Differently," then-DeVry president David J. Pauldine claimed that helping graduates find employment in their chosen field of study is what "differentiates DeVry University from the vast and growing landscape of postsecondary institutions."
"In fact, since 1975, 90 percent of graduates from DeVry's undergraduate programs who were in the active job market have been employed in their field of study within six months after graduation," Pauline wrote in the article, which appeared in Diverse in July 2008.
On Thursday, DeVry agreed through a settlement with the U.S. Department of Education to stop making that oft-repeated claim because the school didn't have the evidence to back it up.
"Together, we've put an end to the use of an unsubstantiated claim by this institution, and we will continue our efforts to ferret out similar unlawful practices," said U.S. Department of Education Chief Enforcement Officer Robert Kaye.
Pauline Abernathy, executive vice president at The Institute for College Access & Success, said the settlement "sends a strong message to all schools that make job placement claims: they need to have data to support them."
But some observers say DeVry is getting off lightly simply because it has the money to stay in business, whereas some of its other for-profit peers — facing similar scrutiny or sanctions of being cut off — collapsed after being cut off from access to federal student aid.
"What DeVry has done here is as serious as anything Corinthian and ITT Tech did," said Barmak Nassirian, director of federal relations and policy analysis at the American Association of State Colleges and Universities, speaking in reference to two recently shuttered for-profit colleges. "It's just that DeVry hasn't run out of cash yet.
"If you're big enough and you have enough resources, apparently there is no violation of the black letter of the law that is sufficient for the Department (of Education) to say either you're out or I'm going to actually impose penalties commensurate with the damage that you've caused," Nassirian continued. "Because the damage caused here is to millions of students who read those fabricated statistics and made life-altering choices to attend this institution in spite of the fact that they were lying about their prospects for employment, the wages they could look forward to, and those people are not going to get a lot of help from this settlement."
Officials at Devry — which is still facing a lawsuit from the Federal Trade Commission that accuses the school of deceiving consumers about the job placement rates and how much they will earn — maintain that the settlement doesn't mean they were lying about their job placement rates.
"There is no finding that students were misled," Ernie Gibble, senior director of global communications at DeVry Education Group, told Diverse via e-mail.
Rather, Gibble said, the settlement was about substantiation — or lack thereof — for the years 1975 through 1980. That's what made the ad campaign the for-profit college launched in 2008 a faulty one.
"At the time DeVry University ran these ads, it believed in good faith that it had sufficient substantiation," Gibble said. "Nevertheless, DeVry University has agreed to no longer use the 'Since 1975' graduate employment statistic as part of the settlement."
Actually, the settlement requires DeVry to do more than just stop making the claim, but to scrub all of its "Since 1975" references from the Interent, and to post for two years on its homepage the fact that it could not back up the "Since 1975" claim it made in its ads.
"The settlement in no way hinders DeVry University's ability to serve current or future students," the company said in a statement. Rather, the company said, the settlement allows DeVry University to "continue communicating its strong student outcomes, while providing assurances regarding the extent of its graduate employment data."
Asked if the company had developed a new slogan or claim to replace the "Since 1975" claim that it can no longer use, Gibble said: "No."
Nassirian said he didn't think the settlement — which subjects DeVry to "provisional certification" — would induce better behavior in the for-profit college sector.
Among other things, DeVry must submit a letter of credit for $68.4 million, which is about 10 percent of the federal student aid funds that DeVry disbursed to students in the 2014-2015 years.
"If this is the price of being caught red-handed, I wonder whether a cost-benefit analysis will tell them in terms of stretching the truth or cutting corners," Nassirian said.
The settlement also requires DeVry to keep better records going forth, hire a third-party reviewer to review records of and information about DeVry graduates from January 2017 and beyond for six years, and provide "graduate-specific" data to the department upon request.
DeVry must also provide the department with any data it uses to make claims about the employment rates of DeVry graduates.
Efforts to reach Pauldine, the former DeVry president at the time the "We Major in Careers" campaign was launched, were not successful.
Jamaal Abdul-Alim can be reached at jabdul-alim@diverseeducation.com or you can follow him on Twitter @dcwriter360.