Racial and gender gaps in science proficiency have narrowed modestly amid overall improvements at the 4th and 8th grade levels since 2009, but not much of a change has taken place among America's high school seniors, national results released today show.
While officials attributed the improvements at the elementary and middle school levels to students, parents and teachers laboring away at a time of greater focus on science by the Obama administration, they suggested the stagnation among the nation's high school seniors is likely due to the fact that students from minority groups are staying in high school longer and graduating more frequently but still not doing as well as their White peers in science.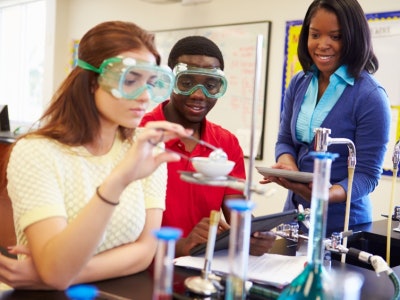 They also said that the high school seniors who took the latest national assessment did not benefit from initiatives in science education undertaken under the Obama administration when they were in elementary school but that future high school seniors who did benefit from those initiatives during their elementary and middle school years will do better on the next assessment.
Such were some of the conclusions drawn Wednesday about "The Nation's Report Card: 2015 Science"—part of an assessment formally known as the National Assessment of Educational Progress, or NAEP—released today by the National Assessment Governing Board.
"Improving educational outcomes is a long-term investment," U.S. Secretary of Education John B. King Jr. said Wednesday in a phone conference with reporters.
"It's not surprising that you would see gains in the 4th and 8th grades," King said. "The current 12th graders that took this last assessment had already gone through their elementary education by the time we made some of these important STEM investments. That may be a factor here."
King was referring to efforts such as the "Educate to Innovate" initiative, launched by the Obama administration in 2009 to improve math and science achievement over the next decade.
To date, the effort has garnered more than $700 million in public-private partnerships, according to the U.S. Department of Education. King also touted the administration's "Race to the Top" as one of several competitions for federal grants that have prioritized STEM teaching and learning, and the 100Kin10 initiative—prompted by Obama's call to produce and develop 100,000 STEM teachers by the year 2021.
"We are only partway down the path of these many initiatives," said John P. Holdren, assistant to the president for science and technology and director of the White House Office of Science and Technology Policy.
He included in his remarks such initiatives as "Computer Science for All," a federally-led initiative to teach computer science to all students, and ConnectED, a federally-led initiative to connect 99 percent of America's students to high-speed wireless in their schools and libraries by 2018.
"It is, of course, a concern that so many students are just at the basic level or below," Holdren said in response to the NAEP science results. But he said he was "confident we will see continuing improvement across the board in the future."
The results released Thursday show that 37 percent of 4th graders were proficient or better in science in 2015 versus 33 percent in 2009. And 34 percent of 8th graders were proficient or advanced in science in 2015 versus 29 percent in 2009. But for 12th graders, just 20 percent were proficient or advanced in 2015 and just one percentage point higher than the 19 percent who were in 2009.
The NAEP is based on an assessment that is scored on a 300-point scale, with an average score being 150.
Black-White gaps narrowed from 36 to 33 points among 4th graders between 2009 and 2015, and the Hispanic-White gap narrowed from 32 to 27 points.
Similarly, the Black-White gap among 8th graders narrowed from 36 to 34 points during the years in question; the Hispanic-White gap narrowed from 30 to 26 points.
But the Black-White gap actually worsened at the 12th grade level—going from 34 in 2009 to 36 points in 2015. The Hispanic-White gap for 12th graders improved only slightly, from 25 to 24 points during those years.
Gender gaps were virtually unchanged at the 12th grade level, going from six to five points, but at the 4th grade level the gender gap disappeared although it was already small—one point—to begin with. At the 8th grade level the gender gap dropped from four to three points.
"This is exactly what we'd like to see, student improvement and students at the bottom of the distribution making greater gains," said science educator and TV personality Bill Nye "The Science Guy."
"But there's still progress to be made because these gaps are still wide," Nye said.
Asked if the Next Generation Science Standards—a new set of science standards released in 2013 through an initiative led by states—had anything to do with improvements in the science scores, Peggy Carr, Acting Commissioner of the National Center for Education Statistics, said no clear evidence emerged to support that idea.
"We did look at the states who indicated that they had adopted the standards and those that had not, and there was absolutely no pattern, no association or relationship that can be discerned from this data by adoption of these standards," Carr said.
Carr also noted that high school graduation rates have reached record highs, particularly for Black and Hispanic students—who tended to lag behind White students—which might explain the reason why 12th grade proficiency rates didn't change much.
Jamaal Abdul-Alim can be reached at [email protected] or you can follow him on Twitter @dcwriter360.