The tech industry is a notoriously lonely place for African Americans. Black workers comprise only 6.9 percent of STEM employees, and less than 5 percent of the workforce at tech companies in Silicon Valley. At tech behemoths like Google and Yahoo, Black workers made up 1 percent of the workforce.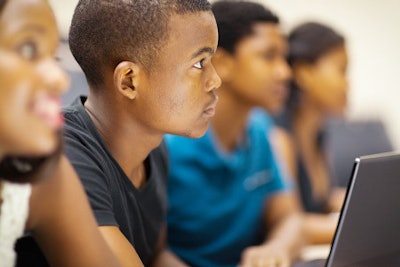 A new study shows that younger generations of African Americans may be poised to change the game. Taking a deep look at computer usage and career aspirations among African American youth, the study reveals that the majority of African Americans between the ages of 11-17 are self-reportedly confident about their computer skills, about half say that they want to learn how build their own website, and a third want to learn how to code.
"We now know that there's a cadre of young people out there who are really interested in learning these types of skills," said Dr. Kevin Clark, a professor in the College of Education at George Mason University and one of the authors of the report. "Hopefully they will be more apt to participate in the STEM enterprise and select STEM majors and careers."
The findings differ from those of past studies, Clark added, which were more likely to indicate that there was not much interest in tech and computer skills among African American youth, combined with a lack of exposure and access to computers and technology related endeavors.
"To a certain extent some of those things may have been true, but I think what we're seeing as that time has gone on, those issues have been mitigated and reduced a little bit to the point that now access and interest and motivation are no longer the primary issues," Clark said.
The study identified a mismatch, however, between what young people said they wanted to do and the skills they said they already have. Although half indicated an interest in complex operations like coding and building a website, another half said that they were not confident using programs like Word, Excel, and Powerpoint.
Other imbalances are revealed in levels of technology use. Families with a household income of more than $75,000 were more likely to report frequent computer use compared to those with an income of less than $25,000 ― the disparity was 77 percent and 55 percent between high and low income families respectively. Low income families were also less likely to use a smartphone compared to higher income families, although the divide was not so great as with computers.
"If you're low-income you tend to have a limited number of devices," Clark said. "So if you have to decide between a tablet or a smartphone, chances are you're going pick a smartphone. That doesn't mean you only want a smartphone, but that given financial situation and the choices you have to make, a smartphone is the best option."
Another significant finding was that that low-income youth are less likely to learn about computing technology from the people closest to them, which goes hand-in-hand with a comparative lack of access to computers and mobile devices. It is critical that the skills student learn at school be backed up by support and engagement at home and from their community, Clark said.
In total, the study surveyed more than 1,000 African American young people attending public, charter, and private schools; and more than 1,000 parents of African American young people.
Staff writer Catherine Morris can be reached at cmorris@diverseeducation.com.