If it weren't for the FBI Director James Comey's inappropriate letter to Congress about an email discovery that may or may not having any relevance to the election, the political highlight of last week would have been Michelle Obama's speech at Wake Forest University (WFU).
With less than two weeks before Election Day, the WFU event on Friday was the first joint campaign appearance for the first lady and Hillary Clinton.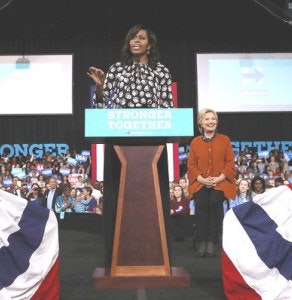 And all it took was one day after to prove one of her main points ― that the campaign has been "so dirty and ugly that we don't want any part of it."
Comey has but a thin claim to innocence. He didn't have to do it, but he chose to make a political act. By breaking the protocol of silence during an ongoing investigation, Comey's letter to Congress just days before the election gives the gift of innuendo to political spinners everywhere.
Trump now says maybe the election isn't rigged.
Clinton demands an explanation about just what the FBI is looking at.
And voters, especially millennials, have more reason to be turned off to Washington and its ways.
And maybe not vote.
But that's exactly what Michelle Obama was hoping against. Because voting is how we get to express ourselves about all these matters. By turning out and not by getting turned off by the system.
"Do not let yourself get tired or frustrated or discouraged by the negativity of this election," the first lady said to the assembled crowd at WFU. "This has been a draining election. But I urge you to please, please, be encouraged. You know I want our young people to be encouraged. Because we still live in the greatest country on earth. We do. And I have never felt more hopeful about the future and our young people deserve that. Be encouraged."
Yes, more than a rally for Clinton, the WFU event was a personal and heartfelt, "You've got to vote" rally.
"Vote early, vote now. Leave here and go vote," said Obama. "And don't let anyone take that right away from you."
The first lady's speech has been clipped in news stories. But once again, she managed to bring a certain humanity and perspective to the campaign.
"Folks marched and protested for our right to vote," she said. "They endured beatings and jail time. They sacrificed their lives for this right. So I know you can get yourselves to the polls to exercise that right."
The first lady talked about her great-great grandfather who was a slave, and how her father kept working long hours so that she and her brother could someday go to college.
"Because in this country anything is possible," she said. "As we walk away from this election, remember that is what makes us who we are. Remember that. The country where a girl like me from the South Side of Chicago, whose great-great-grandfather was a slave, can go to the finest universities on earth. A country where a biracial kid from Hawaii, the son of a single mother, can make it to the White House. A country where the daughter of an orphan can break that highest and hardest glass ceiling and become president of the United States. That is who we are. That is what's possible in America but only when we come together. And work for it and fight for it."
And that's where the first lady made the real diversity connection, that though we come from different backgrounds and circumstances, diversity is a unifying American experience.
Obama talked about how, as first lady, she's met a lot of different people around the country, some who disagreed with everything she or the president stood for.
But, she said, they welcomed them into their communities.
"Our neighbors are decent folks," Obama said. "We are all good people who are open-hearted. And willing to listen. And while we might not change each other's mind, we always walk away reminded when it comes to what really matters, when it comes to our hopes and dreams for our children, we're just not all that different. And I want you to remember that it's that part of us as Americans, it is that piece of us that is in all of us."
It was that rare call for unity in the campaign. And it all boiled down to everyone's ultimate right of political expression.
"We're going to vote," Obama said as she closed her remarks to cheers at WFU. "We're going to vote early. We're going to stand in line. We're going to make our voices heard. No one is going to take away our hope."
Emil Guillermo is a journalist and commentator who writes at http://www.aaldef.org/blog.