When Chrisel Martinez read a recent article that described a summer orientation program she went through several years ago at SUNY Albany as a "cult-like" operation that sanctions various forms of "hazing," she was not impressed.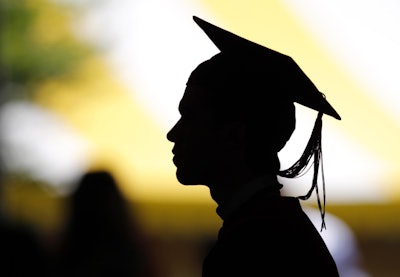 "The Educational Opportunity Program challenged, supported and empowered me throughout my college years in ways no professor, colleague or coursework was able to," Martinez told Diverse in response to the Albany Student Press article about the EOP program at SUNY Albany.
"Before EOP I was just another Afro-Latina from Harlem with a dream and a desire," Martinez said. "This program supported me when, once upon a time, growing up in a marginalized community meant no one had your back but your mother."
The article says the EOP program — which is meant to provide "admission opportunities for economically and educationally disadvantaged students," according to a university website — is a "jarringly repressive" program governed by "strict rules" and "draconian punishment."
"Before being admitted to the university, academically and financially disadvantaged students applying through the EOP program must first graduate from a five-week orientation, structured by a system of strict rules, which if violated result in punishments referred to by EOP officials as 'lockdown,' 'bed rest,' and 'isolation,'" the article states.
The article has prompted officials at SUNY Albany to review the program's policies and procedures.
"While we differ with the article's characterization of the EOP summer program, we believe that the questions raised deserve further scrutiny," Karl Luntta, director of media relations at SUNY Albany, said in a statement to Diverse.
"Toward this end, the university had already initiated a review of the program's guidelines and procedures" Luntta said. "The review is not complete. We will focus on it until we feel it's complete."
Martinez also said she disagreed with how the article portrayed the EOP program.
"EOP gave me humbling structures, a family and enough support for me to graduate," Martinez said. "Something I never imagined was possible for someone like me."
However, Martinez dodged questions about whether she was ever subjected to any of the sanctions or punishments described in the article and obfuscated what she experienced as a participant.
For instance, when Diverse asked if Martinez had experienced any of the punishments and sanctions described in the Albany Student Press article and, if so, to describe them in detail, Martinez retorted that the question was a "loaded question" that included "unjustified and/or accusing assumptions."
"So, no, I can't describe anything that didn't happen in the nature it is described," Martinez said. "Unless, of course, we're newly describing revelations and journeys of self-discovery as punishment."
Martinez also invoked a narrow definition of "punishment" as "rough physical treatment" when discussing the EOP program.
"Now, if students were genuinely being punished by the program, I assure you that the SUNY system and legislature at-large wouldn't have let it become the success it currently is," Martinez said.
Martinez also accused the author — Albany Student Press Editor-in-chief Stefan Lembo-Stolba — of using his "White privilege" to "further marginalize and oppress minority students and a program that truly speaks up for us."
Martinez — whose biography says she once served as chair of the Equity and Inclusion Committee for the SUNY Student Assembly — seemed to be OK with the EOP program at SUNY Albany treating its participants differently than "regular" students.
"We, students of color from rough backgrounds, ARE NOT regular," Martinez wrote in her statement to Diverse. "In this segregated society regular has been defined as white, wealthy and 'wholesome.'
"We are raised in oppressed households full of love, where our parents work endlessly to make ends meet and the outdoors is no better than the indoors, but we take pride in having come up from nothing.
"Again, we are not regular and to expect there to be a unilateral way of treating all students is completely unrealistic when we all come from such varying backgrounds."
Martinez said she "wouldn't change a thing" about EOP.
"I completely trust and support the methodology of the program because the success speaks for itself," Martinez says. "Frankly, if anyone is as ready and willing to take in, educate, house and support the rough kids from the urban jungle the way EOP has done for decades, by all means go ahead.
"But if all this is all about questioning the integrity of a program that has saved thousands of lives; I ask that you abandon your bias and see clearly what it is that you're ignorantly dismissing in an attempt to be just another white savior, trying to help but doing more damage than good."
Lembo-Stolba, the author of the article, declined to respond specifically to Martinez's allegations that he was using his "White privilege" to damage the EOP program.
He said he was merely reporting on little-known aspects of an otherwise popular and successful program.
"Yes, the students in the EOP like the summer program. This is something that is mentioned in my article multiple times," Lembo-Stolba said. "Regardless of their appreciation of the five weeks, the topic is still something that people around campus weren't aware of — and it is the objective of any newspaper to inform their community of what's going on around them.
"At no point in the article do I refute the success or the greatness of the program, rather I address the facts of the summer orientation's strict rules — a feature of the program that no other SUNY EOP needs in order to be successful with their students," Lembo-Stolba continued. "SUNY has confirmed UAlbany is the only school using these practices."
The article notes that the EOP program at Albany "boasts graduation and retention rates higher than those of other EOPs throughout the state, but it is still unclear whether UAlbany's out-of-the-ordinary summer practices are the cause of this success."
Specifically, it says that Albany's EOP maintains a 77 percent graduation rate and 92 percent first-year retention rate.
Martinez credits the EOP program with being where she is today. She is a 2016-17 fellow in public affairs at the Coro New York Leadership Center.
"I thank God every day and count my blessings because the Educational Opportunity Program advocated for me, and many others like me, when no one else cared to," Martinez said. "It allowed me to find the beauty in the struggle and the happiness in the success."
She said Lemba-Stolba "will never know what life was and has been like for someone like me and the blessings that my acceptance letter from EOP began to unravel."
"Perhaps … the authors want to badmouth EOP, perhaps they believed they were doing something positive and revealing that would help give disadvantaged students a voice … and they succeeded, at least in that, because here I am to say that I AM PROUD TO BE EOP."
Jamaal Abdul-Alim can be reached at jabdul-alim@diverseeducation.com or you can follow him on Twitter @dcwriter360.