The dashing of the executive orders of President Obama will be the low-hanging fruit for a Trump administration looking for quick action on its very first day.
It means President-elect Trump could take out DACA, Deferred Action for Childhood Arrivals, with the simple stroke of a pen.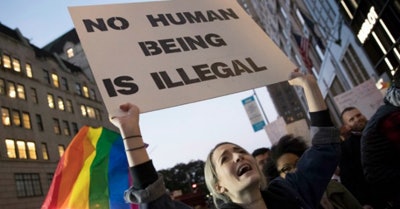 But it has also paved the way for a new version "sanctuary" movement, common in major cities like New York and Chicago, to spread throughout campuses across the country.
Already, Columbia University in New York has let it be known that the undocumented seeking education would be assured protection in the event that Trump's actions threaten those currently enrolled in schools around the country.
Provost John Coatsworth in a letter to the Columbia University community said "the university will neither allow immigration officials on our campuses without a warrant, nor share information on the immigration status of students with those officials unless required by subpoena, court order, or authorized by a student."
Columbia is located in New York City, which has reaffirmed its status as a sanctuary city meaning local law enforcement would not act as immigration enforcers.
Coatsworth said that in the event that DACA is curtailed, "the University pledges to expand the financial aid and other support we make available to undocumented students, regardless of their immigration status…We subscribe to the view of the Association of American Universities that DACA should be upheld, continued and expanded, and we will continue to express that commitment in the future."
The letter came after 400 students walked out of classes to demand a sanctuary campus, and two petitions circulated among faculty and staff gathered more than 2,000 signatures calling for Columbia to set aside money to support undocumented students should DACA be repealed.
Columbia President Lee Bollinger already is one of more than 70 college heads to sign a letter asking the new administration to continue DACA.
Emil Guillermo is a journalist and commentator. He writes on politics, race and society at http://www.aaldef.org/blog.