WASHINGTON — With the overall number of public high school graduates in the United States expected to plateau over the next several years but at the same time become more diverse, colleges and universities must do more to enroll students of color and ensure their success.
Doing so, said Joe Garcia — president of the Western Interstate Commission for Higher Education, or WICHE — is not just a matter of increasing equity and opportunity.
"This is a matter of economic competitiveness and sustainability of the economic recovery," Garcia said. And for colleges and universities that face declining enrollment and have excess capacity, he said: "This is a matter of survival."
"They need to figure out how to reach out to these populations," Garcia said.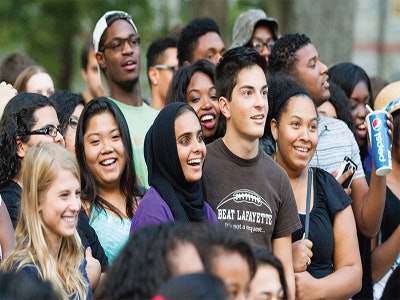 Garcia made his remarks Tuesday at the National Press Club during the release of WICHE's annual "Knocking at the College Door" report that provides projections of high school graduates.
The report's key finding is that the overall number of high school graduates, which reached a record high of about 3.47 million in 2012-2013, will "plateau for most of the next decade" and experience a short-lived growth between 2024 and 2026, a period during which the number is expected to reach about 3.56 million.
"The pending national plateau is largely fueled by a decline in the White student population and counterbalanced by growth in the number of non-White public school graduates—Hispanics and Asian / Pacific Islanders in particular," the report states.
Garcia said the trends pose a challenge because the groups that are expected to increase in the number of high school graduates are the least likely to complete college and more likely to attend open access institutions or community colleges, which typically have lower completion rates.
While the number of Hispanic high school graduates is expected to increase by 50 percent through about 2025—to about 920,000 graduates—Hispanics currently have the lowest postsecondary educational attainment rate at 21 percent compared to 45 percent for Whites, according to the new WICHE report.
Asian / Pacific Islander high school graduates are expected to grow by 30 percent—or from 185,000 in 2014 to 240,000 in 2032, according to the report. While Asian / Pacific Islanders have a substantially higher postsecondary educational attainment rate at 61 percent, there is substantial variation in college attainment among various Asian subgroups, with some having college degree attainment rates in the low teens.
"We need to remind institutions that they need to focus on these populations," Garcia said.
Black students are expected to represent about 15 percent of the total number of high school graduates through 2016 but decline to 14 percent with a total number that varies from 467,000 to 440,000 over the next 15 years.
Nicole Smith, research professor and chief economist at the Georgetown University Center on Education and the Workforce, said the trends show the need for better college and career counseling at the high school level.
"One concern here is we want to make sure that we better connect our students who are leaving the K-12 system, transitioning to higher education. We want to better connect them to workforce outcomes," Smith said. "One way to do that is to make sure they have more counseling early on."
Smith said Black and Hispanic students have had "tremendous challenges" with respect to graduating on time and getting a job that pays middle-class wages.
She said one reason is that Black and Hispanic students tend to pursue majors that result in wages that are less than the median wage for a given degree.
"If we see higher percentages of students of color interested in or finding themselves pursuing these particular majors, we need to make sure there's a distribution that's much more representative of the whole," Smith said.
Among other things, Smith said educational leaders should ask why students of color are pursuing majors that don't pay off or if they are being counseled into such majors and what kind of programs can be created to put them in a better position financially.
When Garcia, the WICHE president, asked William Serrata, president of El Paso Community College, whether the tendency among students of color to go to open access institutions or community colleges was good or bad—and whether it means more students of color should be counseled to attend four-year institutions or whether two-year institutions should improve outcomes—Serrata said, "We think it's a combination of both."
"We don't want to dictate that everyone needs to be in the STEM fields," said Serrata, who recalled his own experience in aborting a plan to become an engineer once he realized he didn't have the discipline or desire that it took to become one.
Serrata also spoke of what enrollment managers refer to as "the golden circle"—or the radius in which most students attend college.
Before the recession, he said, it was 150 miles from home. "It's now down to about 50 miles," Serrata said. "What we need to do is regionally improve the opportunities we have."
Along those lines, Serrata touted the fact that his college is part of "Guided Pathways," a Bill & Melinda Gates Foundation-funded initiative that, among other things, helps students make choices on which majors to study quicker and not waste time taking credits that don't apply to their degree so that they don't exhaust their financial aid.
El Paso Community College also regularly goes over data with local K-12 systems in order to enable more students to transition more smoothly to college, Serrata said.
"It's no longer a blame game," Serrata said. "It's, 'How can we get better?'"
Jamaal Abdul-Alim can be reached at jabdul-alim@diverseeducation.com. Follow him on Twitter @dcwriter360.