Student and faculty activists argue that colleges and universities should call themselves "sanctuary campuses," a label that they say would help underscore institutional commitment to supporting undocumented students in a time when the future of immigration in the U.S. seems all the more uncertain.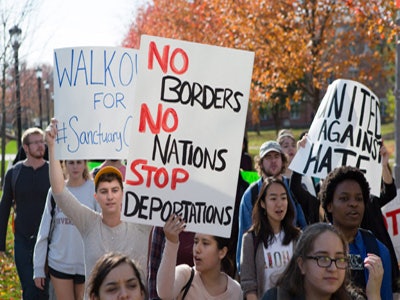 The term sanctuary campus is modeled after "sanctuary cities," such as Los Angeles, Chicago, and New York, that offer certain protections to undocumented individuals. According to the Center for Immigration Studies, which has repeatedly spoken out in opposition of the sanctuary city movement, more than 300 state and local governments protect undocumented immigrants.
"Declaring Harvard University as a sanctuary campus is more than a symbolic gesture, as it is a necessary step in reaffirming the University's commitment to undocumented students and students from mixed-status families," Harvard student organizers with the student group Protect Undocumented Students at Harvard (PUSH) wrote in a November op-ed in the Harvard Crimson.
Despite similar demands from students and faculty across the country, with a few exceptions, college leaders are not embracing the sanctuary campus label. In numerous public statements and letters, they argue that, unlike a sanctuary city, the concept of a sanctuary campus has no basis in law and that, ultimately, institutions will be required to follow immigration laws.
"I think many college leaders are probably concerned about what a new administration might do in terms of federal funding, which can get really tricky and complicated," said Phillip Torrey, lecturer on law with the Harvard Immigration and Refugee Clinical Program and the Supervising Attorney for the Harvard Immigration Project. "There are also concerns that by labeling their university a sanctuary campus there will be a bullseye on the university for targeted enforcement."
"Both of those things remain to be seen," he added. "It's just sort of impossible to guess what the incoming administration might do."
President-elect Donald Trump has vacillated on his position on policies protecting undocumented youth, such as the Deferred Action for Childhood Arrivals (DACA) program. DACA is an executive order signed by President Obama that permits individuals who were brought to the U.S. as minors to apply for a two-year work permit and eligibility to attend college.
Although DACA allows recipients to work and to further their education, it does not provide a clear path to citizenship. Trump has said he would repeal DACA and at other times appeared to walk back on that position.
Short of labeling themselves a sanctuary campus, there are a number of policies that schools can adopt, Torrey said. Schools can choose to make a policy of not requesting or inquiring into a student's immigration status or birth place. They can also make a policy of not requiring students to state information that would be relevant to immigration or customs enforcement officials.
In addition, schools can also provide legal services and mental health services to undocumented students and undocumented individuals in the area. He noted that, in the aftermath of the election, Harvard Law School students had stepped up their outreach to local communities. Boston's immigration population is growing, with many newcomers from the Dominican Republic, China, and Haiti.
The conversation becomes even more fraught when DACA is brought into the mix. "There's definitely a lot of concern among DACA recipients about what's going to happen to DACA," Torrey said.
DACA requires applicants to share personal information about themselves and their families with USCIS, which is in itself a risky proposition to many undocumented immigrants, said Andrea Gaytan, director of the AB450 and Undocumented Student Center at the University of California, Davis.
"Any time the federal government says, 'Give us all of your personal information, in exchange for something,' that's always a red flag," Gaytan said. "Many students have told me that it's an inter-generational challenge as well, because parents tend to be a little more cautious. Their young adult children are more willing to take the risk of turning over that information."
Although they stopped short of adopting the sanctuary label, California's public higher education systems came out strongly in defense of their undocumented students. The president and chancellors of the UC, California State, and community college systems called on Trump to continue DACA in a November 29 letter.
Gaytan said that thousands of undocumented students are estimated to be attending the UC system's 10 campuses.
"Assuring students that the campus is a safe place, a haven, or a sanctuary—whatever term you want to use—I think is important, but something that we've discussed here in California is that using the term 'sanctuary' can be confusing and misleading," Gaytan said. "So instead of using one label or one term, leadership wants to spell out what they mean by that instead, in order to be very explicit what they have control over and what they do not have control over."
UC president Janet Napolitano released a statement of principles in late November, reiterating the system's commitment to its undocumented student population. Napolitano affirmed that UC would not release confidential student records unless required by law or judicial warrant; campus police would not collude with immigration officials; and that the system would not cooperate with a federal effort to create registries of individuals on the basis of religion, national origin, race or sexual orientation.
"What we are trying to do on our campus, and what I think my colleagues on other campuses are trying to do, is assure students that they can continue studying and working toward their educational goals, even though they feel that they are being threatened or that their future is at risk if they come to campus," Gaytan said.
Staff writer Catherine Morris can be reached at cmorris@diverseeducation.com.