When students at the University of Washington (UW) led a series of protests last year over what they saw as institutional racism on campus, some staff and faculty occasionally joined them.
Denzil Suite, vice president for student life at UW, said that was by design in order to help alleviate the "us versus them" sentiment that can ensue when such protests take place.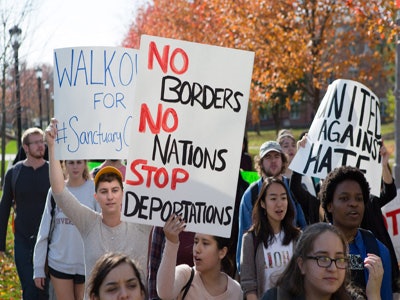 "We take absolutely no pride in 'handling protests' because we do not view ourselves as divorced from the impact of policies, historic injustices or critical issues facing society," Suite said in a recent interview. "Instead, we work to become active participants in solving the most pernicious problems in our world and engage with those who raise these issues to find lasting solutions."
For those reasons, Suite said: "It is not unusual to see academic deans and other senior leaders of the university engaging with students during protests."
Indeed, in a particularly polarizing election year in which campuses throughout the United States saw protests on issues that ranged from racial hostility to the controversial immigration policies of presidential candidate—and later President-elect—Donald Trump, UW leaders did not simply fade into the background.
Among those who joined students, faculty and administrators in a Black Lives Matter protest on Red Square this past April at UW was Dr. David L. Eaton, dean and vice provost of The Graduate School at UW. He also joined a march to the Intellectual House—a Native American longhouse-type space on campus that pays homage to the original inhabitants of the campus land, where protesters temporarily "took over" a scheduled discussion.
"The protest was civil and orderly, albeit loud, as it should be," Eaton told Diverse. "I was moved by the perspectives of the student organizers of the protest. I was pleased the way our campus police provided security for the protestors, but 'at a distance' and in a respectful and nonthreatening way."
Eaton also attended a talk by Patrisse Cullors, a co-founder of BLM.
"I came away from that with a completely different perspective on BLM," Eaton said. "Although I'm just an 'old White guy,' I've found that my brief experiences at these and other student-led events focused on the continuing presence of racism and inequities to be humbling and inspiring."
Easing tensions on campus
UW was by no means alone in the way it sought to ease tensions on campus as protests proliferated on campuses throughout the country.
American University (AU) got off to a rough start in the 2016-17 year when a student threw a banana through a Black female student's dorm-room door.
Protests ensued and continued throughout the semester, including the day after Election Day in which students burned American flags and drew counter-protesters who told them to "shut up" when they asserted their right to political expression. A library staffer attempted to take a burning flag away from a student—and ended up being placed on administrative leave as a result.
While images and videos of the dramatic protests at AU were shared via social media, less visible are the discussions that AU facilitated in order to give students a way to voice their concerns in a less contentious environment.
Dr. Fanta Aw, assistant vice president of campus life at AU, says the post-protest discussions should be seen as part of the educational mission of colleges and universities.
"We will attach dialogue to a protest where afterward we bring students and other stakeholders into a space to say, 'Given what the issues are, let's have a real conversation on what the issues are and what does this mean for our community and what can be done and what would that look like?'" Aw said.
"It's important to us as an institution to have sort of an understanding of the context of what's happening, but it's also important to create the space for students to be able to express their voices."
What universities do before things escalate into a protest can be just as important as—if not more important—than what campus leaders do during and afterward.
Take, for instance, Dr. G.P. "Bud" Peterson, president of the Georgia Institute of Technology, who stressed during a panel at the American Council on Education's 98th Annual Meeting earlier this year how much can be accomplished just by talking with underrepresented students.
At a session titled "Decisive Leadership at the Crossroads of Diversity, Equity, and Inclusion," Peterson said that Georgia Tech is making deposits in the "bank of goodwill" with various groups of underrepresented students "because we talk and communicate and explore and discuss when times are good."
That enables the university to make a "withdrawal" during a time of crisis, Peterson said.
After some in America's political arena began to call for bombing wide swaths of land where large numbers of Muslim peoples dwell, Peterson said he seized the opportunity to engage with Muslim students at Georgia Tech.
"Some of these students and some of the faculty, they've got to be feeling oppressed when they watch television" and come away with the impression that someone is "going to kill their families," Peterson said.
"We just met and had a conversation," Peterson said, explaining that he asked members of Georgia Tech's Muslim community, "Tell me about your experiences? What's your experience like at Georgia Tech?"
Such actions and others—such as offering halal food in some Georgia Tech facilities—"build goodwill with the Muslim students and builds goodwill with a lot of other students on campus," he said.
For Dr. Bjong Wolf Yeigh, chancellor at the University of Washington at Bothell, it's important to proactively educate members of the campus on the issues that confront marginalized students as well as American colleges and universities in general.
Along those lines, Yeigh said his institution has hosted two forums on free speech versus hate speech and issues of concern to Muslim students and undocumented students. Both Muslim students and undocumented students have ties to larger groups—Muslim immigrants and illegal immigrants—that have been targeted by President-elect Donald Trump for "extreme vetting" and possible deportation, respectively.
"Education is really key to the centerpiece of what we're doing," Yeigh said.
Yeigh said his administration regularly meets with stakeholders, including the student body leadership, to make the university a better resource for its constituents.
He said his administration also implemented a bias reporting system that makes it mandatory to investigate instances of bias on campus. The system was triggered recently when Muslim women students reported that a group of men demanded that they remove their hijabs.
"We're not going to be able to solve these challenges with one forum or one conversation, but it's going to take repeated and consistent work through and through to make" a place safe and inclusive."
And "if you're really serious about making a place safe and inclusive—we've got to keep doing it," Yeigh said.