After a round of intense speculation on social media, sources confirm that Talladega College's marching band will participate in President-elect Donald J. Trump's inauguration day parade on January 20. Trump's Presidential Inaugural Committee (PIC) released an initial list on Friday morning of the organizations that have accepted an invitation.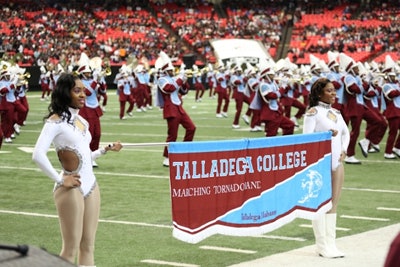 Colleges and university bands have historically marched in Washington on the inauguration days of past presidents, irrespective of the political party of the incoming president. So far, Talladega, Marist College, Olivet Nazarene University, Texas State University, the Citadel, and the University of Tennessee will be the only institutions of higher education participating in Trump's parade.
As the only historically Black college to accept an invitation so far, Talladega's decision to participate in the parade has elicited a particularly strong reaction on social media. While some have posted congratulations on Twitter, others have expressed disgust at the decision. Efforts to reach Talladega officials were unsuccessful, and the college has not released a public statement.
Marist College, which announced it would be represented in the parade on Thursday, is also facing social media backlash for its decision to perform. David Yellen, Marist president, acknowledged that there had been a strong negative reaction but said that the decision to participate was not a political matter.
"We're operating on two principles here. One is that, as a college, we don't make political judgments. That's not the role of a college," Yellen said. "Number two, we respect the right of all individuals to not do anything that's inconsistent with their moral or political views."
The band decided to apply to perform on Inauguration Day prior to the election swinging in Trump's favor. After his win, the band director reconvened band members for a discussion, Yellen said, and ultimately the band decided to go forward with the application. Not all band members wanted to perform, Yellen said, but they are free to make that decision and will face no negative repercussions from the school as a result.
"Although most of the voices in the last couple days have been against the decision, there have also been many people who have said they think it's the right thing to do," said Yellen. "None of this is about endorsing Mr. Trump or any of his views or policies. It's just not taking an institutional stand on political matters."
The planning process for Trump's inaugural festivities has been fraught with reports of performers refusing to participate. Elton John's publicist released an unequivocal statement saying that he would not be performing, after a member of the presidential transition team claimed in an interview that he would.
According to the initial parade lineup released on Friday, 40 organizations are slated to perform in the parade, considerably fewer than the number participating in the inaugural parades of Trump's predecessors. In an interview with Breitbart News last week, PIC deputy director of communications Alex Stroman said that the parade will be shortened so that Trump can "go into the White House and get some work done before he goes to the ball."
Staff writer Catherine Morris can be reached at cmorris@diverseeducation.com.