Playing at a presidential inauguration is generally one of the highest honors that a historically Black college or university marching band, or any band for that matter, can have. But Talladega College's possible participation in President-elect Donald Trump's inaugural parade on Jan. 20 has put the tiny Alabama college on a big, not-so-friendly stage.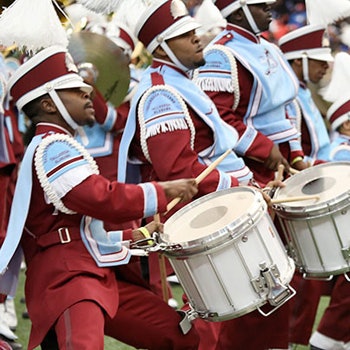 The school has come under heavy criticism both in and out of the HBCU community for accepting an invitation involving the controversial future leader of the free world.
"After how Black people were treated at Trump's rallies, you're going to go and shuck and jive down Pennsylvania Avenue? For what?" Seinya SamForay said in an interview with the Associated Press. "What they did is a slap in the face to other Black universities."
Many people just cannot fathom how a school started by former slaves would accept an invite from a man that many feel just ran the most successfully racist presidential campaign since Richard Nixon. They cite the fact that many of the Civil Rights Movement's primary players came from HBCUs and that many campuses were used as incubators of change before they spilled into the streets of the South in the middle of the 20th century.
While that assertion is valid, it is not entirely historically accurate.
More than a century ago the most prominent product of an HBCU, at least to that point, accepted an invite to The White House that was just as controversial in his time.
Booker T. Washington, a man born a slave in Virginia in the mid-1850s, made headlines nationwide in 1901 when he accepted an invitation to have dinner with Teddy Roosevelt at the White House. Washington, an alumnus of the Hampton Institute and founder of Tuskegee Institute, was the first Black man to have dinner with a president at the White House, which was a social taboo at the time.
"Civil servants, African-American civil servants, had been invited to White House events," Deborah Davis, author of Guest of Honor, told NPR in 2012. "They knew that they were not really permitted to accept. Those invitations had to be politely declined. And they declined them. After Booker T. went to the White House, suddenly, Blacks felt, if he can do it, I can do it."
Washington continued to have a seat at the table, so to speak, at The White House with Roosevelt's successor, William Howard Taft. Despite that alliance, Taft didn't think too highly of African-Americans either.
"His best friend, the one that can do the most for him and the one in many respects who sympathizes with him most, is the Southern white man," Taft said. "He understands his defects. He knows his virtues. And if the negro responds to the opportunities for improvement as Booker Washington points them out, we can be sure that he will grow in the estimation of his white fellow-citizens of the South."
Washington, of course, is both famous and reviled for encouraging Black folk to "cast down their buckets" instead of pushing for social equality ala his rival W.E.B. DuBois. He used his influence to secure funds that he would secretly funnel money to lawyers to fight the same Jim Crow laws that he is often credited with acquiescing to.
Fast forward 116 years, and Talladega College, a school that preceded even Washington's beloved Tuskegee, is a small, private HBCU that has 35 full-time faculty with a 12-to-1 student/faculty ratio. They have a marching band despite not having a football team and that marching band is the face of the school.
HBCUs haven't been around for 150-plus years by totally thumbing their nose at conservative politicians, particularly U.S. presidents. While some may look at performing at Trump's inauguration as "hangin' and a jivin," it's likely that Talladega's administration sees the move as keeping its "head above water" and "making a wave" when it can.
Let's just hope that, for all the hassle that it's getting for this move, they aren't getting "hustled" by the Trump Machine and their own fight to stay relevant.