With the legitimacy of the president-elect in question, not a few people believe that the nation is on the verge of a constitutional crisis. Yet whatever people have feared about the future of the country, in Arizona we have already been living this crisis for 10 years now, especially in the realm of education. And it is about to get worse, as lawmakers have introduced legislation that would have the effect of banning social justice classes, activities and events, from K-12, to colleges and universities statewide.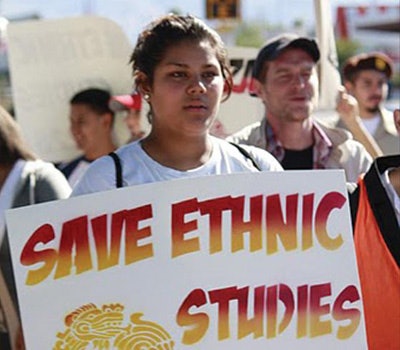 This is the last state to adopt Martin Luther King Jr.'s birthday as a national federal holiday. It finally did so only because of a national economic boycott of the state. It is the land of English-only. It is also the state where legislators have been at war with migrant students. This is similar to the extreme manner that the president-elect has been at war with Mexicans and migrants over the past 18 months.
This is a state, governed by ideologues with unfettered power, the same state that gave us the anti-immigrant SB 1070 and the anti-ethnic studies HB 2281 legislation in 2010.
And now, they are set to give us the HB 2120 anti-social justice legislation, a Frankenchild of HB 2281, though much worse. In fact, it is an amendment to the anti-ethnic studies law, which would also now ban social justice. As amended, it would now ban:

… courses, classes, events, or activities that do any of the following:
PROMOTE DIVISION, RESENTMENT OR SOCIAL JUSTICE TOWARD A RACE, GENDER, RELIGION, POLITICAL AFFILIATION, SOCIAL CLASS OR OTHER CLASS OF PEOPLE.
Not to be forgotten is that Arizona is the political meth lab of the nation; repressive legislation is birthed here, and if it is "successful," it is then exported nationwide. SB 1070 is exhibit A, having been exported to more than two dozen states.
HB 2120, includes, but is far beyond anything that former state education superintendent Tom Horne ever envisioned. HB 2281 was an attack on ethnic studies, yet his only actual target was Mexican American studies.
HB 2120, introduced by Reps. Bob Thorpe and Mark Finchem, would ban the teaching of any social justice class, event or activity in the state of Arizona. Akin to HB 2281, it actually goes after funding. That is, university and community college classes, events or activities that include social justice would be subject to lose 10 percent of its (university or community college districts') budget. As we found out in the previous legislation, in fear of losing millions of dollars, the Tucson Unified School District itself banned Mexican American studies, preempting the state's need to invoke HB 2281.
As the amendment now also targets the state's community colleges and universities, this would include classes in the humanities and social and behavioral sciences. It would affect classes in English, education, women's and gender studies, LGBTQ studies, sociology, psychology, geography, African-American studies, American Indian studies, Asian American studies, and of course, once again, Mexican American studies, to name a few.
Not surprisingly, it also targets the teaching of Whiteness and privilege, classes taught at both Arizona State University and the University of Arizona.
It is safe to say that, because it is unwieldy and extraordinarily broad, such a bill would have trouble getting out of most committees and would never pass muster with most state legislatures. However, that has never stopped Arizona legislators before. They would rather risk another national and international boycott just to show and prove that they can be the most reactionary state in the country.
The Deep South has nothing on Arizona. Yet that aside, the fear is that, just as SB 1070 was exported nationwide, under the political climate we are now living in, HB 2120 may perhaps also be exported nationwide. Whereas HB 2281 still is being challenged in court, the new administration will not only be picking the next U.S. Supreme Court justice, but also many dozens of federal judges that will dominate the judicial system in the near future. Therefore, the hope of relying on the courts, particularly a conservative Supreme Court, is now but a dream. Make that a nightmare in the event of re-election.
Because it goes to the core of the mission of higher education, there is no telling what exactly would happen if the bill in fact passed. That is, there is no way to predict how administrations would react, just as it is unknown how students, faculty and community would react. HB 2281 triggered hundreds of protests. The only thing that is certain is that HB 2281 addressed a contrived problem. So, too, HB 2210. If anything, it simply attacks academic freedom under the guise of addressing a nonexistent problem. Stay tuned.
* HB 2120 did not get out of committee, thus dead for this legislative session. However, as we saw with HB 2281, this bill can be re-written and revived for this session. HB 2281 was submitted 3 times before it was passed and then signed by the governor in 2010.
Dr. Roberto Rodriguez is an associate professor in Mexican American studies at the University of Arizona.