As President Donald Trump starts implementing controversial immigration protocol, a new report suggests that so-called sanctuary counties boast less crime and stronger economies than do their nonsanctuary counterparts.
The report, which coincides with Trump's executive order that threatens to cut off federal funds to communities that treat undocumented residents accused of crimes the same way they do U.S. citizens, adds fuel to the ongoing, smoldering debate over immigration reform.
Titled "The Effects of Sanctuary Policies on Crime and the Economy," the report states that on average, 35.5 fewer crimes per 10,000 people occur in sanctuary counties than do in nonsanctuary counties.
Sanctuary counties are those that do not assist federal immigration enforcement officials by holding people beyond their release date because of immigration detainers. Nonsanctuary counties are those that comply with immigration detainer requests.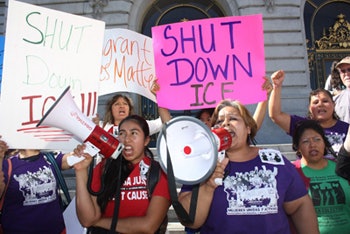 The types of counties examined for the report were large central metro, small metro, micropolitan and rural. Large central metro counties show the most pronounced difference with 65.4 fewer crimes per 10,000 than in nonsanctuary counties. Crime is defined as violence such as murder, rape, robbery, assaults, and property crime such as burglary, larceny, arson, and auto theft. Data studied came from 2015 FBI Uniform Crime Reports.
For years, local law enforcement agencies have argued against handing people over to federal immigration officials because it can jeopardize public safety. Immigrants who fear deportation are less likely to report crimes or to cooperate with police in criminal investigations.
Released last week, the report was authored by Dr. Tom Wong, an assistant professor of political science at the University of California, San Diego. The report was produced in partnership with, and released by, the Center for American Progress, the National Immigration Law Center, and the Immigrant Legal Resource Center.
Wong also studied a variety of economic indicators, such as median household income, poverty rates, unemployment, and labor force participation. Data studied came from the 2015 American Community Survey.
Among the findings, the report states:
On average, the median household income is $4,352 higher in sanctuary counties. Interestingly, Latinos do not necessarily drive the statistical gain. In fact, median household income among Whites in sanctuary counties is $2,836 higher than that of their peers in nonsanctuary counties, and household income among African-Americans is also higher in sanctuary counties. On the other hand, the income difference between Latinos in sanctuary counties versus nonsanctuary is so slight, there is no statistical significance. This means there is no evidence that Latino income gains come at the expense of Whites or African-Americans. This holds true for the entire range of urban-rural categories.
Labor force participation is 2.5 percent higher in sanctuary counties, on average, across the range of urban-rural categories. This is largely driven by Whites, who coincidentally, on average, have 2.5 percent higher labor force participation in sanctuary counties. Among Latinos, the findings are much more nuanced. For instance, Latino labor force participation is 5.2 percent higher in small, rural, sanctuary counties than in nonsanctuary counterparts. However, Latino participation is 2.7 percent lower in large central metro sanctuary counties than in the nonsanctuary ones. The labor force is the population segment that is at least 16 years old and either working or actively seeking jobs.
The employment-to-population ratio is 3.1 percent higher in sanctuary counties and largely driven by Whites. This statistic is the number of workers age 16 and older divided by the number in the total population who are age 16 and older. Among Latinos, there is no statistical significance in employment-to-population ratios between sanctuary and nonsanctuary counties.
Unemployment is, on average, 1.1 percent lower in sanctuary counties. Nevertheless, the Latino unemployment rate is actually 1 percent higher in sanctuary counties, another sign that economic gains are not accruing to Latinos at the expense of Whites.
Poverty is 2.3 percent lower, on average, in sanctuary counties across the range of urban-rural categories. Furthermore, poverty among Whites is 1.4 percent lower and among Latinos 2.9 percent lower.
"The data support arguments made by law enforcement executives that communities are safer when law enforcement agencies do not become entangled in federal immigration enforcement efforts," Wong's report states. "When counties protect all of their residents, they see significant economic gains. Community members stay more engaged in the local economy. This in turn brings benefits."
Wong adds, "Sanctuary counties are keeping families together — and when households remain intact and individuals can continue contributing, this strengthens local economies. These effects appear particularly pronounced in smaller counties, as removing one person from the economy of a small population has a larger effect than removing one person from the economy of a large population."