Too many students struggle to make it through community college in a timely fashion, with many citing a lack of resources as the primary reason for the length of time it takes them to complete a degree or their reason for dropping out. The constraints of financial need limit not only students' ability to complete a degree, but also their visions for the future, according to a report from the Center for Community College Student Engagement (CCCSE).
Community colleges are touted as some of the most affordable institutions of higher education available. Tuition costs fluctuate from state to state, but the sticker price ranges no higher than $8,000 at most.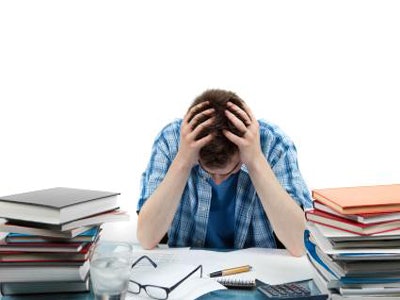 In California, a year of tuition at one of the state's 113 community colleges costs as little as $1,429, while at the opposite end of the spectrum, a year at a Vermont community college in costs $7,740. By comparison, one year at a four-year, public school in Vermont costs $15,446. Other states, such as Tennessee and Oregon, have implemented "free" community college programs for certain students.
As a result of their relative affordability and the flexibility that they offer students, community colleges attract and serve many students who tend to fall on the lower end of the income spectrum. The CCCSE report, which surveyed nearly 100,000 community college students attending 177 institutions across the country, illustrates the challenges that community college students face in their pursuit of a degree. Despite relatively low costs, the report found that nearly half of all students said they were considering dropping out due to financial pressures.
"We spend a tremendous amount of time thinking about how to help students succeed academically, but if we don't also think about how to prevent this mindset of struggling financially, then we will continue to see students walk away from our institutions and not complete," CCCSE executive director Dr. Evelyn Waiwaiole said in an interview Monday. CCCSE is an organization affiliated with the University of Texas, Austin which conducts research on community colleges.
The majority of respondents said that they were living paycheck to paycheck, and one fifth said that they would not be able to come up with emergency funds should an emergency arrive. Close to half of respondents said that they had run out of money in the past 12 months, forcing them to rely on family, friends, charitable organizations, or loans.
Initiatives intended to help reduce costs for students, like recent "free" community college programs, are well intended, Waiwaiole said, but by design will not reach the full spectrum of students. "What's important to realize is that many of those programs are not for all students," she said. "Oftentimes, they are for students who are just out of high school, while the average age of a community college student is 29." Tennessee recently announced that it would open its free college program to adults learners. The program previously was open only to those recently out of high school.
Pell grant recipients, who represent a substantial proportion of community college students, are particularly financially vulnerable. The report found that four out of 10 respondents receive Pell grants.
The median family income for Pell grant recipients in 2011-2012 was $26,100 for dependent students and $12,700 for independent students. The maximum amount a Pell grant recipient could receive in 2016-2017 was $5,815. A U.S. Department of Education data analysis found that a Pell grant would only cover 37 percent of the total cost of attending school full-time.
Unsurprisingly, Pell grant recipients are more likely than their peers to rely on student loans to make up the difference. Among study respondents, 40 percent of Pell grant recipients said that they took out student loans, compared to 22 percent of non-Pell grant recipients. In addition, students of color, women, and students aged 25-30 are most likely to receive Pell grants, according to the report.
Community college students also tend to have work and family obligations. Among survey respondents, 49 percent said that the work more than 20 hours a week, while only a quarter said that they do not work at all. A third of female survey respondents said that they have children living with them, and the same was true for 17 percent of male respondents.
Pell grant recipients were also more likely to be living with children — 36 percent of respondents who receive Pell grants said they were living with children, compared to only 20 percent of non-Pell grant recipients.
Despite the financial stress that many community college students grapple with, the majority said that they knew how to manage their finances, but that they wanted to see was more support and information from their schools' about financial aid services.
Responding to the needs of their students, some schools and community college systems have integrated financial literacy programs into their curriculum or their general programming. The report highlighted the efforts of Northern Virginia Community College (NOVA), Amarillo College in Texas, and California's Skyline College, all of which offer financial services to students.
"Lots of good things are happening on campuses," Waiwaiole said. "It's just a question of if we are taking them to scale so all students are accessing them."
Financial literacy classes and financial coaching services that colleges offer may be helpful, the report found, but little can be done to rectify students' financial situations if they do not have enough money to cover their basic needs in the first place.
"Perhaps if students had better long-term budgeting skills, their situations would improve," the report stated. "That said, long-term financial planning is very difficult for individuals with limited discretionary income (or no income at all). Thus, it is possible that students' running out of money is not a function of poor financial management skills, but simply indicates a reality of not having enough resources."
Staff writer Catherine Morris can be reached at [email protected].