When President Donald J. Trump announced his newly created office of Victims Of Immigration Crime Engagement — or VOICE — last week during his speech to a joint session of Congress, it built upon his longstanding efforts to associate crime with immigration.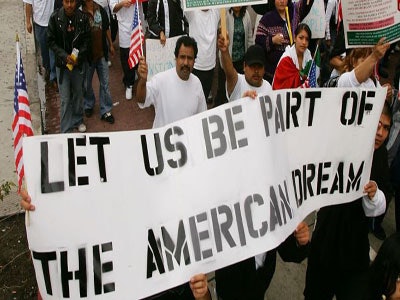 However, if Monica Gomez Isaac, executive director of the Institute for Immigration Research at George Mason University (GMU), had her way, Trump would present a more accurate and comprehensive depiction of what immigrants contribute to the country and its economy.
"The contributions of immigrants permeate nearly every facet of American society," Gomez Isaac said, noting that immigrants work crucial jobs that range from caretakers to builders of "our offices and homes."
"Whether it be the $106,932,000 in state and federal incomes they contribute, the revenue they create for American companies, or the creativity they generate to enrich our society, the U.S. depends on immigrants economically, socially, and culturally," Gomez Isaac said.
The facts that Gomez Isaac cite come from a document that she refers to as "45 for 45." The formal title of the document is "Immigration Data on Demand: 45 Fact sheets for the 45th President of the United States of America. The 8 National Fact sheets."
It is one of three bundles of factsheets that the Institute for Immigration Research at GMU plans to release during the course of the first 100 days of the Trump administration. They are being released in order to "highlight this comprehensive body of evidence on the important role immigrants have in the nation's economic success."
"Our hope is that all stakeholders — at the national, state, and local levels — take this evidence to heart," the document states. "The time is now to work together to recognize and understand the positive economic contributions of New Americans."
The first factsheet — the one that deals with national level data — presents a series of graphs and charts, from maps that show the density of immigrant populations across the nation to what proportion of the population immigrants have constituted over the decades.
In addition, it contains data points on some of the most contentious issues related to immigrants, such as whether immigrants are a net gain or drain on American taxpayers.
One chart presents immigrant tax contributions relative to their need for government assistance.
"Immigrants contribute $61 billion more than they use," the factsheet states.
One of the more interesting charts shows the Top 10 occupations for the U.S. population versus the Top 10 occupations for immigrant workers.
Whereas chefs and cooks came in eighth for the overall population, chefs and cooks were the leading occupation among immigrant workers. In addition, whereas maids and housekeeping cleaners came in second among immigrant workers, maids and housekeeping cleaners did not even register in the Top 10 occupations for the overall population.
Dr. Julián Jefferies, an assistant professor of literacy and reading education at California State University, Fullerton, and an expert on various immigration issues, said President Trump and his administration are using immigration as a "scapegoat to the country's perceived problems."
"Like many presidents in the past, including Obama, he is not willing to accept that American companies need the cheap labor of undocumented immigrants," Jefferies said. "But instead of dealing with this issue head on, accepting that American companies need this labor, he continues to demonize a vulnerable population in order to gain political advantage.
"By conflating immigration with crime and national security — two things which have absolutely no correlation — he follows the tradition of many presidents from Reagan, to Bush Sr., to Clinton, Bush Jr., and Obama in using immigration as a hot topic to distract the real issues," Jefferies said.
Jamaal Abdul-Alim can be reached at jabdul-alim@diverseeducation.com or you can follow him on Twitter @dcwriter360.