We know the cost of free speech on campus.
At Middlebury College in Vermont, according to its own release, it comes out to $63,917, including $49,648 for tuition and $14,269 for room and board.
Given that, anyone who can show a receipt from the bursar has a right to say anything they want well beyond the everyday.
If you are a student, you have paid the price of admission.
It's fair game to say, "Food service has limited vegan options."
Same with, "Racist, sexist, anti-gay, Charles Murray go away."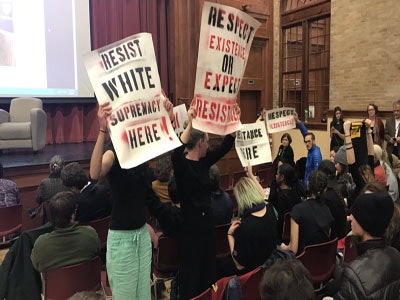 Last week, a diverse group of students thought having an academic — who has dedicated his life to a passionate search for scientific proof of the inferiority of people of color — should not be legitimized by the liberal arts institution.
The students were rude and unruly, and that is their right.
Murray didn't give his planned speech, but was able to experience his First Amendment rights by being interviewed in a separate room. It was live streamed to those who wished to see it.
Laurie Patton, president of the college, issued an apology the next day, but it really wasn't necessary.
The loud protest may have been rude. However, Murray did speak. In addition, someone still paid Murray his fee. He was able to make his points and generate publicity. Moreover, for an old academic, Murray was probably pleased to leave through the back door, knowing that good people are just as offended today as they were in 1994 when his book the "The Bell Curve" was used to attack affirmative action.
Malodorous ideas rarely age well. They only get more malodorous.
The Southern Poverty Law Center describes Murray as one who uses "racist pseudoscience and misleading statistics to argue that social inequality is caused by the genetic inferiority of the Black and Latino communities, women and the poor."
In that sense, the Middlebury system worked well. Bad ideas got a valid intellectual reaction. The students should be praised for having a working sense of right and wrong.
If there is a problem, it's that people in the community, whether student groups or officials, think you can invite any person to speak on campus and think it's going to be tea time on campus.
You bring a provocateur, you'll get what a provocateur attracts.
Don't blame the students, or the left, or anyone else in the dance created by the provocateur.
For officials, it means a special plan is required for certain speakers. Murray could have been presented in a forum with students and a professor. Debate? More like a challenging conversation.
If students were represented on stage with Murray, it might have limited the protests. It could have been a real teaching moment, and if you held the event during daytime school hours only, you'd attract a different crowd.
The right wing is making a big deal by these kind of events of late.
However, there's really no free speech problem on campus.
There's a "how do you present controversial speakers" problem.
At Berkeley earlier in the year, Milo Yiannopoulos was all the rage. Again, they had protests, but it was really more of a presentation problem. It wasn't handled well. But one suspects it played right up Yiannopoulos' alley. He got the pub, and could rail on with crocodile tears about his lost free speech rights.
There were ways to avoid what transpired.
Of course, conservatives like to blame the left for suppression of speakers' First Amendment rights.
However, what do conservatives do when they don't like a speaker?
When the Conservative Political Action Conference (CPAC) invited the very same Yiannopoulos to be its keynote speaker recently, conservatives who questioned the move dug up a YouTube clip of Yiannopoulos allegedly defending pedophilia.
Talk about quashing First Amendment rights. If you thought Yiannopoulos was guilty of malodorous ideas, it was now even worse than imagined.
The reveal led to Yiannopoulos' being disinvited from CPAC, the loss of a big book deal and his resignation from Breitbart.
That's how the right deals with the free speech rights of people they don't agree with. But it makes their claims of campus repression absurd.
The right's not even as civil as Middlebury was with Murray.
Emil Guillermo is a veteran journalist and commentator who writes for the civil rights group AALDEF at http://www.aaldef.org/blog.