Something radical is happening in this country, and whatever is happening here, is actually also affecting the rest of the world. That's the macro view. Whatever is happening is also happening at a personal level. Fear is taking hold and gripping entire communities.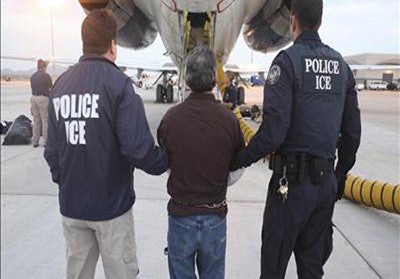 The rights that we take for granted are being threatened: the right to travel, to speak, to health care, to work, to freely associate, to protest, to petition government, to privacy, to survive, to live freely, to drink clean water and breathe fresh air, and the right to exist. Some of these are being called into question; others are being criminalized. Everything seems to be in question. Yet, to be sure, for some of us, these rights have always been, at best, tenuous.
For example, for communities of color and for indigenous peoples, many of the rights that Americans take for granted have never applied to us. Racial profiling (by all of society's institutions), police brutality, extrajudicial killings, immigration raids, special detention centers are part of our reality.
This week, I take my students from the University of Arizona to something called Operation Streamline. Not even in the gloomiest days of apartheid South Africa did something similar exist. It is a "judicial" procedure in which 70 migrants are charged daily, tried, convicted, sentenced, and shipped off to a private prison, all within a span of 90 minutes. During this proceeding, these prisoners are chained from their wrists, waist, and ankles. It is dehumanization on full display. In addition, with the new president, this anti-immigrant charade is about to become bigger.
While things look bleak in this country, there is no one more affected than the undocumented population here. Every semester I have seen students deal with their immigration status or that of their families. Last year, I remember one student who disappeared because her husband was deported in the middle of the semester. One had to go to Washington, D.C., to plead for the release of her mother. In addition, there have been others that have had to resort to extraordinary measures.
Despite everything, students have always been their own strongest advocates. Moreover, they have learned to speak for themselves. That is now changing. People that are stepping forward are being picked up by the migra or Immigration and Customs Enforcement (ICE). In Jackson, Mississippi, Daniela Vargas, a prospective math professor, was picked up recently by the migra for criticizing an ICE raid that picked up her father and brother. ICE described her arrest as part of "targeted enforcement" operations. This is the opposite of random and she is not a felon. This case is not isolated.
Those being picked up are not threats to this country. For example, Romulo Avelica-Gonzalez, in the country for some 20 years, was picked up in Los Angeles while dropping off his daughters at school. That was for a DUI. Last month, Guadalupe Garcia de Rayos, was also deported, making her the first person deported under his regime. She is not a violent felon. Her crime was simply working here without proper documents. We have already seen massive dragnet raids and more are expected during this administration.
President Obama presided over a deportation regime, so this is not new. However, what is new is that this president has stirred up and created an environment of fear, paranoia and scapegoating, coupled with a rise in hate crimes. Normally we are used to Mexicans and Central Americans being singled out, but now this administration is also creating fear about people from the Middle East and Africa — a codified fear of Muslims.
This is about a fear of a dark nation, a fear of the browning of a nation, thus the call for a wall and 15,000 more ICE agents.
This shouldn't be happening. Truly, when similar actions have happened throughout history, people have asked: how did people permit this to happen? That is where we are today.
Currently, there is talk of creating sanctuary cities and sanctuary colleges and universities and underground railroads.
In the past several years, people do not speak for undocumented or DREAM students, primarily because they have the strongest voices. And yet, they and their families are now the most at risk of being targeted. Now, it is important not to be outing DREAMers, intentionally or inadvertently.
For those of us — faculty, staff and students — who attend or work at colleges and universities, we should be fighting to ensure that our campuses are safe havens and that they are functioning as autonomous ICE-free institutions. Students should not ever walk in fear anywhere on any campus, and that message should be coming straight from the top.
We are no longer talking about the ability to enroll or simply raising scholarship monies for DREAM students. We are talking about ensuring their safety and the safety of their families. Ultimately, and as we have learned in Arizona, the most important battles will be local.
Dr. Roberto Rodriguez is an associate professor in Mexican American studies at the University of Arizona.