Of all the students who visited the food pantry at Montgomery College in recent times, one that stood out for pantry worker and honors student Elizabeth Zabala is the young man who came to get something to eat for a specific assignment.
He had been taking a course called Nutrition 101, Zabala said, and needed to eat in order to do a diet analysis for the class.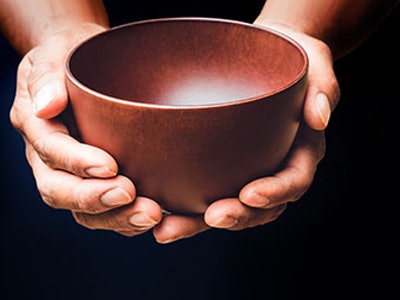 "He didn't have enough money to buy food to do that assignment," Zabala recalled. "I really admired him for the dedication to his schoolwork because he was still going to class. You could tell how weak he was because he wasn't eating enough."
Before long, the student started to visit the food pantry every day. However, restrictions prevent the food pantry from helping an individual student on a daily basis.
"We had to tell him that and let him know about resources outside of the college," Zabala said.
Zabala shared the anecdote Wednesday as a guest speaker at The George Washington University during a town hall that focused on college student hunger and homelessness.
It was one of several such stories offered up in conjunction with the release of a new report titled "Hungry and Homeless in College: Results from a National Study of Basic Needs Insecurity in Higher Education."
A series of panelists and the author of the report said the report is meant to call attention to the substantial but "quiet" problem of hunger on campus in an effort to stimulate policy solutions.
The report — released through the Wisconsin HOPE Lab in collaboration with the Association of Community College Trustees — is based on responses from more than 33,000 students at 70 community colleges in 24 states.
The report found that 67 percent of the students surveyed — roughly 2 out of 3 — are food insecure.
Dr. Sara Goldrick-Rab, a professor of higher education policy and sociology at Temple University and lead author of the report, said the report's findings contravene conventional wisdom about hunger being a problem of the poor.
"Food insecurity is prevalent among people who are not on the Pell Grant," Goldrick-Rab said, as she explained one finding that 25 percent and 21 percent of Pell Grant and non-Pell Grant recipients, respectively, indicated low levels of food security. The figures were 28 and 40 percent, respectively, when it came to Pell and non-Pell students who indicated "very low security."
"It is not as if you can just look at someone's income and decide if they will be at risk for food or housing insecurity," Goldrick-Rab said.
Middle-class students may find themselves food insecure due to inadequate financial aid and less help than they expected during their college years.
The group that struggles the most are former foster youth.
"Students who have previously been in the foster care system are substantially more likely than other students to struggle to secure their basic needs in college," the report states.
For instance, nearly 30 percent of former foster youth surveyed were homeless, compared to just 13 percent of non-former foster youth, the report states.
Some panelists suggested that a federal policy solution or intervention is unlikely in the era of President Donald J. Trump, who has requested a $54 billion increase in defense spending and to cut nonmilitary programs by the same amount, and a Republican-controlled Congress.
Bryce McKibben, policy advisor at the U.S. Senate Health, Education, Labor, and Pensions Committee — or Senate HELP Committee — said there is a sort of "wait and see approach" and a "high degree of skepticism" on whether the federal government will focus on "actual improvements to society's most vulnerable students."
McKibben suggested a need to "look at state and local solutions, lift those up and find out what the nexus of policy is to make sure that we're able to codify some of those practices."
McKibben, who manages the education portfolio for U.S. Sen. Patty Murray, D-Wash., cited the example of a partnership between the Tacoma Housing Authority and Tacoma Community College (TCC) that provides housing to homeless students and their dependents when they are enrolled at TCC.
Students must make adequate academic progress toward a degree in order to get the housing assistance for up to three years or until they graduate.
Others at Wednesday's town hall touted the merits of emergency scholarship programs but also cited the challenges with how to get the word out about such programs without broadcasting them too widely.
"There is a real strong tension between putting out the word to everyone and getting it to students who really need it," said Clare Cady, co-director of the College and University Food Bank Alliance, or CUFBA.
"And there's also a fear that if it gets out we have a problem on campus, don't tell anyone," Cady said in a hushed voice, to mimic the concerns of those she said would want to keep their campus' poverty issues hidden from public view.
Cady said one way to get college and university leaders to buy into the need to fight hunger and homelessness among college students is to make the business case for keeping students on track to graduation.
"There's not just a heart place here," Cady said. "It's actually a business decision to keep students in school and sometimes you have to approach it that way."
Jamaal Abdul-Alim can be reached at [email protected] or you can follow him on Twitter @dcwriter360.