Fleshing the Spirit: Spirituality and Activism in Chicana, Latina and Indigenous Women's Lives is a book that I regularly teach. As I was going through my students' papers this past week, I came to the realization that something radical is happening within these communities alluded to in this book. It is a process referred to as re-indigenization.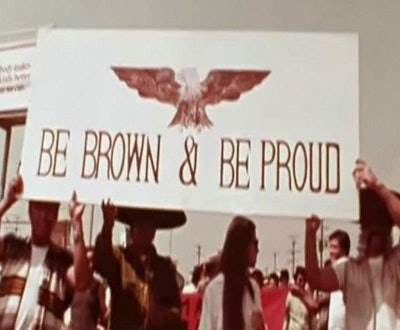 This is a huge development, not simply in the history of this country, but on this continent. I venture to say that this process has been going on for at least a generation, though with the rise of this administration, this process appears to be accelerating now even faster. In addition, it is greatly accelerating precisely because of the hostility of the current administration, which actually rises to the level of a full-scale immigration war against these communities.
This war — whose primary feature is to rip millions of families apart — can aptly be referred to as modern-day Indian removal. In addition, it can only be waged if these communities are viewed and treated by government and society as foreigners and less than human. This is precisely why these actions are also contributing to the process of re-indigenization.
To understand the significance of re-indigenization to these peoples and communities, one needs to understand its anti-thesis: the 500-year process of de-indigenization.
De-indigenization is what in history is known as La Otra Conquista or The Other Conquest, and which was somewhat memorialized by a 1998 movie by the same name. This second conquest actually had a name, reducciones, and it was a 300-year process designed to kill the Indian ​and create a Christian in its place. After independence in the 1800s, this process never actually ended, and yes, it is virtually the same process that took place in the 1800s through 1900s in this country, what is referred to as the boarding school system: "kill the Indian; save the man."
Guillermo Bonfil Batalla argued in Mexico Profundo: Reclaiming a Civilization (1996) that the reducciones actually failed because, despite the outward appearance, Mexico's roots remain undeniably indigenous. In fact, Enrique Florescano, in National Narratives in Mexico (2006), takes the argument further and argues that the many thousands of years-old maiz-based cultures of Mesoamerica are alive and well today, including anywhere Mexican and Central Americans live today, i.e., the United States.
In this country, one can argue that the process of re-indigenization began during the Chicano Movement of the 1960s and '70s, though some might argue that this actually marked an era more of romanticization of ancient Aztec/Maya cultures, rather than actual re-indigenization. Romanticization permits the glorification of the ancient, while permitting a people or culture to ignore, demean and marginalize living indigenous peoples.
Despite this, the roots of this re-indigenization process did generally begin during the Chicano Movement era, and perhaps accelerated shortly thereafter as a result of the subsequent and heightened anti-immigrant movement, whose primary feature has been to virtually alienate these entire communities.
It is the response to this virulent racism and xenophobia that has triggered an indigenous consciousness, not based on romantic notions, but on connections with all the indigenous human rights movements of this continent. (One might credit Jack Forbes and the Movimiento Nativo Americano in the early 1960s for presaging this re-indigenization process, including his later work, Aztecas Del Norte, in 1973).
Fleshing the Spirit is a generation removed from that earlier era, which rejected that romanticization, in favor of mestizaje ideologies and narratives. In one sense, the women writers in this book, such as Inez Hernandez, Lara Medina and Josephine Talamantez, and its editors, Elisa Facio and Irene Lara, are the ones who went beyond mestizaje and set in motion this re-indigenization process. And to be sure, especially for many writers in this book, the takeoff point for many was the revolutionary work on indigenous mestizaje by Gloria Anzaldua.
To reverse that 500-year de-indigenization process has many implications.
In the 1960s and 1970s, political lore had it that the FBI most feared the unity of Mexicans/Chicanos and American Indians. Why? The conventional wisdom was because, along with the browning of the nation, if Mexican Americans developed an indigenous consciousness, that could lead to the claiming of lands and, at minimum, assertions that they in fact were not aliens to these lands. In fact, that is what led to the "We didn't cross the border; the border crossed us" ideology of the 1980s and 1990s.
This topic merits a book-length treatment. The minimum that should be understood is that Chicanas/Chicanos with this consciousness generally see themselves, not as separate, but as part of all the other original peoples of this continent, with shared histories and struggles.
What is known is that this society, and especially this administration, in effect, has ceased to treat the peoples from these communities as full human beings with full corresponding human rights. Thus, the question is being asked: what social contract remains with this government with these communities that trace their histories thousands of years before the arrival of the Pilgrims and who today live in every state of this country, including Canada, and via deportation, Mexico and Central America?
The answer and this future is uncertain, yet what is certain is that this process of re-indigenization, despite opposition even from within, now appears to be irreversible.
"You can take our bodies, but never our spirits." — The Other Conquest
Dr. Roberto Rodriguez is an associate professor in Mexican American Studies at the University of Arizona.