MARY'S CITY, Md. — There is something quite bucolic about strolling through this small, historic town, where the lone college campus hugs the St. Mary's River, which is lined with picturesque rowing boats that extend far beyond what the eye can see.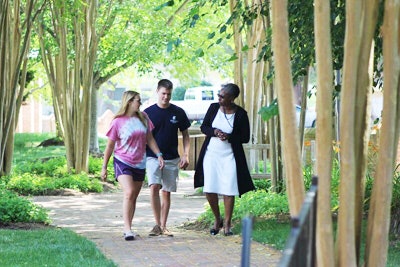 But something equally magical has been happening on the campus of St. Mary's College of Maryland over the past three years, thanks to the bold leadership of Dr. Tuajuanda C. Jordan, who took the helm as college president in 2014, with a vision to put the small, liberal arts college that enrolls about 1,700 students on the national map.
By all indications, the so­ft-spoken, no-nonsense biochemist has succeeded in doing just that.
In a relatively short period, she has transformed the independent, state-supported public college into a competitive institution that has been on an upward trajectory of recruiting students not only from Maryland but also from across the region and the nation.
As Jordan sees it, St. Mary's students are getting an "elite education at a public price," with an impressive 11-to-1 student-faculty ratio.
"This place expects all students to deal with the rigors in the classroom," says Jordan, who notes that remedial courses are not offered. "Our faculty will push them and support them at the same time."
In turn, she says that St. Mary's students are beneficiaries of a true liberal arts education and are conscientious and deeply engaged in social justice and equity issues.
"They come out prepared, not just to get jobs, but to have careers and to do well in those careers," says Jordan. "Students here want to change the world."
St. Mary's — which has about 26 percent underrepresented minorities and 20 percent first-generation college students — has caught the eye of seasoned university administrators who praise Jordan's overall vision and leadership.
"Dr. Jordan is an amazing educator and leader," says Dr. Freeman A. Hrabowski III, president of University of Maryland, Baltimore County and one of Jordan's longtime mentors. "She has the strong analytical skills of a scientist and a deep passion for education — a rare combination. She believes in the mission of St. Mary's and embodies the best of the liberal arts."
Jordan — who is the first Black woman to become president of St. Mary's — is a case study in diversity in higher education. Not only did she earn her bachelor's degree from Fisk University, a small historically Black college in Nashville, before enrolling at Purdue University, she has held teaching and administrative stints at an HBCU and a PWI.
She is also a rarity as a Black female scientist in a field that remains woefully underrepresented by people of color.
Making moves
A­fter serving as dean of the College of Arts and Sciences at Lewis & Clark College in Portland, Oregon, Jordan became restless in that role.
She told herself, "You know, Tuajuanda, you keep questioning, if you think you can do better, why don't you go and see if you can do better?"
For years, her friends had been privately pushing her to become a college president. ­Then someone sent her an advertisement for the vacant presidential position at St. Mary's College.  She was sold.
"When I got to campus, I felt like I belonged here," says Jordan.
Her success at St. Mary's can partly be attributed to the advice she has received from presidents like Hrabowski, whom she regularly consults.
"I need somebody to talk to about stuff. ­This is a lonely job, and incredibly hard," she says. "Presidents who last the shortest periods of time are the ones who come in shooting from both hips and just blowing it up," says Jordan, who arrived after years of instability in the top leadership post.
"You just need to take time to figure out the culture of the place, and what is the nature and depth of the challenges, and then try to find the right people to help you lead the institution."
From the moment that she assumed a tenure-track teaching position at Xavier University — the nation's only Catholic HBCU located in New Orleans — Jordan has been a skilled teacher and administrator, securing millions of dollars for research.
By the time Hurricane Katrina hit in 2005, closing down Xavier, Jordan had been promoted to associate vice president for academic affairs, mentored by Dr. Norman C. Francis, one of the nation's longest-serving college presidents.
"He really shaped me. Because of the way that he interacts with people, he is very open and responsive," says Jordan. "I find that I see myself thinking about Dr. Francis a lot when there are some things that come up."
Following a 12-year career at Xavier, Jordan served as director of the Howard Hughes Medical Institute's Science Education Alliance from 2006 to 2011. In that position, she led education projects that enhanced science literacy. She also spearheaded the National Genomics Research Initiative, which morphed into a nationally recognized science education program providing research opportunities for undergraduate students.
Finding her passion
Jordan's career trajectory is particularly interesting, given that she hated science as a youngster.
"It was very boring to me," she says with a laugh during an interview in her office. "Seemed to me that I was just memorizing stuff and I didn't see the point."
However, by the time she took chemistry in 11th grade, she did an about-face.
"Chemistry made so much sense to me," she says. "It was fun."
By senior year of high school, Jordan enrolled in advanced biology, advanced chemistry and advanced calculus classes.
When she enrolled at Fisk as an undergraduate, she was a biology major initially but changed plans halfway through the semester with the goal of becoming a chemist. During the summer between her junior and senior years, she headed to Purdue, where she did research with a female biophysical chemist.
"You can put those things together?" Jordan recalls thinking to herself. "I thought everything was separate."
Later, when she became a biochemistry professor at Xavier, she says that she relished the opportunity to help her students understand the interconnectedness of the sciences.
"I just loved talking to students about these molecules and how the chemicals come together and there's this life that's created and these wonderful things happen," says Jordan.
Although she is not in the classroom anymore, students at St. Mary's say that Jordan's commitment to students remains strong.
Student Kezia Osunsade says that Jordan's mentorship has encouraged her to go on to pursue a Ph.D. in political science and public policy after she graduates from St. Mary's.
"I'm an African-American woman. She's an African-American woman," says Osunsade. "She takes the time to listen. She strikes the perfect balance of being a strong woman but also being approachable."
­The campus, which has an unusually large number of left-of-center students, recently experienced some trying times when swastikas were scrawled on cars and a student wore a confederate flag to a sports game.
Kate Cumberpatch, a senior, says that Jordan took swift action by reminding students about the college's distinct values as a place where everyone should be respected.
"One of the things I really noticed about her is that she has taken the time to really develop as president of our college," says Cumberpatch. "She understands where the student body needs her to be and the kind of issues that the faculty want her to tackle."
Cumberpatch, who is White, says that having Jordan as the symbolic face of the college is important on so many fronts.
"It's something that my friends and I talk about all the time in our private spaces," says Cumberpatch. "It is really important, at a time when our college is really pushing for diversity, inclusion and equity and principles of justice for marginalized groups, having her here. By virtue of her identity and what she has decided to do with that is very powerful."