SAN FRANCISCO — Whenever Daisy Herrera spots fearful facial tics or hears anxiety in the voices of students — which is often — she reassures them that the process of becoming U.S. citizens doesn't require them to renounce their Latina/o heritage and culture.
"But, 100 percent of them think that way," Herrera said of her students who are preparing for the naturalization exam. "I tell them that they can love their community and their past in Mexico yet also love the United States for the opportunities for which they came. I encourage them to embrace both nations."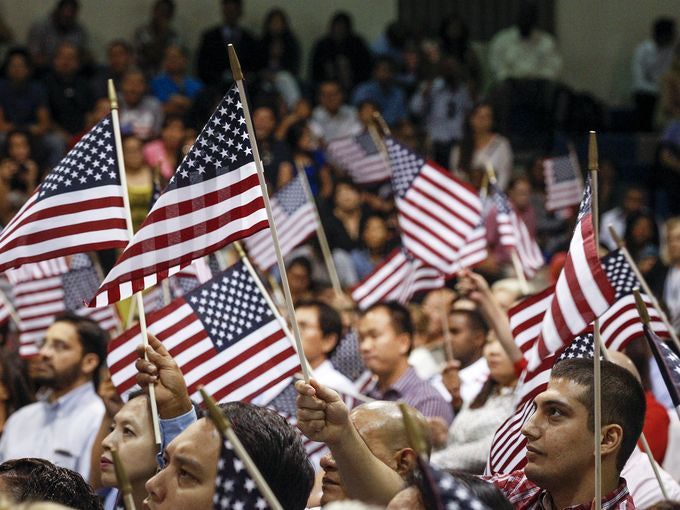 Students in Herrera's Los Angeles-area civics classes are adult, legal residents who qualify for U.S. citizenship. All of them speak Spanish, and English skills vary from one person to the next. Many have U.S.-born children attending elementary school.
Officially, Herrera teaches her students facts and statistics that they are expected to know for their naturalization tests, along with the background behind test questions. For example, how many stars are on the U.S. flag? (50). Who is considered the father of this country? (George Washington).
But Herrera noticed that the standard lesson plans address only a few aspects of U.S. history, such as World Wars I and II, the Great Depression and the Persian Gulf War. So she introduces topics such as the Depression-era removal of Mexican Americans who were scapegoated for the shortage of jobs in this country, and how they were rounded up for deportation from Los Angeles neighborhoods that are familiar to many of her students. Back then, government officials described it as repatriation, but many of the individuals were actually U.S. citizens.
"American history is not just biscuits and gravy," Herrera said. "There is an ugly side to it, and I try to correct the Eurocentric history and assumptions. I expand on what students already know, or I give them a perspective that's different than what they see and hear in pop culture."
Her remarks came during the annual meeting of the National Association for Ethnic Studies, which concluded over the weekend. The field grew out of the civil rights movement and the concerns and priorities of students of color on college campuses around the country.
But ethnic studies also can be taught in off-campus settings, said Herrera, whose presentation was titled, "Incorporating Ethnic Studies in U.S. Civics Classes for Senior Adults." She is currently teaching future U.S. citizens in classes offered by Catholic Charities in Los Angeles.
She weaves in ethnic studies to better engage her students, to try to quell their worries about cultural loyalty and to promote racial healing.
Herrera encouraged conference-goers to seek out civics classes that they can teach in their own communities. Although prior teaching experience is a plus, she said that exceptions can be made depending on the other skills of would-be instructors. For instance, she translates into Spanish most of her lessons. This, along with promises of confidentiality, has helped create an environment in which students are comfortable sharing their personal narratives while consuming the civics lessons.
"We are there to learn from each other, not just them learning from me," said Herrera, who holds a master's in Chicana/o studies. "I tell them that my parents once hopped a fence to get jobs in this country, and they have since become naturalized. By knowing who I am, they become comfortable."
President Donald Trump's election occurred in the midst of one of Herrera's classes, and not surprisingly, "it was a sad environment afterward."
In the aftermath of the election, she urged students to set aside their despair over the anti-Mexican campaign rhetoric and Trump's vow to build a wall at the U.S.-Mexico border.
"I told them to keep studying and become naturalized so they can register as U.S. voters," she said.
The conference was held at San Francisco State University (SFSU), often regarded as the birthplace of ethnic studies. It boasts the only College of Ethnic Studies in the country, educating as many as 8,000 students each semester in more than 175 courses. The college houses four departments — Africana, American Indian, Asian American and Latina/o studies — along with a program in race and resistance studies.
Campus strikes occurred around the country in the 1960s as students of color demanded college courses providing more than a majority-White, Eurocentric perspective. The student-led strike at SFSU, which stretched more than four months and was the longest of its kind in U.S. history, ended in 1969. The initial courses there exploring race, ethnicity and identity were offered that fall semester.
The national academic association dates back to the 1970s and grew in tandem with the discipline. At the recent conference, the presenters consisted of perhaps as many community organizers and activists, such as Herrera, as it did graduate students and tenured faculty. Many of the sessions explored the actual and feared marginalization thus far of racial, religious and sexual minorities under Trump's presidency — along with ideas of how to respond.
Annie Hikido, a University of California, Santa Barbara graduate student in sociology, suggested that shameful chapters in U.S. and world history contain plenty of subjects with White supremacy undercurrents that can be grouped together into classroom lesson plans. Her presentation was titled, "Tracing the Contour Lines: Towards a Pedagogy of Solidarities."
Hikido listed three examples: The World War II incarceration camps that housed Japanese Americans who had been forced from their homes, apartheid in South Africa and the United States' "Operation Wetback" of 1954. Under the latter, U.S. officials aimed to remove Mexican nationals who had illegally crossed the border but the large-scale dragnet resulted in unlawful deportations of U.S. citizens in addition to undocumented immigrants.
"Right now, these subjects are taught disparately, if at all," Hikido said.