As Krisha Ross got closer to aging out of foster care, she decided to drop out of high school in 2015 in order to find work.
"I did not see the value of continuing school for two years when I needed to work to live," said Ross, who dropped out of high school in Los Angeles during her sophomore year.
But she didn't have much luck.
"I would sit and stare at the computer screen for hours filling out applications," she said.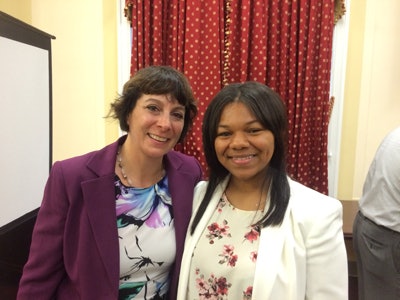 Things did not turn around until Ross was connected to an organization called iFoster, a national nonprofit that seeks to help children being raised in foster care.
After attending a series of iFoster workshops on résumé writing, job interviews and various soft skills, Ross ultimately got connected to a job at Ralph's — a grocery store chain in Southern California.
She started out cleaning bathrooms but then worked her way up and ultimately was promoted to manager of one of the store's floral shops — a job she says matches her upbeat personality.
Ross is now just five credits away from earning her high school diploma and plans to go to college and study psychology through Ralph's scholarship and tuition assistance program.
"I'm encouraged to pursue college so that I can become management," Ross said.
Ross offered her turnaround story as testimony Tuesday on Capitol Hill in support of proposed legislation to help what are known as America's nearly 5 million "opportunity youth" — that is, those age 16 to 24 who are out of school and work. Such youth have historically been referred to as "disconnected."
U.S. Rep. Bobby Scott, D-Va., ranking member of the House Committee on Education and the Workforce, introduced the bill — known as the Opening Doors for Youth Act of 2017.
Scott said the $5.5 billion bill — which would provide $1.5 billion for subsidized summer jobs, $2 billion for year-round subsidized jobs and $2 billion for a competitive grant program meant for local community partnerships that improve high school graduation and youth employment rates — will ultimately save governments money in the form of reduced public expenditures such as health care, public assistance and incarceration.
"Federal investments make a difference. Investing in young people makes a difference," Scott said.
Scott lamented that, while most states spend about $10,000 a year to incarcerate, they only spend about $2,000 on summer jobs.
"The choice is clear," Scott said. "The evidence shows that investment in summer jobs and other employment opportunities work."
Scott said the proposed measure is meant in part to counter Republican President Donald Trump's 2018 budget proposal to "slash" the Department of Labor budget by $2.5 billion — a 21 percent decrease from 2017.
"We must reject these proposals and instead increase investment in our workforce and expand access to educational opportunities for our young people," Scott said.
Scott was joined by fellow Democratic lawmakers but has yet to secure a Republican co-sponsor.
While a timeline or the likelihood of passage of the bill remains unclear, Tuesday's public introduction of the bill was meant to call attention to the importance of reconnecting young people who — like Ross did two years ago — find themselves disconnected from school and work.
A factsheet on the bill says "disconnected youth" are three times more likely than others to have a disability, twice as likely to live below the federal poverty line and "significantly" more likely to live in racially segregated neighborhoods. One in five Black youth are "disconnected," data presented at Tuesday's event show. Among Native American youth, the figure is 1 out of 4.
Several panelists emphasized that a federal investment in "opportunity youth" is not just the moral thing to do but something that makes financial sense for business and government.
Thaddeus Ferber, co-convener of the Opportunity Youth Network, cited statistics that show if congressional districts reconnect 11,000 young people, it will generate $20 million more in taxes paid.
"Every member of Congress needs to know these programs aren't just the right thing to do," Ferber said. "They are good for the bottom line of their district."
Kimberly Pham, a member on the National Council of Young Leaders, shared a story of how she wound up being placed in a juvenile justice facility for her truancy. She said she took high school classes there only to find out they didn't count toward her high school diploma.
"We have two systems that aren't talking to each other," Pham said of juvenile justice systems and public school systems.
Pham said society should not look at young people as "a liability or even an asset" and be ready to commit resources to help young people seize the future.
"If we stop looking at people as charity cases and start looking at people as people, we can stay away from that culture of making short-term investments that end up not being effective," Pham said.
Matt Zone, a council member in the City of Cleveland and president of the National League of Cities, touted his city's summer jobs program, which employs 3,000 young people. The city picks up one-third of the cost of the summer youth employment program and private business pays for the rest.
"The future of the workforce is changing in our country and we need to support our young people" to get education and skills, Zone said, as he spoke in support of Scott's proposed legislation. "Cities could do much more with federal partners."
Jamaal Abdul-Alim can be reached at jabdul-alim@diverseeducation.com or you can follow him on Twitter @dcwriter360.