When she was looking at colleges as a high school senior, Nieja Devaughn knew she wanted to move beyond the borders of the life she had known growing up in Capitol Heights, Maryland. So when recruiters at a college fair told her to look into South Carolina State University (SCSU), she was receptive to their pitch.
She applied, was accepted, and was soon on her way to the historically Black university in Orangeburg, South Carolina, where she is currently finishing her junior year and majoring in criminal justice. SCSU and South Carolina's friendly, hospitable atmosphere helped make the transition easier, she said.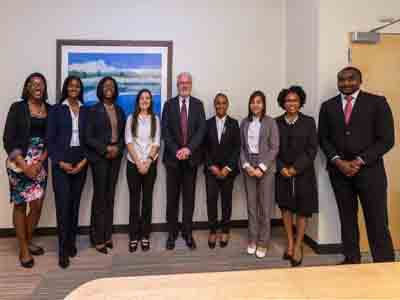 "It was definitely an experience," Devaughn said of moving eight hours from home. "I felt like I got to grow, because I'm away from my friends that I would normally hang out with. The people that I'm here with at school, we all help each other to grow and better ourselves."
Devaughn said she is fortunate so far to have made it through her first three years of college without having to take on outside loans, even though SCSU's tuition keeps going up. Financing her education became much easier this year when she was awarded the ETS Presidential Scholarship for HBCU Students.
While ETS is more widely known for providing exams like the GRE, TOEFL, and others, its philanthropic arm, guided by the ETS Center for Advocacy and Philanthropy (CAAP), is working quietly to advance the academic careers of standout students. The Presidential Scholarship provides full tuition for eight rising juniors or seniors attending private and public HBCUs each year who demonstrate academic excellence and leadership on campus.
ETS started the scholarship program in 2008 following a conversation between a group of HBCU presidents and former ETS CEO, Kurt Landgraf, according to Lenora Green, CAAP executive director. The presidents said they were concerned that they were seeing too many of their best and brightest drop out of college in their junior or senior year, due to financial barriers. They wanted to find a way to help them stay in school.
"The presidents were worried about losing their top students," explained Green. "Students seem to have enough money their freshman and sophomore year, but by the time they reach junior and senior year, the financial aid dries up. We've seen that in the last two years, students seem to be scrambling for additional funds."
It is a problem that Devaughn can identify with. "It's a lot harder to find scholarships when you're already in school," she said. "Freshman year, you can find those scholarships that cover you for all four years and you have a lot more opportunities, but the further you get in college, it gets a lot harder."
The perception that students' financial burdens sometimes worsen as they move toward junior and senior year is firmly rooted in reality, said Bonita J. Brown, director of higher education practice at the Education Trust and former vice chancellor and chief of staff at the University of North Carolina at Greensboro. The reasons why vary from institution to institution, and from student to student.
"There's no one answer that fits all for this," Brown said.
One culprit is the rising cost of tuition. Students may find that there is a "gap" between federal and institutional aid and the cost of college. They have to make the difference up somehow, and often do so by patching together a series of jobs or taking on outside loans. By the time they reach junior or senior year, the struggle to keep up with bills, schoolwork, and a job can be too much.
Other students may age out of crucial financial aid programs, like Pell, which is limited to six years. For students who have stopped their college career to work and started up again a few years later, or started out in a community college, that age limit can be a barrier.
While the barriers to college completion that lower-income students face vary across institutions, higher ed experts agree that HBCUs experience unique challenges, because they serve a disproportionately high percentage of Pell-eligible students compared to their majority peers. At all HBCUs, at least 40 percent of the incoming freshman class is Pell-eligible, while the same is true at less than half of predominantly White schools.
"HBCUs are very unique in that they're serving extremely financially disadvantaged students," commented Dr. Andrew Nichols, director of higher education research and data analytics at Ed Trust. "You'll see that play out in their completion and retention figures."
Receiving the Presidential Scholarship is more than simple financial assistance, according to Lawrence Amadi, who was a 2014-15 award winner. "The scholarship funds helped pay for part of my tuition, and helped me keep going, pretty much," said Amadi, who graduated from Coppin State University last spring.
Beyond that, he said that the award had a "moral effect," on him, since his older sister, Omazonna Amadi, also won the award in 2012-13. The Amadis were born and raised in Nigeria, and Amadi said that his sister led the way to Coppin State, encouraging her younger brother to take the SATs and join her in the United States.
Receiving the award, "made me feel up to par with my sister," Amadi said. "For the longest time, she was my mentor and she was my role model. She is still my role model in some sense."
Green notes that the scholarship is competitive: ETS only grants eight scholarships a year. In addition to demonstrating excellence in the classroom and being leaders on campus, students must obtain letter of recommendation from their school's president. Devaughn said that to secure her letter of recommendation, she arranged a meeting with the former interim president of SCSU, Dr. W. Franklin Evans.
As the Presidential Scholarship approaches its 10th year of existence, Green emphasized that all HBCU students are welcome to apply. Past year's winners represent the full range of diversity embodied by the HBCU community, hailing from institutions such as Hampton University, Spelman College, Oakwood University, and many others.
Staff writer Catherine Morris can be reached at cmorris@diverseeducation.com.