Growing up in Guadeloupe, Paul Sime knew early on that he had big aspirations. With the encouragement of his family, Sime left his native island at 13 to pursue his passion for soccer and education in the United States.
"Guadeloupe has a spot in my heart. It's where I grew up and where a lot of my friends and family live," he tells Diverse. "But (growing up there) many times I felt trapped. I felt like my dreams or ideas could not fully grow or become what I wanted them to be. I definitely prefer the U.S., in that in the U.S., I feel like I can actually make my dreams come true."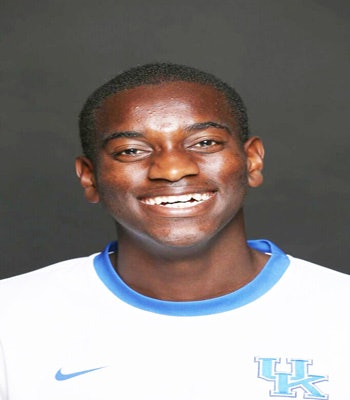 Today, Sime is a senior at the University of Kentucky (UK), finishing up a successful four years of playing for the men's soccer team while maintaining a 4.0 GPA. He moved to the United States to attend IMG Academy, an independent boarding school in Florida that serves K-12 students from all over the world. He left behind the majority of his family in Guadeloupe, other than two of his older sisters who were already attending IMG.
"My dad actually was the mastermind behind this decision," Sime says of his choice to attend IMG. "He's just a really wise person. He saw ahead and thought that my getting an education in the U.S. will benefit me in the future, which I'm grateful and thankful for him helping me make that decision, because I do think that getting a high school education and even a college education in the U.S. has helped me a lot."
Although Sime describes himself as "5 feet 8 inches and 130 pounds" as a high school senior, his abilities on the soccer field earned him the recognition of college recruiters. In choosing colleges, Sime was careful to balance academic and athletic excellence, finding that many schools offered one, but not necessarily the other.
"Often it was either good soccer, but not as good education, or good education, but not as good soccer," Sime says. "So I couldn't find that balance, until I found UK." As a freshman who was self-admittedly on the smaller side when he first arrived on the UK campus, Sime says that he had a bit of a learning curve before he caught up with his teammates — a challenge he embraced with open arms.
"[My coach] helped me grow in knowing what I needed to work on to eventually get playing time," Sime tells Diverse. "That was good — I came in from high school just really confident in my abilities and that may have led me at times to get complacent in what I needed to do to improve. So that was a humbling experience that allowed me to learn that there's always work that needs to be done, so that helped me grow on and off the field."
That same ability to beat the odds had already helped Sime assimilate to an American classroom as a 13-year-old high school freshman. In Guadeloupe, the official spoken language is French, and while Sime had taken English classes, they did not prepare him fully for the experience of total immersion in a new language.
Sime is majoring in political science and plans to go on to law school, and hopes to practice in the United States afterwards. He says he was inspired to take up this pursuit by relatives who live in France and are both lawyers. Overall, he has come a long way since his first semester as a high school freshman in a new country.
"By the time I was at UK, English was definitely less of a challenge. I think by now it's probably better than my French is," he says with a laugh.
Dustin Lewis, who is a life-skills coordinator with the athletic department, says that Sime has consistently caught his attention for maintaining a perfect GPA year after year and for earning numerous academic and athletic awards.
"He's a great all-around kid, with a positive attitude," Lewis says. "He's one of those salt-of-the-earth-type kids."
Sime also dedicates his time to some of the outreach programs run through the athletic departments, such as UK's Fleming County Backpack Program, which coordinates with a local food pantry to deliver weekend lunches to children in need in the local Lexington, Kentucky, area. In addition to all this, he also coaches youth soccer.
"He's one of those people who do this stuff out of the goodness of their heart. They don't do it to impress anybody," Lewis comments. "It's just who they are as people."
Catherine Morris can be reached at cmorris@diverseeducation.com.