As Morehouse College settles in to the overhaul in leadership that occurred last Friday, Morehouse constituents are in agreement that it is time for the college to turn a new page.
"Anybody who is associated with or went to Morehouse all have one thing in common — they all love the college," said Willie Woods, who replaced Robert C. Davidson as the chair of Morehouse's board of trustees last Friday.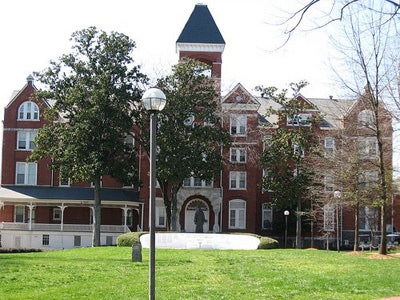 "I'm excited for new leadership and what we're going to be able to do for the college," Woods continued. "I'm fired up and ready to get to work, frankly."
Woods graduated from Morehouse in 1985 with a degree in accounting. After college, he returned to his home state of Michigan to work in banking before going on to Harvard Business School. From there, he went into finance in New York City and is currently the president of ICV Partners, a private equity firm he co-founded 18 years ago.
"I've always found that in life as in business, whenever there appears to be uncertainty and instability, there's always a line of opportunity," Woods said. "You can take advantage of the chaos and use it to your benefit to create an opportunity for yourself."
In addition to changes in board leadership, the board also voted to remove former president Dr. John Silvanus Wilson on Friday. Wilson, who served as Morehouse president for four years, was originally set to step down at the end of June after the board voted in January to not renew his contract.
The January vote sparked the current controversy at Morehouse. Faculty and students said that they were shut out from having a voice in the board's decision, and the board offered little explanation for their decision in the months that followed. Reports circulated that the relationship between Wilson and Davidson had broken down over the years and that tension was the root cause of Wilson's contract ending early.
As the controversy intensified, two external assessments critical of the board's governance practices began to circulate within the college and made their way to the media. In a letter dated to May 2014, the Association of Governing Boards called on Morehouse's trustees to develop a "healthier governance structure and a more productive board culture." In multiple interviews with Diverse over the past several weeks, faculty questioned why the board had not acted more forcefully to address the issues raised in the assessments.
Woods, however, said that the board was well aware of the issues at hand and had formed a subcommittee to address them. While Woods did not deny that several board members had been ensconced on the board for years — former chair Davidson was elected to the board in 1997, for instance — they were nevertheless making a concerted effort to bring in new faces and voices. Woods joined the board in October 2016.
In other words, while Friday's transition in leadership may have occurred more abruptly than originally planned, the board had already been working to address governance issues for years, according to Woods.
"I give the existing board leadership credit for thinking about how to position newer people on the board, and positioning people to be able to lead," Woods said.
Student reactions were somewhat mixed on what the change in leadership means for Morehouse. "The climate here has been tense," said Julian Alexander Hemmings, a freshman political science major from the Bronx.
Hemmings said that he knew Wilson personally, after encountering him on campus during an early morning run. He took the opportunity to ask if he could meet with Wilson for a sit-down conversation, and Wilson immediately invited him to his office for a meeting, which was the start of a series of subsequent conversations.
Hemmings, who regarded Wilson as a mentor, said that he was disappointed in the board's decision to let Wilson go. Nevertheless, Hemmings has no doubts about Morehouse's future.
"The Morehouse brand will be strong, irrespective of the president leaving," Hemmings said.
Others say that this is an opportune moment for Morehouse to redefine itself.
"I'm truly excited," said Johnathan Hill, Morehouse senior, SGA president, and student trustee. "I think this is an opportunity for us now as an institution to really establish who Morehouse is in 2017."
Hill was a vocal advocate in recent months for greater inclusion of student and faculty voices in board decisions. Under the board's current bylaws, faculty and student trustees can be excluded from meetings at the discretion of the board.
"I think it's important to listen to the voices of two of the most important constituencies, students and faculty," Hill said.
Although the board will reserve the right to exclude student and faculty trustees from votes where there might be a conflict of interest going forward, board members have made a commitment to include them in future meetings where issues of importance to the college are discussed. The board plans to review and update its bylaws in the next few weeks.
"Being involved in the discussion is just as important as being allowed to vote, because we're on the board to present the perspective of people who are on campus," said Ron Thomas, a professor of English and a faculty representative to the board. "To not have our opinions heard defeats the purpose of having us on the board."
While he said that Morehouse made critical advancements under Wilson, Thomas said, changing the leadership now will help put Morehouse on stabler footing.  Resolving the conflict now will give current students a sense of continuity in leadership as they head into next fall and allay prospective student and parent concerns about the stability of the college.
Further change can be expected in the months to come. As the college begins the search for a new president, Morehouse will not limit the candidate pool by race, gender or background, representing a break from decades of tradition. From 1967 up until last Friday, Morehouse was led exclusively by Morehouse graduates. As a graduate of Howard University, interim president Bill Taggart is the first to break the mold in fifty years.
Hill, who has been serving on the presidential search committee since January, said, "What we will look for in the next president is someone who reflects the 21st century of Morehouse College, and not the Morehouse College of 50 years ago."
Staff writer Catherine Morris can be reached at cmorris@diverseeducation.com.