Our nation's international competitive position depends in part on the quality of higher education that it provides all its citizens. It is fortunate we have an array of higher educational institutions, including historically Black colleges and universities (HBCUs) and minority-serving institutions (MSIs) that serve the unique needs of a diverse population that seeks equal access to higher education.
The nation's diverse 105 HBCUs, serving more than 300,000 undergraduate, graduate and professional students, constitute an important segment of the higher education community that can help reach our nation's higher education goals. Forty-nine percent of them are private four-year institutions, 38 percent are four-year public institutions, 10 percent are two-year public institutions, and 3 percent are two-year private institutions.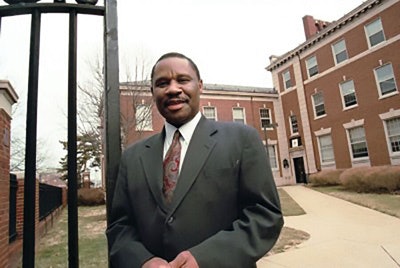 HBCUs have played an indispensable role in the general development of our nation and the Black community, especially in democratizing the public space, expanding civil rights, and enhancing concepts of humanity and diversity in higher education. HBCUs do not simply give Black and other students an opportunity to attend college. They provide students unique cultural, intellectual and psychological experiences that are essential to their identity and subsequent success in life.
HBCUs are also important economic components of the communities in which they are located. They contribute disproportionately to the education of Black students and underserved populations, specifically in undergraduate and graduate science, technology, engineering, and mathematics (STEM) disciplines.
Although our nation's HBCUs are only 4 percent of its colleges and universities, they award approximately 22 percent of all bachelor's degrees earned by African-Americans. In the critical areas of science and engineering, they award approximately 24 percent of all bachelor's degrees awarded to African-Americans and nearly 35 percent of all bachelor's degrees in physics, mathematics, biology, and chemistry.
Although only approximately 20 percent of African-American college students attend HBCUs, 40 percent of African-American engineers received their degrees from an HBCU. Among the top 21 producers of African-American undergraduate students who earn doctoral degrees in science, 17 are HBCUs.
Race relations in the postsegregation and Jim Crow era are defined by substantial social, educational and economic gains by Black Americans. However, the degree of progress is complicated by attacks on affirmative action and other actions that limit the development of Black students. Socioeconomic barriers continue to marginalize segments of the Black community, limiting their access to higher education. In this environment, it would be illogical to undermine HBCUs and increase the vulnerability of the Black community, which is an important component of American society.
Although each individual HBCU and MSI has a developmental agenda specific to their unique histories and state contexts, constituencies and goals, they also must have a specific agenda that informs and enhances their ability to navigate and negotiate cur-rent high-stakes presidential and congressional policy-making.
Current leadership conversations about HBCUs and MSIs are framed in a manner that connects them to national educational goals. The conversations about HBCUs and MSIs should be equity-based and focus on the following specific agenda:
Affirmation of the historical and continuing role of HBCUs in the educational, cultural, economic, and political development of the United States and the global community.
Acknowledgement of the intersection between federal policies and actions that negatively affect the general African-American community and the status of HBCUs, the unique missions and the students they serve.
Commitment to support tuition-free collegiate education at four- and two-year public universities and colleges and an immediate increase in funding for Pell Grants.
Strategic and time-specific initiatives to help build short-term and long-term endowments for HBCUs, recognizing the legacy of slavery and the denial of fundamental educational and other rights to African-Americans.
Commitment to create and enforce an accountability system (at the cabinet level) that ensures that HBCUs and MSIs have equal access to federal grants and contracts.
Assurance by the Departments of Justice and Education that the 1862 and 1890 land-grant universities receive the mandated percentage of matching funds in their state appropriated budgets.
Strong enforcement of federal laws regarding the dismantling of dual higher education systems in affected states, and the provision of remedial assistance for HBCUs affected by past and current discrimination.
Commitment by the Civil Rights Divisions of the Departments of Justice and Education to vigorously enforce non-discrimination laws generally, and to do so specifically in the area of education, that limit educational opportunities for students served by HBCUs.
Dr. Alvin ­Thornton chaired the Political Science Department and served as associate dean of the College of Arts and Sciences, associate provost and senior advisor to the president at Howard University. He is a graduate of Morehouse College and Howard University.