WASHINGTON — Former U.S. Secretary of Education John B. King Jr. said it is "distressing" to see the administration of President Donald J. Trump roll back policy initiatives put in place under President Barack Obama to protect college students from shady loan service providers and for-profit colleges with poor outcomes.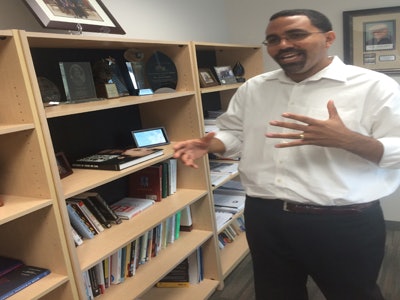 Speaking Monday during an interview in his new office at The Education Trust, a D.C.-headquartered nonprofit where he is now president, King told Diverse that the Trump administration's efforts to pare down the Education Department and cut various federal education initiatives — such as professional development for teachers, summer and after-school programs, and student aid for college — are an "assault on the American dream."
King served as education secretary during the tail end of the Obama administration.
"It's an attack on education as a pathway to opportunity," King said of the Trump administration's proposed cuts, which include a proposed $9 billion cut to the Education Department — a 13 percent reduction — "cancelling" $3.9 billion in surplus Pell Grant funds. It also includes eliminating the 21st Century Community Learning Centers Program, which funds after-school programs, to save $1.2 billion, and reducing or eliminating the Teacher Quality Partnership Grant Program, among other things.
Since the Trump administration took over, King's successor — Betsy DeVos — and President Trump have scrapped regulations that would have held educator preparation programs accountable, rescinded guidance that would done the same thing for loan service providers with poor track records and postponed enforcement of the gainful employment regulations meant to cut off federal aid from for-profit colleges with poor outcomes.
The administration has also appointed an affirmative action opponent to head the department's Office of Civil Rights.
Asked which of those things worried him the most, King said it's "all of the above."
"It's distressing to see the administration retreating from the protection of civil rights, retreating from protection of students and borrowers, and that's going to have dire consequences for students that will disproportionately affect low-income students and students of color," King said.
"Part of what we're seeing is people putting profits ahead of students," King continued in his critique of the Trump administration.
"We worked very hard to make sure that higher education institutions serve students well and that there are real consequences when bad actors take advantage of students. And the signals seem to be that they are going to put the interests of those bad actor, for-profit higher ed institutions, some of the servicers that have been engaged in misconduct, they're going to put their interests ahead of student interests."
King said talk of getting rid of the Education Department altogether is wrongheaded because the department is still needed to protect civil rights for minority groups.
He said he was disturbed when DeVos told one media outlet that she "can't think of any" contemporary education issues for which the federal government should intervene like there were during the days of segregation or before Title IX prohibited sex-based discrimination.
"I would argue that social and economic isolation of students remains a problem and still needs a federal role," King said. "And violations of Title IX protections for access to parity also remains a problem. Those aren't historical. Those are current issues. But when (DeVos) was asked, 'Do you see any issues today that need a robust federal civil rights role,' and she said no, 'I can't think of any,' that struck me as a very bad sign about where the Office of Civil Rights could be headed."
King also said the appointment of someone to head the Office of Civil Rights who "does not believe in affirmative action" is "a very bad sign."
He was referring to the recent appointment of Candice E. Jackson — an attorney who has criticized affirmative action — as acting head of the Office of Civil Rights.
Although it has been suggested at the Supreme Court level that affirmative action in college admissions may not be needed in perpetuity, King said he did not see any sunset on the horizon for affirmative action.
"From my perspective, the rationale that is most compelling to me is a diversity rationale, and I don't think that is time limited," King said. "If diversity is an enduring goal, then even when whatever hiring or selection process you have, you would be crediting diversity as part of having to think about a team that you're building.
"I think some people try to frame affirmative action as some sort of lowering of the standard. I don't see it that way at all. It's saying one of the things we consider, one of the things we value, is diversity, and I don't see that as something that has a time limit on it," King said. "That should be kind of an enduring part of how we think about what takes to develop a successful academic community."
King defended the Obama administration's $7 billion School Improvement Grant program, even though a report released at the tail end of the Obama administration said the program had little to no effect on student achievement — a point on which Republicans and conservatives have used to question federal investments as the means to academic turnaround.
"There are a lot of questions about the methodology of that study. It looked at both a narrow band of time and tried to generalize across 50 states that took very different approaches to how they implemented the School Improvement Grant program," King said. "I think the better question would be are there places that used the improvement grants effectively and what are the places that didn't, and what is the difference between them?"
He noted that California was among the places able to make effective use of the School Improvement Grants — a view shared in this report — through more teacher collaboration.
"It's hard to generalize about a program that was administered very differently in 50 states and administered differently district to district," King said.
Jamaal Abdul-Alim can be reached at jabdul-alim@diverseeducation.com or follow him on Twitter @dcwriter360.