Was the early Chicano Movement of the 1960s and 1970s involved with social justice issues? That is what one of my students excitedly wanted to know, after returning from a national conference in which the primary theme was social justice.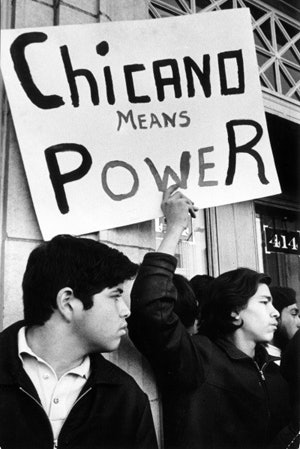 The student's question reminded me of the basis of my late friend Trinidad Sanchez's poem, "Why am I so brown?" A young girl asked this question. Though truly, this new question is probably best answered via reading a number of books, too numerous to mention here. In addition, even that route would not do the topic justice.
The student's question reveals a sense of innocence, though it might be better explained by the lack of the handing down of historical memory. Perhaps an even better explanation is that the history of brown peoples in this country continues to be erased and invisibilized, even by those involved in documenting such histories and memories. Moreover, to be sure, documenting that era is virtually a cottage industry, though other than Cesar Chavez and Dolores Huerta, brown peoples from that era or any era are rarely seen or acknowledged in documentaries and history books, etc.
The short answer: yes and no.
The Chicano Movement did not use the term "social justice," though it was very much a part of its agenda. However, several truisms should be understood from the beginning. The movement generally did have warts (sexism, misogyny and homophobia) and a number of faults (romanticism of ancient Aztecs/Maya cultures, at the expense of living indigenous peoples and cultures). Yet the nature of the question tells us that, somehow, there is the mistaken belief, and I have seen and heard this narrative, that the movement itself was the warts and the faults.
Truly, that is a mischaracterization, and I say this coming from someone who grew up in the heart of East L.A., from 1960 to 1973, a time that covered the pre-Chicano Movement era when Mexican Americans were generally very anti-Mexican. Yes, the term people use nowadays is internalized racism, or internalized hate, embarrassment and shame.
When the Chicano Movement burst onto the scene, something radical happened, which political scientists refer to as a "primary process." Translation: a political volcanic eruption that reversed more than 100 years of living in submission. Indeed, there was fury. It was Mexican independence and the Mexican Revolution rolled into one. The days of internalized oppression and shame were over as the era of Chicano Power, Brown Pride and Brown is Beautiful had begun. This was not a small matter.
More than pride, the politics of the movement were the politics of liberation. The time was radical. The politics of the era were not limited to civil rights and the quest for equality and social justice. In the 1960s and 1970s, there were many manifestations of this movement, from land struggles to reparations and from anti-imperialist struggles to revolution. Truly, "movements" is probably more accurate. Perhaps the commonality among these struggles is that the notion that Mexican Americans were White was unapologetically and thoroughly rejected. That had not been rejected during the desegregation battles of the previous era, though this was primary during the Chicano Movement.
A rise in indigenous consciousness was one result of this movement — something that continues to this day. In addition, class struggle — solidarity with all workers the world over — was also primary. Revolution also manifested in support of national liberation movements worldwide, and for some, Chicano liberation included the fight for a homeland, in the language of the time, for Aztlan. This topic is very complex, though suffice to say that, for many, this included fighting for a Chicano homeland, often interpreted as what is today the U.S. Southwest, or the land that had been stolen by the United States because of the 1846-48 war. Aztlan purportedly refers to the the original homeland of the Mexica (somewhere north of Tenochtitlan).
Others interpreted liberation as a reunification of these same lands with Mexico. Still others did not see it as a nationalist movement, but rather, as part of a movement to empower the nation's workers, especially the most exploited workers, in the factories and in the fields. Others saw it as an effort to democratize this country, whereas others fought to radically transform society. In addition, of course, there were different visions of what such a transformation would look like, with little agreement though generally, there was a "third world" consciousness that saw all poor and oppressed peoples as involved in a common struggle.
In addition, returning to the topic of indigenous consciousness, that too was not nationalist, but minimally, part of a hemispheric movement that saw Mexicans/Chicanos as an integral part of the indigenous movements of this continent.
To reduce or simplify these movements in this manner is to do these politics a disservice, because agreement over ideas, ideologies and even definitions were always contested many times over. Yet, what should be remembered is that the government violently and ideologically suppressed the Chicano Movement. So, too, were all the other radical movements of the era.
Instead of revolution and reparations, we got the illusion of integration, affirmative action, reforms and assimilation. Moreover, despite this, were groups left out? Of course. Liberating a people or a homeland or the world could not happen if it did not include everyone. The notion of liberating people "after the revolution" could not work. As has been noted, equality cannot be the goal, unless equality is achieved for everyone. This is what the student alluded to: today, gender and sexuality are not side issues, but rather central. Therefore, that is why the answer is yes and no. At one level, the politics of that era were more radical, and yet, unless liberation involved everyone, it was, it is, not enough.
Back to that original question: Why are we so brown? Sanchez answered that God likes this color, because it is her favorite color.
Dr. Roberto Rodriguez is an associate professor in Mexican American studies at the University of Arizona.