The escalating costs of higher education are strongly influencing where first-generation college students attend school and even whether they move out of their parents' home.
Those are among findings of a new University of California, Los Angeles report released today titled, "The American Freshman: National Norms Fall 2016."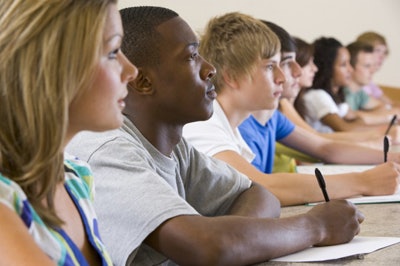 First-generation college students had nearly identical admissions rates to their first-choice institution, as did students whose parents attended college regardless of whether they finished their degrees — 73.8 percent versus 74.8 percent. Only 52.9 percent of first-generation college students actually enrolled at their first-choice institution, compared with 57.6 percent of continuing-generation students, according to the report.
First-generation students also had higher rates of cost consideration and use the amount of financial assistance as a major factor in college selection. Moreover, 3 out of 5 first-generation students expressed a "very good chance" of getting jobs to help shoulder costs, compared with just under half of continuing-generation students. When that's taken into consideration, it's not surprising that about one-quarter of first-generation students reported having "major" concerns about paying for college, compared with less than 11 percent of students whose parents attended college.
"Given the apparent differential influence of financial concerns in first-generation students' college choice, institutions need to pay particular attention to this demographic both in terms of financial aid packaging and transitioning these students into college, as they represent about 1 in 5 first-time, full-time freshmen nationally," the report states.
The UCLA report is based on results of an annual survey of incoming undergraduates at four-year colleges and universities around the country. The survey is administered by the Higher Education Research Institute (HERI), which is housed in UCLA's Graduate School of Education and Information Studies. Survey results are based on responses from more than 137,400 first-time, full-time freshmen who enrolled at 184 baccalaureate institutions of different types and academic selectivity.
The cohort of incoming students last fall who identified as having parents who lacked college education was about 18.8 percent. Women made up about 20 percent, men 17 percent. When broken down by race and ethnicity, Latinos were the largest at 57.3 percent and Whites the smallest at 10.5 percent.
Regardless of race, gender or other demographic characteristics, the children of parents who did not attend college have historically been steered toward the workforce to earn money.
However, the survey respondents indicated that their family plays an important role in their choice to access postsecondary education in the first place. About 46 percent of first-generation college students across all racial groups reported wanting to please their family as "very important" motivation to pursue a bachelor's degree. Furthermore, more than one-third of them stated intentions to earn a master's.
First-generation college students weren't the only ones anxious about higher education affordability.
In 2016, a record 15 percent of all freshmen believed they could not afford their first-choice institution, the UCLA report states. That figure marks a 60 percent increase from 2004, the year that questions in this subject area were asked in the annual survey for the first time. Furthermore, the proportion of first-time, full-time students who rated "not being offered aid" by their first-choice school as a key factor in the eventual college selection has more than doubled from 1984, when the topic debuted on the annual survey.
The majority of incoming, first-year students in 2016 expressed at least mild concern about their ability to afford tuition and other costs. About 55 percent of survey respondents indicated concern, and 13.3 percent reported having major concerns, both figures higher than those from the previous year's survey did.
Women and students of color were more likely to worry about finances; 15.8 percent of women expressed "major" concerns, compared with only 10.1 percent of men. One-quarter of Latinos and 22 percent of Blacks had "major" concerns about their ability to pay, compared with 9.2 percent of Whites.
In other findings, the 2016 incoming freshmen tended to pick colleges closer to home than in the past. More than one-third of freshmen, regardless of race or gender, enrolled in institutions within 50 miles of their permanent residence — including 13 percent who chose colleges less than 10 miles from home. That 13 percent was almost two percentage points higher than the figure from the previous year.
More than 18 percent of students planned to live with parents or relatives during their first year of college, the UCLA report states. About two-thirds of this cohort cited family considerations as being significant to which college they chose, and about 4 out of 5 noted the importance of being able to live near home in their ultimate decision.
Having completed its 51st iteration, the Freshman Survey is the nation's longest-running, longitudinal study of American college students.