DAYTONA BEACH, FLA. — Graduation is usually considered a joyous occasion for graduates and their families. This year's commencement at Bethune-Cookman University on Wednesday was marked by as much anger as joy.
Ever since officials announced the choice for this year's commencement speaker at the historically Black institution would be Education Secretary Betsy DeVos, the university and the town where it's based have been roiled by controversy, protests and petitions seeking to have her invitation rescinded.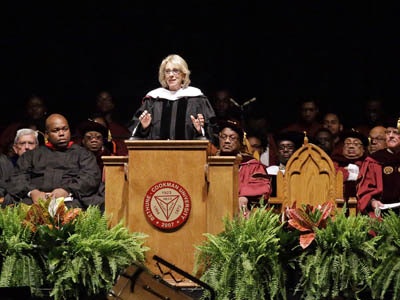 It boiled over when DeVos approached the microphone at 12:56 p.m. to deliver her address. Boos erupted from both the students and the audience.  Many of the graduating students stood and turned their backs to DeVos as she began to speak. Meanwhile, boos coming from the audience, drowned out her opening, though she continued.
According to the program, she was supposed to speak for approximately an hour. Instead, she spoke for about 20 minutes.
Clearly irritated, university President Edison O. Jackson interrupted to warn the students that there could be serious consequences. "If this behavior continues, your degrees will be mailed to you. Choose which way you want to go," he said.
DeVos seemed prepared for the reaction, starting off her speech calling for a democratic exchange of views. "While we may disagree …, I want to reaffirm this administration's support for HBCUs and the students they serve."
Her statement was in contrast to an announcement recently by Trump questioning the constitutionality of a federal program that provides building funds for HBCUs, as well as DeVos' apparent lack of knowledge about the origins of these institutions. Trump has since reversed that stance.
While some of the students continued to stand and protest, others sat. DeVos continued to speak over intermittent boos and shouts. During the speech one protestor was escorted out; as he left he raised his fist in protest.
DeVos was conciliatory, emphasizing her admiration for HBCUs and for the college's founder, Mary McLeod Bethune.  When she said she would be visiting Bethune's house and grave — both of which are on the B-CU campus — she was booed again.
During the speech, Jackson along with members of the board of trustees and several B-CU administrators remained standing behind DeVos, frowning grimly at the continuing protests in the audience.
In an interview with press representatives before the ceremony, Jackson said that he hoped that by inviting DeVos to speak, they would be able to convince her of the value of the university — and she'd be more favorably inclined to provide much needed funding. And DeVos did say during her remarks that the administration would be supporting HBCUs financially. However, each time she mentioned Trump, she prompted more boos from the audience.
Meanwhile, protesters outside the Ocean Center, some looking at the graduation that was streamed live on their cellphones, cheered each time those inside booed. As those with the phones reported the students had turned their back on DeVos, the protesters started chanting enthusiastically, "Shut her down. Shut her down."
Some protesters arrived at 9 a.m., according to Susanne Raines, president of a local Democratic club. She said about 200 people had shown up over the morning to protest, bringing signs denouncing DeVos and the Trump administration.
Cynthia Slater, president of the local chapter of the NAACP, which organized the protest, says they'd been outraged from the moment they heard DeVos would be speaking.  She said they wouldn't mind having the education secretary come at some other time, if the aim was to educate her on the value of the university and HBCUs in general, but felt the choice of the advocate for charter schools, as a commencement speaker was insulting to the graduates, most of whom attended public schools.
Cassandra Wallace, also an NAACP member, said that they were there to support the students, not to take away from the celebration of their accomplishments.  She said, "Students can't do this. But this is an insult to them and to Mary McLeod Bethune. The students love Mrs. Bethune."
Outside, after the ceremony, graduate Chata Jacobs, a criminal justice major from San Diego, who was among those who protested inside, said, "I just didn't agree with her stance … but I do think the school did us kind of a favor by bringing her here and exposing us to people with a different perspective."
Her mother, Pamonia Jones, said she was torn about the day. "It was disruptive to do it," she said referring to the booing and cold shoulder given DeVos. "They may have had a reason to do it but it was disruptive," Jones said.
One faculty member, who asked not to be identified, said she cried during the protest. "I believe in protest but it was too much. I was embarrassed for her (DeVos).  It made me cry and it made the school look bad," she said.
In the longstanding tradition of commencement speakers, DeVos told the graduates, "You leave this place as the leaders who will transform this world."