After one of the worst weeks of his truth-challenged presidency, Donald Trump was fortunate to have a "just what the doctor ordered" platform: a commencement speech, and at Liberty University, at that.
Usually these are rah-rah events intended to boost students' sense that they are the future of tomorrow, right?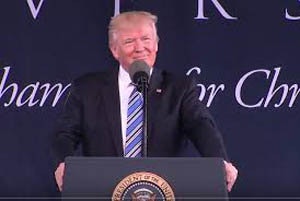 But this was the perfect public spot for Donald Trump, the reality show king, to realign himself after his Comey eruption of last week.
Trump got a boost from the Falwell clan's version of higher ed last year, when its president, Jerry Falwell Jr. endorsed him. The commencement was a timely soft landing for Trump.
Where else could Trump so blatantly grandstand and showboat, and essentially thumb his nose at his critics?
"You aren't going to let other people tell you what you believe, especially when you know that you're right," Trump told the crowd of 50,000 people at Liberty University. "We don't need a lecture from Washington on how to lead our lives."
And how does one lead life?
By embracing being an outsider, Trump said, and to not "swim downstream so easily with the current."
Of course, it's not as if Trump — who at a similar stage in life was staked by his rich father — took his own advice.
That he has saved for later in life, where he would become the least qualified candidate to win the 2016 race for the presidency.
So this speech wasn't so much a rah-rah for the students.
It was a reminder for Trump himself to keep being Trump, simply because he likes what he sees, even though countless others don't.
"No one has ever achieved anything significant without a chorus of critics standing on the sideline saying why it can't be done," Trump said. "Nothing is easier or more pathetic than being a critic."
"Be totally unafraid to challenge entrenched interests and failed power structures," he said, adding, "Does that sound familiar, by the way?"
And this, of course, is what Trump is doing in his presidency.
He is constantly going up against the Constitution, and the rule of law.
And he doesn't seem to mind or care one bit where he's taking America and our democracy.
In Trump's view, if it's good for Trump, it's good for us all. Or else.
And when it all starts to seem offensive, Trump is always quick with the pandering charm as he was at Liberty:  "In America, we don't worship government; we worship God."
Already in short-order, Trump has been true to his word and has done his best to diminish one's trust in government and in his presidency.
Credibility gap? All Trump needs is a commencement speech at Liberty University to right his ship.
Emil Guillermo is a journalist and commentator who writes for the civil rights group AALDEF at http://www.aaldef.org/blog