Students on strike in the University of Puerto Rico system have settled in for the long haul as the island struggles to come to a resolution regarding its massive debt crisis.
The Congress-approved, Obama White House appointed fiscal control board charged with righting Puerto Rico's finances first proposed drastically reducing UPR's annual budget on February 28. Under the fiscal control board's proposal, the university system's government subsidy would be reduced by more than half to $450 million by 2021. UPR is largely dependent on the government subsidy for maintenance and operations, so a reduction of that size would have significant consequences for the university system.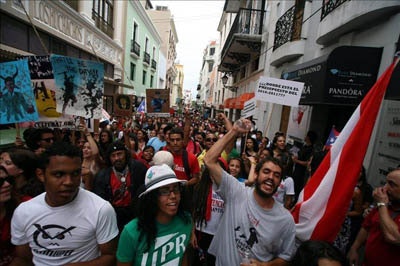 In response, students at the UPR Rio Piedras campus in San Juan went on strike on March 28, locking down campus and suspending classes. The 10 other UPR campuses followed suit in April, creating a system-wide indefinite strike. Students voted again last week to continue the strike at the majority of UPR's campuses.
Students fear that the budget cuts would decimate public higher education in Puerto Rico. "If the budget cuts go through, we will see hundreds of students leaving the country and families not having their children go to universities," said Victor Torres, an undergraduate journalism student at UPR Rio Piedras. Currently, approximately 58,000 students attend UPR, making it the largest provider of higher education on the island.
Although there are private institutions of higher education in Puerto Rico, the cost of attending would be prohibitive for many.  According to the Department of Education's College Scorecard, the average annual cost of UPR Rio Piedras is $2,318. By comparison, the Inter American University of Puerto Rico, a private institution serving the second largest number of students on the island, costs $7,626 on average.
"If you compare those numbers, you can see that many students will not be able to access education," Torres said.
While the dollar amount may seem low to anyone accustomed to the prices of four-year schools in the U.S., the economic context on Puerto Rico is vastly different.
"Considering that more than 60 percent of our population is near the poverty line, and that 30 percent of those are well below the poverty line, tuition hikes or the closing of regional campuses would de facto make higher education impossible for 30 percent of the population," said Mario González, one of the spokespeople for the Student Movement at UPR Rio Piedras and a current UPR student. "This is absurd."
The Student Movement of UPR (el Movimiento Estudiantil de UPR) is demanding that there be no cuts to UPR's budget, no tuition hikes, and that the public debt, currently over $70 billion, be audited. However, Governor Ricardo Rossello repealed the Puerto Rico Commission for the Comprehensive Audit of the Public Credit on April 19.
"It's kind of like a movie, this whole thing, but we assumed a role in this situation," González said. "We genuinely have wished and expressed from day one that this could be solved without a strike."
In the meantime, students have shut down campuses, stopping classes and other activities. At any time there are 200 to 300 students occupying the UPR Rio Piedras campus, according to organizers. They say that they are maintaining the grounds and buildings themselves.
"We do everything from the food distribution and cooking and everything to [organizing] working groups that develop strategies and proposals," González said.
As the conflict continues with no sign of resolution, Puerto Rico's elected government is moving to reform the criminal code in such a way as to limit the current student strike. Bill PC743, which has passed in both the House of Representatives and Senate, now awaits the Governor's signature. Among other amendments, PC743 would prohibit the obstruction of access to government institutions of health and instruction, including universities.
"This is a very important moment for our generation specifically because we will be facing a decades-long loss of economic development if these austerity measures are imposed," González said. "That being said, we would much rather be studying the things we enjoy, instead of having the police kidnap students, be beaten [and working] every day from morning to midnight.""
While police so far have not interfered with students on university campuses, organizers say that police have been violent during protests in downtown San Juan. They have also arrested students without warrant, in what student activists believe is an attempt to intimidate the movement.
"They often arrest activists just to release them and they don't end up filing charges, as a way of trying to silence any sort of dissent in the island," Dr. Fernando Tormos, who completed his Ph.D. in political science at Purdue University in May, said of police activities in Puerto Rico.
Tormos attended UPR Rio Piedras as an undergraduate from 2006 to 2010, where he was a witness to a previous protest over a proposed tuition hike, which also ended in violence. The UPR Rio Piedras campus, which enrolls the largest number of students and is situated in downtown San Juan, has historically been the origin of protest movements across the system.
Amid the uncertainty, fewer students have enrolled in UPR compared to the number who enrolled at the same time last year, according to a university press release. As of May 10, 11,150 admitted students had reserved a place in the UPR system, compared to 13,106 students at the same time last year.
Compounding UPR's fiscal woes, a number of UPR's campuses have already lost access to Title IV funding. The Department of Education notified UPR Rio Piedras on April 18 that it had lost eligibility for Title IV funding, which includes access to Pell grants, FSEOG, and federal work-study. In a subsequent statement to the Rio Piedras community, interim UPR Rio Piedras president Dr. Carmen H. Rivera Vega said that the sanction was a result of the strike.
Staff writer Catherine Morris can be reached at cmorris@diverseeducation.com.