House Democrats on Monday said they plan to seek an increase in the Pell Grant to make college more affordable but conceded the increase would only be by a couple hundred dollars.
The plan is part of a new "Aim Higher" legislative campaign that touches on broad issues of access, affordability and completion, although lawmakers offered few details about the specific policy solutions they intend to introduce.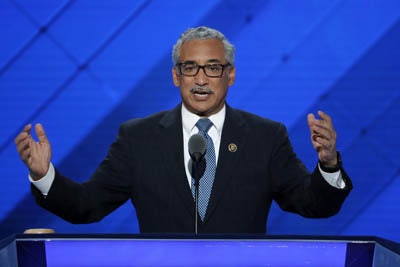 U.S. Rep. Bobby Scott (D-Virginia) said the Pell grant increase and other measures they expected to seek to increase access, affordability and completion are "a matter or priority."
"Do we as a country want to make investments in our people and create a workforce needed for today and tomorrow's jobs, or do we want to give tax cuts with benefits that flow disproportionally to the top one percent," Scott said Monday during a press call about the campaign.
"As one of the richest countries in the world, we have the resources to ensure that more individuals reach the benefit of higher education," said Scott. "We just must have the courage and political will to do it."
The Democrats' campaign comes as Congress plans to pursue reauthorization of the Higher Education Act.
The maximum Pell grant is currently $5,815.
Asked by a Diverse reporter if he had a specific dollar amount in mind for the Pell grant increase, Scott conceded that "whatever we get isn't going to be enough."
"I don't think we're going to get anywhere close to what it should be but any increase will be appreciated," Scott said. "We're trying to get it up a couple of hundred dollars," Scott said, adding that the actual amount will be contingent upon the fiscal 2018 budget.
He noted how Pell grants once covered 70 percent of the cost of higher education but now only cover about 30 percent.
"When Pell grants started you were able to pay most of the expenses in a public college and with a part-time job during the school year and a summer job during the summer, you were pretty close to paying expenses without taking out any loans," Scott said. "Obviously, we're far away from that."
He also said Democrats plan to make Pell grants part of mandatory spending as opposed to part of the appropriations process so that Pell grants could not be cut "when you have problems."
U.S. Rep. Susan Davis (D-California) ranking Democrat on the higher education and workforce training subcommittee, said the "Aim Higher" campaign will also focus on making student loans easier to repay and investing in public two- and four-year public institutions, which she said serve the vast majority — 75 percent, to be specific — of America's students.
"These schools are the only higher education options in many communities and they have a track record of adapting to meet the educational needs of the students and serving as engines of mobility into higher income careers," Davis said of the institutions, which she said include Minority Serving Institutions, or MSIs.
"We have to improve the resources for those institutions and then we can boost the number of graduates who are able to go and get those good-paying jobs, by providing the federal investments in evidence based programs that promote degree completion," Davis said.
Also Monday, Senate Democrats and Republicans introduced a bipartisan bill that would require colleges and universities to report more detailed outcomes for their students.
The bill — introduced by U.S. Senators Orrin Hatch (R-Utah), Elizabeth Warren (D-Mass.), Bill Cassidy (R-La.) and Sheldon Whitehouse (D-R.I.) — is known as the College Transparency Act of 2017. It would repeal a federal ban on using student-level data, establish a student unit record system, and have colleges and universities to report outcomes for all students, not just first-time, full-time students.
The lawmakers who introduced the bill say current restrictions on student-level data "do not reflect today's student population — where nearly two out of three students attend at least two schools before graduating and nearly 40 percent  of undergraduate students attend on a part-time basis."
"Furthermore, the current reporting system fails to release complete information on student outcomes by basic student demographics, major, or by credential level," the lawmakers said in a statement."
Several organizations that deal with higher education — including the Association of Public & Land-Grant Universities and the Institute for Higher Education Policy, or IHEP — praised the bill Monday.
"The College Transparency Act announced today seeks to lift the veil on postsecondary student outcomes and will empower students, college leaders and policymakers with the information they need to make better-informed decisions," said IHEP Vice President of Policy Research Mamie Voight.
Some groups, however, have opposed using student-level data, arguing that it could compromise students' right to privacy.
The bill introduced Monday states that it would take "appropriate steps to ensure student privacy is protected, and data remains secure."
Proponents of the bill note that it explicitly prohibits collecting student health records, disciplinary history, immigration status or national origin, or religion.
"The bill also takes impressive measures to protect sensitive personal information, which we know is critically important to today's students," said Reid Setzer, government affairs director for the Young Invincibles, an organization that focuses on issues for Americans age 18 to 34.